Serious Injury Solicitors
Specialist Catastrophic Injury Lawyers
Osbornes specialise in complex and high-value injury claims. Our serious injury lawyers pursue claims for individuals who have suffered a serious injury at work, on the road, cycling or in any other type of accident.
What is a Serious Injury Claim?
If you have suffered a catastrophic or life-changing injury our solicitors could help you claim compensation for the pain and suffering it has caused and the financial losses that result from the injury. Serious injury compensation will also help you get access to the best medical treatment, rehabilitation and support services.
Claims for serious injuries are based on the fact that they tend to be complex and have long-term effects, they also often take a long time to resolve which requires specialist knowledge. In many circumstances, the injured person may have to change jobs or not be able to work at all. Adaptations may need to be made to the home or families may need to move to a more suitable home. Long-term care may be required as well as help with getting around and doing everyday things.
For this reason, serious injury compensation can involve significant sums to provide for the losses involved.
How Do I Make a Catastrophic Injury Claim?
If you or a loved one has suffered a life-changing injury that was not your fault, contact our specialist lawyers on 020 7485 8811 who will assess whether you have a potential claim, explain your rights and how to begin the claims process. We will guide you through the claims procedure and answer many of your questions including how to fund your claim via a no-win-no-fee arrangement.
What Constitutes a Serious Injury?
There is no legal definition of what constitutes a serious or catastrophic injury in the UK. However, lawyers broadly agree that a serious injury is one that requires surgery and an extended stay in hospital, one that affects the ability of the person to return to their normal work and lead an independent life, or one that leads to death within 30 days or more after the accident. We specialise in bringing claims for all serious injuries. Our team have built up a strong reputation for representing clients with the following injuries:
Experienced Serious Injury Solicitors
A serious injury can turn your life and the lives of your family upside down. You may be unable to work or return to a much-enjoyed job. You may find it difficult to care for yourself, and you may need ongoing medical care to try to get back to a normal life.
Living with a serious and life-changing injury may mean a change in your lifestyle, but it doesn't have to mean that you stop living your life. We are proud to work with and support organisations that advocate and speak up for people who have suffered serious injuries and their families. Osbornes are the approved lawyers for these charities, including The Brain Injury Group, Headway, Limbless Association and Spinal Injuries Association. We have specialist teams that deal with various accident scenarios, including:
Why choose our serious injury solicitors
Our serious injury solicitors team has over 40 years of experience in this area. Ben Posford leads the team. Ben is considered one of the leading catastrophic injury lawyers in the UK. His team will help you connect with medical experts, therapists and care providers to make sure your future needs are taken care of. We aim to secure you the best financial package, with early or interim payments throughout your case, so you don't have to worry about your financial situation.
Serious Injury Claims FAQs
Should I speak to a specialist serious injury lawyer?
If you have suffered a serious injury we understand the devastating impact that it can have on your life and the lives of your family and loved ones. Serious injury claims are less common than other types of personal injury claims which means that you should seek help from an expert in the field of recovering damages for serious injuries.
When a very serious injury is suffered, there will often be irreversible and life-changing damage, such as paralysis, severe traumatic brain damage, amputations, severe burns or even death. Whatever the injury, it is essential that a specialist solicitor is instructed who understands the nature of the injury and the need for proper funding to support care, aids, housing and therapy regimes which must often last a lifetime.
Seriously injured clients often need long term treatment, and there can be a significant period of adjustment both for our clients and for their families. Many people who have suffered serious injuries require special housing or adaptations, care and support packages, specialist equipment, and early payments to alleviate financial hardship and to establish fully funded private care regimes.
What are the steps in the serious injury claims process?
Once we have assessed your claim and agreed that it has a good chance of success we'll start by working out who was to blame for your accident. This may be one individual or more than one person who will share liability for the accident.
Working out who is responsible for the accident often requires us to work with external experts including accident investigation specialists and health and safety experts. For example, in the case of a serious road accident, they will interview witnesses, make video recordings and prepare reconstruction reports.
Once we establish liability we calculate how much compensation we think you should claim. We liaise with leading medical and rehabilitation specialists, transport and accommodation providers as well as HR consultants to assess the financial impact of the accident.
The next step is to meet with insurance companies to agree on a settlement. In the majority of cases, it will be possible to resolve your serious injury claim out of court.
Generally, only the cases where liability cannot be resolved or where the complexity of the case means that the value of the compensation can't be agreed end in court proceedings. It is very rare that cases go to trial. However, it is important that you are represented by solicitors with extensive serious injury experience in order to achieve the best outcome.
How much compensation can I claim for a serious injury?
Every serious injury claim is different so the value of damages that are awarded will depend on the circumstances of your accident, the injuries that you sustained and how they have affected your life.
The more serious the injury and the greater the impact on your day to day life the more likely it is that you will require compensation to pay for adaptations to your home a long term support package of care as well as loss of earnings.
The compensation that you receive is split into two parts
General damages ( these are based on the severity of your injuries and how long it takes for you to recover from them)
Special damages (this is compensation to cover financial losses and expenses that occurred as a result of your accident and the injury you suffered). These include:

loss of earnings
future rehabilitation needs
medical expenses
counselling
physiotherapy
transport costs such as taxi fairs
While no one can say exactly how much compensation you will receive at the outset, our extremely experienced lawyers will be able to talk you through all of the factors that influence the final settlement.
How long will my claim take
The nature of serious injuries means that it is important to gather all of the evidence in order to make sure that the eventual settlement covers all of your long term needs.
Collecting and evaluating evidence from medical, accident, employment and other specialists takes time but it is important that we get this right in order to cover the cost of rehabilitation, medical bills, loss of earnings and any adaptations to the home.
We work hard to settle every case as quickly as possible while ensuring that you receive the compensation that you deserve. We will help you secure interim payments to cover ongoing medical and rehabilitation costs to ensure that we have time to demonstrate the full extent of your injuries without having to rush to make a settlement.
Catastrophic Injury Lawyer of the Year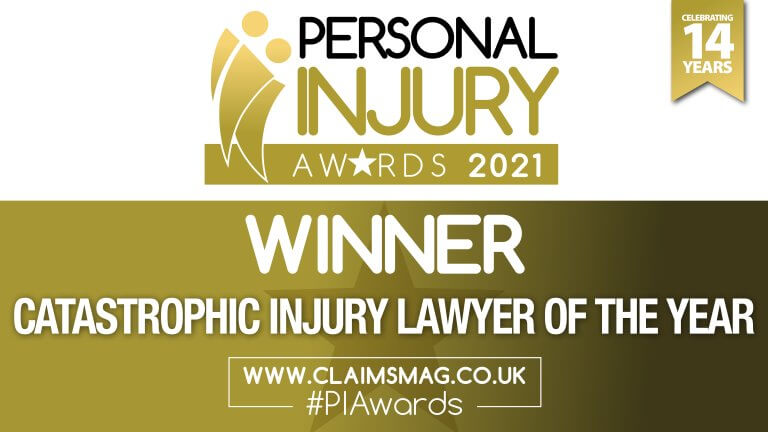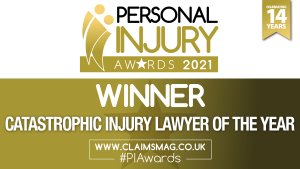 We are delighted to announce Ben Posford has been named Catastrophic Injury Lawyer of the Year at the Personal Injury Awards 2021.
Osbornes prepares cases well; the whole team is good and lawyers there know their stuff.


They deal with people compassionately and take on the right amount of detail. The firm has some really brilliant key solicitors.


The personal injury team is responsive and its level of service towards clients and other professionals is exceptional and high quality


The team offers specialist expertise in cycling-related injury claims and regularly acts for foreign nationals.

It has considerable experience in cases arising from motor accidents and accidents at work

Osbornes is a well-regarded personal injury practice well equipped to advise on high-value and high-profile claims.


Their team includes bright, hard-working solicitors dedicated to achieving successful outcomes for their clients from partner level to paralegal. Their client care is exceptional.

They are a team who are highly respected in the PI sector.

This is an excellent PI team doing a broad range of PI work.

Osbornes' 'highly respected' personal injury team is experienced in a range of complex, high-value claims, with notable strength in acting for European clients for whom English is not a first language.

Osbornes' 'highly respected' personal injury team is experienced in a range of complex, high-value claims

Osbornes' 'highly respected' personal injury team is experienced in a range of complex, high-value claims.

"Osbornes always provides work of excellent quality and the advice is sound."


"The firm has the ability to handle the most sophisticated and complex matters."

"Osbornes is always client-focused and works tirelessly to obtain the best outcomes."

'The team deals with multi-million pound, often multifaceted claims, involving such factors as severe brain, psychiatric, gynaecological and spinal injury, major trauma, amputation and fatality.'

"They are a boutique firm with highly experienced partners who are well-respected in the industry."


"The team at Osbornes deals with catastrophic injury claims with the same professionalism as the largest firms, but provides a much more client-focused experience."


"A really first-rate team, well capable of dealing with the most serious and complex injuries."

"This team has carved out an exceptional reputation in catastrophic injury work."

"Osbornes has impressed me with their personal touch for clients whilst offering a first-class handling of catastrophic injury claims. The partners all have vast experience and are highly respected in their field."


"This is a really excellent personal injury team that can be regarded as one of the major players in the London claimant personal injury market."

"Osbornes have managed to recruit a team of outstanding catastrophic injury lawyers who are at the top of the game."

"They punch well above their weight. The quality of service they provide equals that of any of the larger top-name firms in this area"

Ben Posford is fiercely bright, with an unrivalled passion for his clients' cases. His encyclopaedic knowledge of all things PI is second to none. His foresight and commercial nous have propelled Osbornes into the highest echelons of the market where they rightly belong.

The firm has an excellent and innovative line in cases involving non-English speaking claimants, managed by recruiting paralegals with multi-language skills – an impressive route for expansion of the caseload.

Great expanding team with expertise and respect in the sector. Led by a commercially savvy and business minded team.

A really excellent group of PI solicitors, notable for their individual quality.'

A niche firm that punches well above its weight in the catastrophic injury sector, borne out by the quality of work they obtain.

This combination of experience and diligence reaps massive rewards for clients, Osbornes being well known in the industry as a fantastic firm.

The Osbornes personal injury team now comprises some of the most technically adept and hard hitting lawyers in the business.

Ben Posford is one of London's best catastrophic injury lawyers, in my view. He is a real brain injury specialist.

Excellent coverage of personal injury, and traumatic brain injury. There is a real specialism in claimants who do not speak English as a first language.

The group is noted for its expertise in matters relating to cycling injuries, and is the official legal partner of the London Cycling Campaign charity.

To complement its strong reputation for high-value and complex personal injury work, the firm continues to develop its 'excellent and innovative line in cases involving non-English speaking claimants'

"Osbornes comprises some of the most technically adept and hard hitting lawyers in the business"

"A small but high-powered team, dealing with cases of significant value and complexity."

"An excellent firm which achieves fantastic outcomes for clients."

"Osbornes Law have captured the magic of keeping the customer service levels of a smaller firm whilst having all the expertise and power of the biggest firms."

"A superb boutique catastrophic injury firm."

"Really good at dealing with people who have suffered a serious injury."

"Affable and charming with very good client-handling skills."

"superb firm with consummate professionals and a human touch."

Osbornes now has a team of highly experienced personal injury lawyers; particularly strong on high-value quantum cases, workplace accidents and claims involving foreign workers injured in the UK.

The team provides fantastic strength-in-depth for personal injury claims. It is also particularly well placed to service clients from Eastern Europe with specialist native language speakers. From the smallest case to a multimillion-pound spinal injury case, Osbornes has the right staff to manage every claim.

Ben Posford remains pre-eminent in his field with expert understanding of litigating cases of the upmost severity. His experience builds on Stuart Kightley's running of the firm with recent partner additions of Rob Aylott making a fantastic addition.

A firm going from strength-to strength-which retains its client care whilst being able to offer a full personal injury service.

Beneath Ben Posford's calm and reassuring presence, which clients love, lies a formidable tactical and legal brain. His experience tells and he gets it right at every stage of the process from arranging the best possible rehabilitation, to ensuring, so far as possible, a polite relationship with those acting for the defendant in order to ensure best and early resolution of the claim.

"Clients say he is very impressive, in terms of both his experience and his management of the personal injury team."

"They have an expanding profile in personal injury and clinical negligence and offer a superb, broad service in accidents abroad, enabled by their recruitment of bilingual legal executives who can guide non-English speakers through complex litigation."

"Solid personal injury practice well equipped to advise on high-value and high-profile claims arising from fatalities and severe head and spinal injuries."

"Offers specialist expertise in cycling-related injury claims."

"Offers specialist expertise in cauda equina syndrome cases."

"An exceptional outfit. They take on difficult cases, fight hard and win."

"Stuart Kightley is an incredibly empathetic solicitor who is very knowledgeable about traumatic brain injury."

"They are an outstanding firm to work with. They are consistently impressive in their work."

"Osbornes often handles claims valued at over £1m, particularly relating to severe brain and spinal cord injuries and niche areas such as cauda equina syndrome and cycling accidents."

"The hard-working, thorough and committed Robert Aylott, who brings significant heavyweight personal injury experience."

"Key team members include the energetic and personable Stuart Kightley who is head of the personal injury department."

"Osbornes has a growing influence and impressive work load and is gaining a reputation for handling complex catastrophic work."

"Catastrophic injury cases head Ben Posford is an excellent practical litigator who offers exceptional service."

"Stuart is also very experienced in advising on fatal accidents and workplace accidents."

Thank you for the hard work and patience and for being so patient with my constant questions.

"I have found Osbornes to be thorough, clear and understanding from the initial call. They do exactly what they say they will and with passion! I would recommend them to anyone".

Very good efficient service. Would not hesitate to use again.

I will use Osbornes for any future needs.

I don't think I could have asked for anything more. One of the best dealings I've had with the legal profession.

Sam was excellent and very professional in dealing with our claim.

Head of the personal injury department, Stuart Kightley is a first-rate practitioner, wholly focused on getting his client the best outcome in a pragmatic, sensible and consensual manner.

As a real specialist in spinal cord injuries, Ben Posford is always looking at new angles on how to maximise his cases.

Ben Posford is one of the best catastrophic injury lawyers around.

They provide exceptional service, great knowledge and understanding of the law, excellent client care and tactical nous

Stuart Kightley is praised for his expertise in catastrophic and fatal claims. Clients say he is very impressive, in terms of both his experience and his management of the personal injury team.

My claim was dealt with efficiently and professionally. Communication was excellent, and timely. Shrewd and sound advice was provided at every stage of the claim from beginning through to completion. On the basis of my personal experience I would strongly recommend Osbornes.

I just wish to thank you for your hard work and successful outcome. I am pleased with the result and would recommend you and your firm to anyone in the future.

Ben Posford … is 'tactically astute' and 'one of the best personal injury solicitors around'.

Ben Posford 'knows how to maximise the value of the claim for his clients'.
Insights From our Serious Injury Lawyers VIEW ALL