Six-figure Settlement for Pedestrian Injured at Traffic Lights
24 Oct 2023 | Kate Milton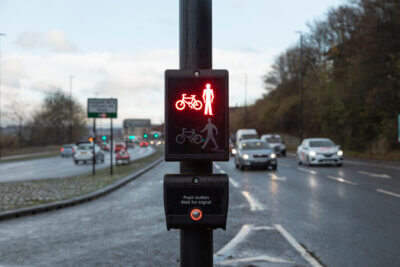 Our client was a 68 year old homeless Polish National who was knocked over on a traffic light controlled crossing. He suffered various injuries including a severe traumatic brain injury against a background of pre-existing brain atrophy and alcohol.   As a result of the accident, our client was left with profound cognitive impairment and he lacked the mental capacity to manage his own property and affairs.
Following discharge from hospital, he was placed by statutory services into a care home for the elderly with no rehabilitation facilities.  An application was made to challenge our client's placement at the care home brought on the basis that his best interests were not being met because the home did not cater for brain injured clients or polish speaking clients.  The result was, our client was moved to a private rehabilitation clinic for intensive rehabilitation before being placed into a small supported-living care home.  We obtained an interim payment and employed a case manager to ensure that our client's needs were being met and recruited a Polish-speaking support worker to engage our client in activities and take him out into the community.  In addition, we were able to obtain funding to arrange a number of therapies including psychiatry, psychology, OT and physiotherapy.
We were able to achieve a six-figure settlement to ensure his future rehabilitation needs continue to be met with ongoing Polish-speaking support.
Our client was represented by Kate Milton a Senior Associate within the Personal Injury Team. Kate is ranked in the Chambers UK directory, and commented she was happy to be able to help our client receive the rehabilitation they required.
If you have been involved in a road traffic accident and want to get in touch with a solicitor, please do not hesitate to contact by filling out the online form below. 
Osbornes prepares cases well; the whole team is good and lawyers there know their stuff.


They deal with people compassionately and take on the right amount of detail. The firm has some really brilliant key solicitors.


The personal injury team is responsive and its level of service towards clients and other professionals is exceptional and high quality


The team offers specialist expertise in cycling-related injury claims and regularly acts for foreign nationals.

It has considerable experience in cases arising from motor accidents and accidents at work

Osbornes is a well-regarded personal injury practice well equipped to advise on high-value and high-profile claims.


Their team includes bright, hard-working solicitors dedicated to achieving successful outcomes for their clients from partner level to paralegal. Their client care is exceptional.

They are a team who are highly respected in the PI sector.

This is an excellent PI team doing a broad range of PI work.

Osbornes' 'highly respected' personal injury team is experienced in a range of complex, high-value claims, with notable strength in acting for European clients for whom English is not a first language.

Osbornes' 'highly respected' personal injury team is experienced in a range of complex, high-value claims

Osbornes' 'highly respected' personal injury team is experienced in a range of complex, high-value claims.

"Osbornes always provides work of excellent quality and the advice is sound."


"The firm has the ability to handle the most sophisticated and complex matters."

"Osbornes is always client-focused and works tirelessly to obtain the best outcomes."

'The team deals with multi-million pound, often multifaceted claims, involving such factors as severe brain, psychiatric, gynaecological and spinal injury, major trauma, amputation and fatality.'

"They are a boutique firm with highly experienced partners who are well-respected in the industry."


"The team at Osbornes deals with catastrophic injury claims with the same professionalism as the largest firms, but provides a much more client-focused experience."


"A really first-rate team, well capable of dealing with the most serious and complex injuries."

"This team has carved out an exceptional reputation in catastrophic injury work."

"Osbornes has impressed me with their personal touch for clients whilst offering a first-class handling of catastrophic injury claims. The partners all have vast experience and are highly respected in their field."


"This is a really excellent personal injury team that can be regarded as one of the major players in the London claimant personal injury market."

"Osbornes have managed to recruit a team of outstanding catastrophic injury lawyers who are at the top of the game."

"They punch well above their weight. The quality of service they provide equals that of any of the larger top-name firms in this area"

The firm has an excellent and innovative line in cases involving non-English speaking claimants, managed by recruiting paralegals with multi-language skills – an impressive route for expansion of the caseload.

Excellent coverage of personal injury, and traumatic brain injury. There is a real specialism in claimants who do not speak English as a first language.

The group is noted for its expertise in matters relating to cycling injuries, and is the official legal partner of the London Cycling Campaign charity.

To complement its strong reputation for high-value and complex personal injury work, the firm continues to develop its 'excellent and innovative line in cases involving non-English speaking claimants'

"A small but high-powered team, dealing with cases of significant value and complexity."

"An excellent firm which achieves fantastic outcomes for clients."

"Osbornes Law have captured the magic of keeping the customer service levels of a smaller firm whilst having all the expertise and power of the biggest firms."

"A superb boutique catastrophic injury firm."

"Really good at dealing with people who have suffered a serious injury."

"Affable and charming with very good client-handling skills."

"superb firm with consummate professionals and a human touch."

Osbornes now has a team of highly experienced personal injury lawyers; particularly strong on high-value quantum cases, workplace accidents and claims involving foreign workers injured in the UK.

The team provides fantastic strength-in-depth for personal injury claims. It is also particularly well placed to service clients from Eastern Europe with specialist native language speakers. From the smallest case to a multimillion-pound spinal injury case, Osbornes has the right staff to manage every claim.

Ben Posford remains pre-eminent in his field with expert understanding of litigating cases of the upmost severity. His experience builds on Stuart Kightley's running of the firm with recent partner additions of Rob Aylott making a fantastic addition.

A firm going from strength-to strength-which retains its client care whilst being able to offer a full personal injury service.

Beneath Ben Posford's calm and reassuring presence, which clients love, lies a formidable tactical and legal brain. His experience tells and he gets it right at every stage of the process from arranging the best possible rehabilitation, to ensuring, so far as possible, a polite relationship with those acting for the defendant in order to ensure best and early resolution of the claim.

"Clients say he is very impressive, in terms of both his experience and his management of the personal injury team."

"They have an expanding profile in personal injury and clinical negligence and offer a superb, broad service in accidents abroad, enabled by their recruitment of bilingual legal executives who can guide non-English speakers through complex litigation."

"Solid personal injury practice well equipped to advise on high-value and high-profile claims arising from fatalities and severe head and spinal injuries."

"Offers specialist expertise in cycling-related injury claims."

"Offers specialist expertise in cauda equina syndrome cases."

"An exceptional outfit. They take on difficult cases, fight hard and win."

"Stuart Kightley is an incredibly empathetic solicitor who is very knowledgeable about traumatic brain injury."

"They are an outstanding firm to work with. They are consistently impressive in their work."

"Osbornes often handles claims valued at over £1m, particularly relating to severe brain and spinal cord injuries and niche areas such as cauda equina syndrome and cycling accidents."

"The hard-working, thorough and committed Robert Aylott, who brings significant heavyweight personal injury experience."

"Key team members include the energetic and personable Stuart Kightley who is head of the personal injury department."

"Osbornes has a growing influence and impressive work load and is gaining a reputation for handling complex catastrophic work."

"Catastrophic injury cases head Ben Posford is an excellent practical litigator who offers exceptional service."

"Stuart is also very experienced in advising on fatal accidents and workplace accidents."

Thank you for the hard work and patience and for being so patient with my constant questions.

"I have found Osbornes to be thorough, clear and understanding from the initial call. They do exactly what they say they will and with passion! I would recommend them to anyone".

Very good efficient service. Would not hesitate to use again.

I will use Osbornes for any future needs.

I don't think I could have asked for anything more. One of the best dealings I've had with the legal profession.

Sam was excellent and very professional in dealing with our claim.

Head of the personal injury department, Stuart Kightley is a first-rate practitioner, wholly focused on getting his client the best outcome in a pragmatic, sensible and consensual manner.

As a real specialist in spinal cord injuries, Ben Posford is always looking at new angles on how to maximise his cases.

Ben Posford is one of the best catastrophic injury lawyers around.

They provide exceptional service, great knowledge and understanding of the law, excellent client care and tactical nous

Stuart Kightley is praised for his expertise in catastrophic and fatal claims. Clients say he is very impressive, in terms of both his experience and his management of the personal injury team.

My claim was dealt with efficiently and professionally. Communication was excellent, and timely. Shrewd and sound advice was provided at every stage of the claim from beginning through to completion. On the basis of my personal experience I would strongly recommend Osbornes.

I just wish to thank you for your hard work and successful outcome. I am pleased with the result and would recommend you and your firm to anyone in the future.

Ben Posford … is 'tactically astute' and 'one of the best personal injury solicitors around'.

Ben Posford 'knows how to maximise the value of the claim for his clients'.