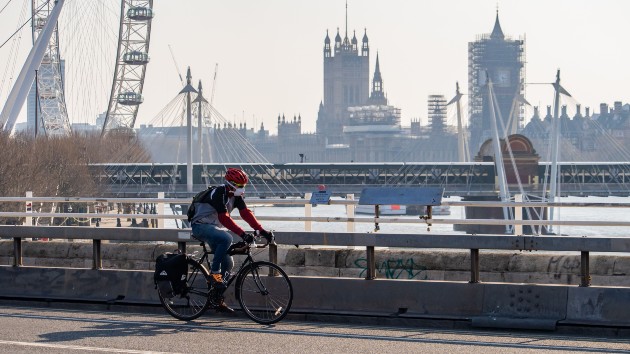 We acted for Dom, a 40-year-old media executive, living in East London. He and his wife owned their own home; she was expecting their first child and he spent his spare time renovating the house and landscaping the garden. Dom was an experienced cyclist who used his bike for work and leisure.
Dom was cycling straight ahead at a roundabout in broad daylight when a car entered the roundabout from his left and drove into a collision with him. He was thrown into the road, landing on his back and sustaining stable fractures to two lower lumbar vertebrae. Dom was admitted to hospital for three days but did not require surgery and he was discharged. He was off work for a week and then worked from home for the next 6 weeks, after which he commuted to work by public transport for 10 weeks and then returned to cycling.
Find out how to make a bike accident claim
Dom was unable to resume home DIY, renovations and gardening; he struggled to lift his baby son out of his cot. He required extensive investigation and therapies, which were arranged through his private health insurers.
Liability was admitted and the insurers agreed to interim payments to cover the immediate losses. We commissioned reports from an experienced spinal surgeon and established that despite a good and rapid recovery, Dom would be advised to refrain from heavy gardening and renovation work for the foreseeable future.
We presented a personal injury claim for pain & suffering, past loss and future loss. Valuation of the pain and suffering element relied on judicial guidelines and was not the subject of any real argument.
Past losses comprised £5000 of private medical bills, £500 of care from his wife, £800 of travel expenses (including public transport for 10 weeks), £500 for his damaged bike and cycling kit, £250 for medical equipment and therapies, £100 for phone and internet bills, £200 for a new baby cot and £3500 to pay contractors to finish the home and garden works.
The future loss claim comprised the estimated commercial cost of the DIY and heavy gardening that Dom was advised not to do (claimed at £1500 pa for life). The injuries had no long term impact on his ability to work.
Once the reports and other evidence was obtained we opened negotiations with an offer of £74,000. The defendants countered with an offer of £50,000. After protracted further negotiations (which coincided with a change in the law on future losses which improved the value of that part of the claim) the case settled for £70,000.
Dom received the final settlement less his costs contribution of £2600 about 20 months from the date of the cycling accident.
If you have suffered an injury due to a bike accident, you may be able to claim compensation. Call our specialist bike accident lawyers for a free consultation on 020 7485 8811.
Contact us today
Email us Send us an email and we'll get back to you
Mark Freedman really fights for his clients and is a pragmatic and reasonable person to deal with - good in negotiations.

Lisa Pepper is particularly recognised for her role as a mediator in complex cross-border disputes. Her practice also includes handling prenuptial agreements and issues arising from the dissolution of civil partnerships.

Jan Atkinson is confident with a straightforward approach. Her practice covers both contentious and non-contentious matters, including wealth planning and estate administration.

Katie de Swarte is hardworking and has great empathy for her clients

For my part, I must say I'm very grateful for the way Emma, Elspeth and Jan have steered us through this long and sometimes difficult process. I have felt very supported and always in safe hands.