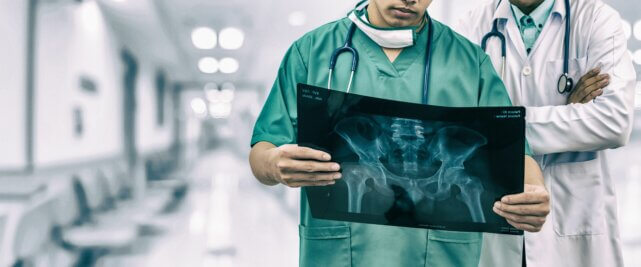 What is a bone fracture?
A bone fracture occurs when the structure is damaged, causing the bone to break into 2 or more pieces. A fracture can occur for several reasons:
High-impact trauma, such as a road traffic accident.
Medium impact trauma such as a fall. However, healthy bones should withstand a fall from a standing height. So, a hip fracture following a slip or trip is a red flag that could signal the presence of a medical condition such as osteoporosis or bone cancer. Elderly people are at greater risk of fractures from slips and trips because of a pre-existing medical condition.
Low or no impact, but when the bone is weakened due to a medical condition. These types of fractures are known as pathological fractures.
Fractures present a considerable public health burden, with around 3.6 fractures per 100 people per year in England alone.[1] Each year 1 in every 100 people will suffer a bone fracture. At the same time, around 10 million of the 20 million trips to Accident and Emergency annually result in an X-Ray examination to rule out or diagnose a break.
The personal burden of fracture is also high; complications from an undiagnosed fracture include short-term problems such as damage to muscles, blood vessels and joints, medium-term problems such as infection and clot formation and longer-term conditions such as stiffness and arthritis. Fractures can also adversely affect long-term quality of life due to loss of function and independence. Confidence can also suffer.
Wintertime means fracture time
According to the Royal Osteoporosis Society, winter is a time of fractures. The National Hip Fracture Database indicates an 8% increase in hip fractures during the winter months of 2018 compared to the rest of the year.[2] Ankle fractures and foot fractures occur more frequently in winter too.[3] Wrist fractures due to falls are also more likely in colder weather.
Unfortunately, failure to detect a fracture on an X-ray is one of the most common errors in Accident and Emergency Departments. Here are some real-life cases of missed fractures.
Any bone in the body is vulnerable
A missed skull fracture can lead to permanent brain damage or death. An incorrect diagnosis of a wrist fracture can result in the delayed or incorrect union of the bones, resulting in impaired hand function. This year, doctors failed to diagnose a hip fracture in a man complaining of back and leg pain, despite spending 4 days in a hospital orthopaedic ward.[4]
Missed spinal fracture
In another case where the hospital failed to diagnose a fracture, a 37-year-old woman suffered a spinal fracture during childbirth. Her bones were weakened due to a medical condition called osteopenia. However, the fracture and her bone weakness were only diagnosed after she suffered 6 months of severe pain, and she finally received a diagnostic MRI scan.
And just this month it was reported that a footballer continued to play for 6 weeks after sustaining a fractured leg. He had received two X-rays at the time of his injury, but the fracture was missed. A third X-ray finally showed up his broken leg bone.
Missed broken wrist
A junior doctor who is also the current Miss England was taking part in rehearsals for the recent Miss World contest. A fellow contestant, Miss Luxembourg asked her to examine her painful wrist: she had fallen while at an ice rink two weeks previously, and doctors diagnosed a sprain. However, Dr Miss England believed the wrist was fractured, and her suspicions were confirmed shortly afterwards with another X-ray.
Missed hip fracture
I recently acted for a woman who fractured her hip following a fall at home. She attended her local Accident & Emergency Department and her GP on several occasions suffering from pain, swelling and difficulty mobilising. Her fracture was not diagnosed for 7 weeks despite X-rays being taken. My client was awarded missed fracture compensation.
What happens if your hospital misses a fracture?
If fractures are identified correctly and managed properly, there is a greater chance that healing will be complete, and the bone will return to normal functioning. In contrast, if a fracture is not identified and treated, there is an increased likelihood of further damage to the bone as well as to the surrounding tissues, nerves and blood vessels, causing additional, completely unnecessary complications.
According to a Consultant Orthopaedic Trauma surgeon interviewed by the Daily Mail, with a missed fracture, at the very least, people suffer prolonged pain and inconvenience. Still, it can also lead to chronic functional limitation with long-term pain, early symptoms of osteoarthritis or a stiff joint'.[5] Particular fractures are more likely to be missed, including:
Hairline fractures, or
Fractures in bones that are difficult to visualise, such as the scaphoid bone in the wrist.
Contact Stephanie Prior, head of Clinical Negligence, if your hospital missed a fracture.
[1] https://www.ncbi.nlm.nih.gov/pubmed/18192607
[2] https://politicshome.com/news/uk/health-and-care/illnesstreatments/opinion/royal-osteoporosis-society/108554/government-must
[3] https://www.globenewswire.com/news-release/2019/12/11/1959473/0/en/Stay-on-Your-Feet-This-Winter.html
[4] https://www.bbc.co.uk/news/uk-scotland-edinburgh-east-fife-49010271