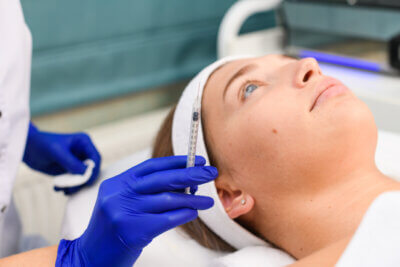 We are pleased to have successfully settled a client's claim for a delayed cancer diagnosis – Basal Cell Carcinoma ("BCC"). The settlement will allow our client to benefit from skin camouflage products to conceal her facial scarring.
Our client, C, had developed a lump on the side of her nose, causing her discomfort. She was concerned it may be malignant due to a family history of skin cancer, so she booked an appointment with her GP in September 2019. The lump was round and had a 1.1cm diameter at the time. C's GP examined the lump; he prescribed her a topical cream to use 3 times a day and referred C to a dermatologist with a clear textbook description of a basal cell carcinoma in the referral letter as he was concerned by the features of the lump.
C had an appointment with the dermatologist on 10 January 2020 and was diagnosed with a sebaceous cyst thereafter. The dermatologist's notes specifically record "no features to suggest BCC". C was given a steroid injection to the 'cyst' and provided with a topical gel to apply. She was discharged with no follow-up and no safety netting advice.
C's lump did not improve over the following months despite C applying the gel she had been prescribed. By late August 2020 the lump was sore, red and bleeding. In mid-September, C decided to see a private dermatologist as she was still concerned by the lump. The lump measured 1.5 x 2 cm at this appointment. She was referred for a biopsy, confirming the basal cell carcinoma diagnosis.
C underwent Mohs surgery (a method for treating skin cancer lesions) in December 2020 to remove the carcinoma and required a skin graft.
C brought a claim against the Defendant for a 9-month delay in diagnosis of basal cell carcinoma, which resulted in her requiring a more invasive procedure than she would have needed had it been correctly diagnosed in January 2020. C suffered from worry and anxiety between seeking medical advice and her diagnosis in September 2020; she was also left with additional scarring due to the delay, which impacted her self-confidence.
Basal cell carcinoma is one of the most common types of skin cancer. According to the NHS, it accounts for roughly 75% of all skin cancers. The advice is to see your GP should you have "skin abnormality, such as a lump, ulcer, lesion or skin discolouration that has not healed after 4 weeks", even if it is unlikely to be skin cancer. You can find more information on BCCs and non-melanoma skin cancers here: https://www.nhs.uk/conditions/non-melanoma-skin-cancer/
Contact Elline Today
Email us Send us an email and we'll get back to you
"The team is very quick and efficient in responding."

"Obsbornes Law is always client-focused and works tirelessly to obtain the best outcomes for clients."

'They are ambitious for their clients and expect high standards from all who work with them.'

"Osbornes somehow combine the accessibility of a local firm, with the professional standards of a national or city outfit."


"Osbornes, is described as having 'superb judgement and a medical knowledge that is second to none."

They are an excellent firm who achieve fantastic outcomes for their clients. They are also very prominent in injuries to those travelling to or from Europe. Multiple languages are spoken by the team.

Stephanie Prior is a first-rate clinical negligence specialist whose industry, great experience and medical background put her in an exceptional class.

This firm is responsive and efficient. Their rapidity in dealing with complications or hiccups is excellent.

Really great clinical negligence practice, staffed by experienced practitioners who know how NHS Trusts work. They also build great rapport with clients.'

Stephanie has developed a particularly strong reputation for her handling of birth injury claims, as well as cases concerning surgical negligence and delays in surgery.

"An excellent firm which achieves fantastic outcomes for clients."

"Stephanie Prior takes on complex cases and gets excellent results. She has a background in medicine which serves her clients well and is a realistic but tough litigator."

"Stephanie Prior is hugely dedicated, adored by her clients, tenacious, efficient and extremely knowledgeable."

"Stephanie Prior is very good with troubled clients and is easily able to make them feel at ease."

"Stephanie shows sensitivity and deals with things in an understanding way."

Osbornes provides a very intimate and personal client service which is increasingly rare in this sector.

The lawyers in the team are highly experienced and will drive cases very hard on behalf of their clients.

"Stephanie Prior has a realistic attitude to the complexities of the cases. She wins the trust of her clients and goes the extra mile to ensure they get the best outcomes."

"Stephanie Prior... manages a varied caseload, including obstetric claims, child and adult brain injury cases and fatal and non-fatal spinal cord injury cases."

"Stephanie is experienced, knowledgeable of all aspects of clinical negligence work, and strategic in running cases."

"An exceptional outfit. They take on difficult cases, fight hard and win."

"The team were extremely professional in putting my needs first. There was a joined-up approach to catering for the client, and all lawyers involved were briefed and constructive."

Stephanie Prior is always very professional and kind. Highly recommended.

Quite simply excellent, with a highly competent and well-rounded team. They understand complex medical litigation and have been our lifesavers, and we will always owe them our immense gratitude.