Preventing lung cancer delayed diagnosis & misdiagnosis
12 Nov 2021 | Jodi Newton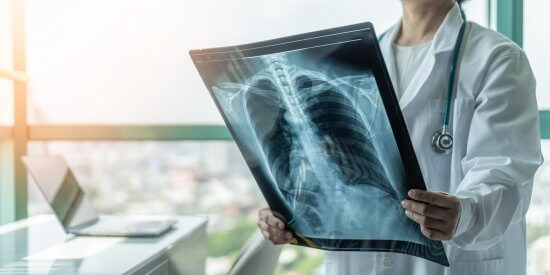 Lung cancer is one of the most common and serious cancers – sadly, it is often incurable. In common with other cancers, however, prompt diagnosis and early treatment of lung cancer will directly affect survival rates. I recall my first lung cancer misdiagnosis case in which my client's first question was why he was not offered more sophisticated investigations, over and above an x-ray, which would have achieved an earlier diagnosis which may have saved his life.
On 14 October 2021, the healthcare safety organisation Healthcare Safety Investigation Branch ("HSIB") published its report detailing its investigations into factors contributing to high rates of misdiagnosis for lung cancer in England. HSIB research found that 5-year survival rates for lung cancer in the UK are among the worst in Europe, with two-thirds of patients diagnosed at an advanced stage.  HSIB has recognised errors and discrepancies in radiology practice for diagnosing lung cancer as contributing to poor survival rates.
Jodi Newton, a specialist medical negligence lawyer at Osbornes Law, summarises the report and findings below.
Following the case of a non-smoker patient whose diagnosis was delayed due to a failure to identify lung cancer despite three chest X-rays, HSIB opened an investigation. In what they describe as the "reference event", following the chest X-rays taken over a period of approximately 9 months, the patient was referred for a CT scan, which identified lung cancer, which appeared to have spread throughout her lungs. The hospital accepted that the findings on the previous x-rays suggested cancer was present, but sadly, the radiologist did not identify this. The consultant referred to the matter as a patient safety investigation, and following an initial fact-gathering exercise, HSIB authorised a national safety investigation.
The investigation found that:
Lung cancer in those who have never smoked is increasing.
The media have created a strong messaging campaign about the connection between lung cancer and smoking. As lung cancer often has non-specific symptoms, the adverse impact is that GPs have found it more challenging to diagnose.
While chest X-rays are usually the first test to assess for lung cancer, they are difficult to interpret, and about one in five cancers are missed, which is likely to reassure the GP falsely.
The evidence suggested NICE need to amend its safety net advice to healthcare professionals to clarify what should be offered to patients with ongoing unexplained symptoms after a negative chest x-ray.
A CT scan for screening for high-risk lung cancer patients is beneficial. Further research needs to be undertaken on whether a CT should be the first-line diagnostic test instead of a chest X-ray.
HSIB made 3 safety recommendations to NHS Improvement, NICE, and NHSX, which were as follows:
HSIB recommends that NHS England and NHS Improvement work with research partners to explore options for commissioning research to address whether CT scans are clinically more accurate and cost-effective for diagnosing lung cancer in symptomatic patients compared to chest X-rays.
HSIB recommends that NICE reviews its current safety netting advice to healthcare professionals with respect to the investigation of possible lung cancer. The wording of the advice should be amended to clarify what should be offered to patients with ongoing, unexplained symptoms who have had a negative chest X-ray.
HSIB recommends that NHSX develop guidance to support independent benchmarking and validation of artificial intelligence algorithms to identify lung diseases such as cancer.
That HSIB has recommended strategies to minimise error in lung cancer diagnosis is a wake-up call to health professionals that this is a serious shortfall and can be improved by following HSIB's advice. At the very least, it warrants further research. A chest x-ray has now been highlighted as an imperfect diagnostic tool, and taking steps to minimise this error will likely save lives from this particularly aggressive form of cancer.
It is also a development which has been well received by radiologists (represented by the Royal College of Radiologists) who support rolling out improved artificial intelligence to minimise diagnostic errors; however,  there is also a recognition that this may not be possible on the NHS due to limited resources including a shortage of staff, equipment, and consultants with the appropriate level of expertise.
If you believe there has been a failure in care or delay of diagnosis in your case, please get in touch with Jodi Newton. She will be able to advise you of the medical negligence claims process, the NHS complaints procedure and whether you can bring a successful claim on the facts of your case.
Jodi is ranked as a leading medical negligence lawyer in Chambers UK and the Legal 500. She is also an accredited lawyer of AvMA (Action against Medical Accidents). This accreditation means that Jodi has demonstrated high skill and experience in handling medical negligence claims and caring for her clients.
To speak with Jodi call us or fill in the online form below.
"Jodi Newton is a tenacious and intelligent fee earner. She fights tooth and nail for her clients and gains their trust and respect from the outset."

Jodi Newton is brilliant – a very capable, experienced and empathetic solicitor who has experience of handling high value and complicated cases. I am working with her on a cerebral palsy case at the moment, in which she has obtained an admission of liability and a substantial interim payment. A first class addition to the team.

The team at Osbornes was recently strengthened by the arrival of 'experienced and empathetic' associate Jodi Newton. She joins a department noted for its expertise in delayed diagnosis and wrongful birth claims.

A stand-out solicitor with a huge track record of successful clinical negligence work. She is forensic in her attention to detail, but also sees the broad sweep of strategic considerations".