Croydon tram crash victims' families submit formal request to Attorney General for fresh inquest
4 Aug 2021 | Ben Posford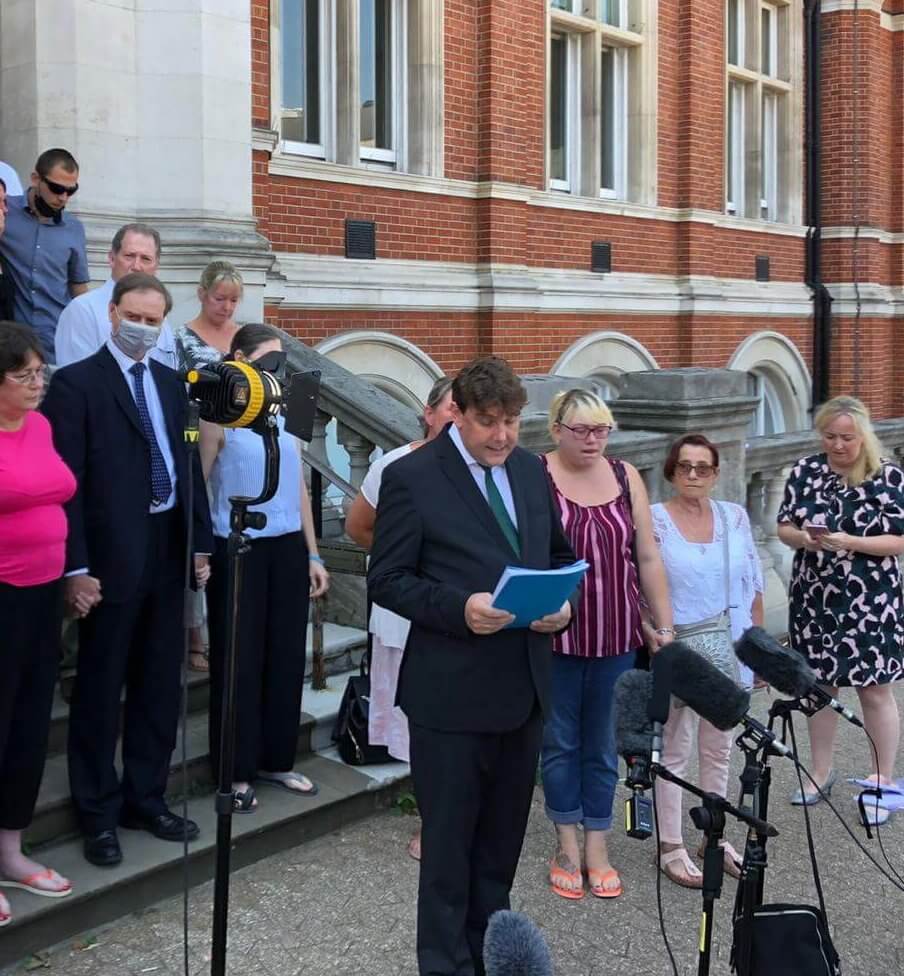 Osbornes Law, who represent five Croydon tram crash victims' families, today wrote to the Attorney General asking him to apply to the High Court for a new inquest, citing multiple irregularities with the conduct of the original inquest which ended last month.
An inquest jury last month concluded that the seven people who died in the derailment at the Sandilands Junction, Croydon on 9 November 2016 did so as a result of an accident.
But lawyers from London law firm Osbornes Law have written to Attorney General Michael Ellis QC MP claiming that a fresh inquest should be held as Her Majesty's Senior Coroner for South London, Sarah Ormond-Walshe ('HMSC') interpreted the law incorrectly. This resulted in the inquest not hearing crucial evidence.
Dane Chinnery, 19, Philip Logan, 52, Philip Seary, 57, Dorota Rynkiewicz, 35, and Robert Huxley, 63, all from New Addington, and Mark Smith, 35, and Donald Collett, 62, from Croydon died in the crash at Sandilands Junction, while 62 of the 70 on board were injured, 19 seriously.
Ben Posford, Partner and Head of Catastrophic Injury at Osbornes Law is lead solicitor for five of the seven families (the families of Mr Logan, Mr Seary, Ms Rynkiewicz, Mr Smith, and Mr Collett).
In the letter to the Attorney General he wrote: "We are writing to ask that you consider using your powers under section 13 of the Coroners Act 1988 ('the 1988 Act') to apply to the High Court for an order seeking a fresh inquest. We believe that it is necessary or desirable in the interests of justice that another investigation be held. As per section 13, the application would be justified on the grounds of rejection of evidence and/or irregularity of proceedings and/or insufficiency of inquiry."
The coroner at the nine-week inquest refused to let the court hear evidence from anybody potentially responsible for the crash, instead relying on evidence from the Rail Accident Investigation Board (RAIB). She used precedent in a previous inquest of a helicopter crash – Norfolk – to allow no evidence to be heard from Transport for London (Tfl) or First Group's Trams Operations Limited (TOL).
Ben added: "At the inquest HMSC refused to call any eye-witnesses who were in the crashed tram, nor any tram drivers or trainers, nor any managers from the tram company, nor any infrastructure managers. She refused to call the defaulting tram driver himself. She refused to call experts who had reported on inadequate risk assessment, inadequate signage and inadequate regulation of the industry.
"These decisions have caused distress and injustice to the families of the deceased and also caused a public outcry. If the decision is right in law then in all future air/marine/train crash inquests no family will ever hear from and question those who were responsible for the deaths of their loved ones and no experts other than RAIB staff will be heard. If this decision is right the Accident Investigation Boards are now all-powerful, all-seeing experts; dispensers of justice; determiners of fact and curtains behind which all defaulters will be kept from the public eye. Inquests and juries are made irrelevant.
"HMSC's interpretation of Norfolk was far too broad and has the effect that in every mass fatality public transport accident in future, the inquest will never again hear from any of those who are directly responsible. Instead, the inquests will simply be a rubber-stamping exercise of the AIB report relating to that incident, which renders the inquest an expensive farce."
Some of the families have offered to meet with the Attorney General.
Ben said: "We also invite you to meet some of the families involved to better understand the effect this decision has had on them. The families feel deeply let down by the inquest process and can see no point in having such an inquiry and then calling none of those responsible to give evidence to the jury.
"The families are not rich. They cannot afford a judicial review. If they can gain legal aid they will have to start a judicial review within three months of 28 June 2021. You could save them the heartache, stress and burden by exercising your powers."
RAIB's 2018 report into the crash can be viewed here. RAIB concluded that the driver either fell asleep or became disorientated in the Sandilands tunnel. They also concluded that ToL's risk assessments and safety precautions against their drivers' human failings were inadequate. TfL appointed SNC-LAVALIN to carry out an independent report into the crash. The report and recommendations can be viewed here.
"An excellent practical litigator who offers exceptional service', 'tactically astute… he is one of the best personal injury solicitors around"

"He finds angles other lawyers miss and fights incredibly hard for his clients"

"Ben Posford is a hugely experienced solicitor who approaches his cases with confidence and realism."

"Ben Posford is a hugely experienced solicitor who approaches his cases with confidence and realism."

"A really strong team, led by Ben Posford, who is an exceptionally experienced and talented catastrophic injury lawyer."

"Affable and charming with very good client-handling skills."

Beneath Ben Posford's calm and reassuring presence, which clients love, lies a formidable tactical and legal brain. His experience tells and he gets it right at every stage of the process from arranging the best possible rehabilitation, to ensuring, so far as possible, a polite relationship with those acting for the defendant in order to ensure best and early resolution of the claim.

Ben Posford is "very meticulous, good with clients and knowledgeable."

"Intellectually rigorous and intelligent."

Ben Posford is one of the best catastrophic injury lawyers around.

Ben Posford is 'exceptional and a real expert in the field of catastrophic injury'.

Ben Posford … is 'tactically astute' and 'one of the best personal injury solicitors around'.

Ben Posford 'knows how to maximise the value of the claim for his clients'.

Ben Posford...'couples meticulous legal skills with a hugely personable manner with clients and opponents,' and is noted for his skills in 'directing and motivating those working beneath him'

"Ben Posford is a fantastic lawyer who is extremely personable in dealing with clients and with opponents, and he has an unusual level of knowledge of the intricacies of procedure and substantive law."