Family law award nomination for Osbornes Law
24 Oct 2022 | Mark Freedman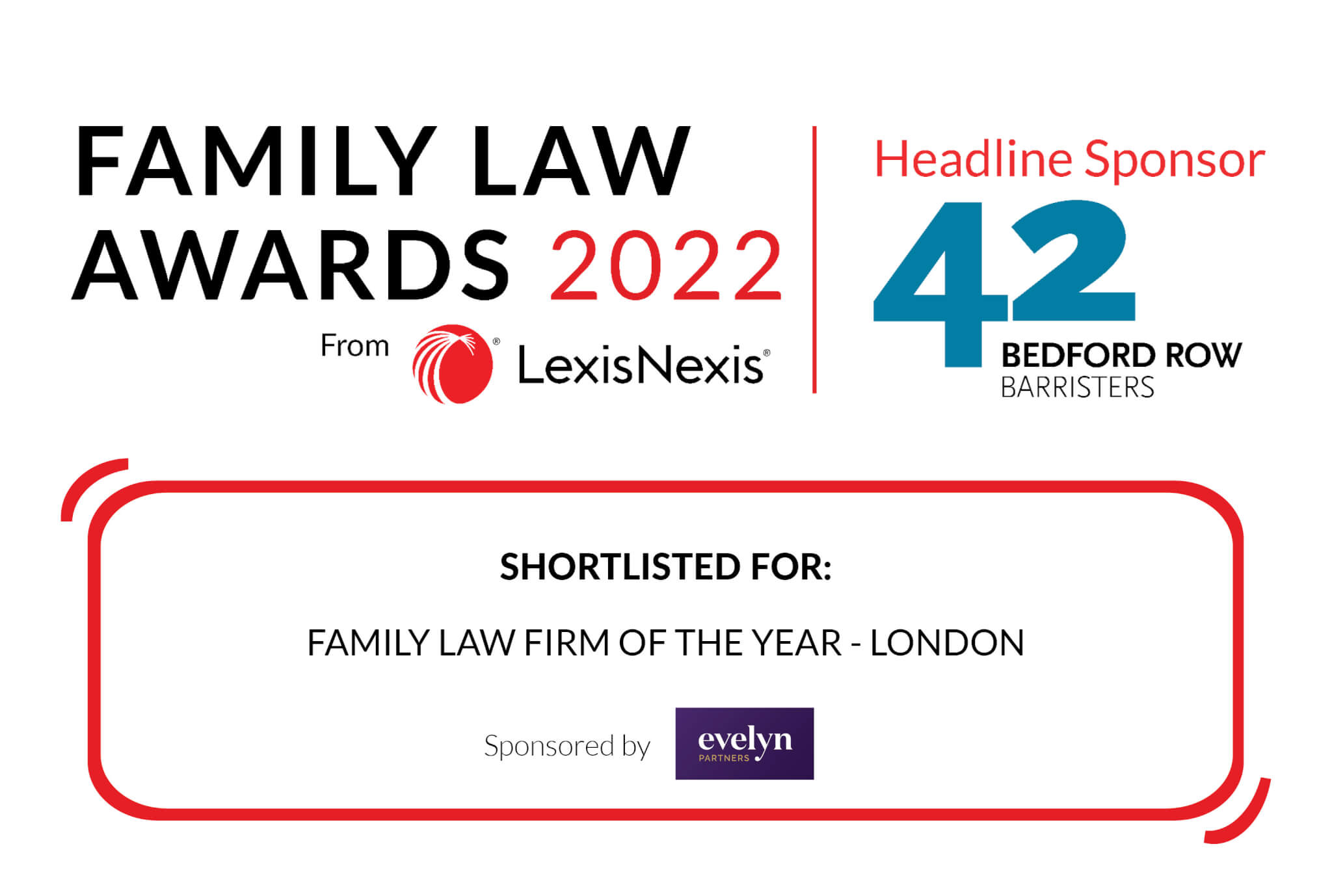 The family team at Osborne have been shortlisted as finalists at the Family Law Awards 2022.
The department are one of only six firms in London who have been nominated for Family Law Firm of the Year.
The finalists and eventual winners of each category will be chosen by a judging panel made up of the heads of associations including, the Family Law Bar Association, Resolution and the Association of Lawyers for Children.
To be considered for this award the department had to demonstrate the quality of legal services offered through independent kitemarks awarded to the team and client testimonials, the broad range of family law cases the firm is instructed in, including divorce and financial matters and international children issues, the pro-bono initiatives the firm is involved with that benefit local communities and other awards or memberships the team belongs to.
The family and divorce lawyers at Osbornes are also regularly called upon by the media to comment on decisions and policy. In April 2022 when 'no fault divorce' came into force, the team wrote various article explain the change in law and possible effects.
Divorce lawyer, Mark Freedman comments:
"The family law market in London, continues to grow, with many firms and lawyers doing an excellent job for their clients. To be chosen as one of only six firms in London, makes us immensely proud and is a huge reward to all in members of the team who are incredibly committed to their clients. Helping an individual through a family related dispute calls for more than providing sound advice only. It also means supporting our clients through difficult moments, enabling them to make the decisions for themselves and their family, which not only suit their needs now, but also in the future."
The family department have also been ranked as a leading team in Chambers UK 2023 and The Legal 500 2023.
"Osbornes Law have a very broad family practice which does all areas of family law at a high level. They have an excellent practice; they are top quality across the board."

Osbornes have been a sound firm forever. They have phenomenal work and an excellent skill set.

They have high-end partners doing high-end work. They are very impressive.

They have an excellent practice; they are top quality across the board.

Osbornes have a very broad family practice which does all areas of family law at a high level.

He is very hard-working, diligent and thoughtful in his approach. He is on top of the detail and makes strategic decisions.

He commits himself to getting the best results.

He's a really tough litigator that you certainly want on your side. He will defend his clients to the hilt.

Mark is an immensely capable lawyer, with vast experience and a well-deserved reputation for getting the very best for his clients.

Lisa Pepper is extremely hard-working and adored by her clients. She is a very empathetic and approachable lawyer.

She's an extremely supportive and kind lawyer and has an increasing mediation profile too

Andrew secured me the best financial settlement for my claim. He is a credit to Osbornes Solicitors.

"It has a strong and experienced team of solicitors who don't take bad points, work sensibly to get a settlement and who you can always pick up the phone and speak to. They are good lawyers and know the strengths and weaknesses of their clients' cases. They don't posture and always pursue their clients cases appropriately. "

"Mark Freedman is a very capable lawyer, renowned for not being a pushover and pushing his clients' cases as much as he can, but will always talk sensibly about settlement. He is among the best – tenacious, good judgment and tactically aware."

"Mark Freedman is a dynamic and highly experienced family lawyer who fights extremely hard for his clients and is always in their corner, thus ensuring their loyalty and confidence. In a trial you would always want him on your side."

"Bridget Thompson combines her excellent legal knowledge with a clear, succinct and robust style of advice and advocacy. Her approach clearly inspires a high degree of client confidence in her"

"She has impressed me as someone who fights my corner but also understands the importance of resolving issues without unnecessary escalation. She is calm and reassuring."

"Her mediation practice is exceptional; she is also a great solicitor and has a breadth of skill which is really useful."

"He is really experienced and wise. He has a lovely manner about him and clients feel safe with him."

"Jo Wescott is top notch and widely recognised as a rising star throughout the profession. She brings a winning combination of great judgement, an immense work ethic, and a relaxed and charming way with opponents and clients alike. Someone you want on your side"

"Osbornes is pre-eminent for family law in North London. Mark Freedman is a real rainmaker. He is an excellent lawyer and has a top-notch practice"

Mark Freedman is intelligent and personable and has a good selection of high-net work cases.

"Exceptional value for money. Highly competent and reasonably priced. Mark Freedman: one of the best in the field."

"Client-focused. Ready to fight the clients' corner, but also ready where possible to steer client from unnecessary dispute. Mark Freedman – very experienced, with good instinct for the eventual result. Clients love him and he thinks ahead and directs the client to the best result for the client."

Mark Freedman is a serious player. A fearless family law litigator, who protects his clients' interests passionately.

Breadth of knowledge and willingness to go the extra mile is what makes it stand out. Mark Freedman – devoted to his clients

Mark Freedman frequently takes on high-value financial and children proceedings that involve complex tax, trust and accounting issues. Sources praise the "tenacity and common sense" he brings to challenging disputes.

"Mark is very experienced, competent, good with clients and takes a sensible approach to cases. He knows exactly what he's doing."

"An exceptional outfit. They take on difficult cases, fight hard and win."

"They are an outstanding firm to work with. They are consistently impressive in their work."

"The team frequently deals with cross-border estates for high–net-worth individuals."

"Mark Freedman is a real heavyweight litigator who has dealt with some very significant cases."

"Mark Freedman boxes clever, keeps his powder dry and when it comes to the end game he negotiates a really good deal."

"Mark Freedman has a specific focus on high-net-worth divorces and finance cases where there are overseas assets and trusts."

"Lisa Pepper somehow manages to get parties to settle on matters where there isn't much hope to start out with."

"Well-regarded family practice assisting clients with substantial matrimonial disputes and sensitive children proceedings."

"Mark Freedman draws acclaim for his work in high net worth divorce cases, including those involving company structures, family trusts and overseas assets."

"He never gives up. He fights for you to the end and has boundless energy."

Bridget Thompson heads the family team, where client care is the top priority.

Mark Freedman advises high-net-worth clients and knows his stuff.

Highly regarded for his experience as a litigation and mediation expertise, Mark Freedman is tenacious and determined. Clients really feel that he is fighting their corner.

[The Family Law department] handles significant matrimonial finance cases and complex nuptial agreements. Respected for its expertise in cross-border children law matters.

They have a really good, strong team, with the junior elements punching well above their weight. It doesn't matter who you talk to; they are all switched on."

"Mark Freedman receives a lot of instructions from clients based abroad, often relating to complex divorce proceedings. Sources say: "His main strengths are his enthusiastic passion for the job in hand and his total dedication to his clients."
Contact us today
Email us Send us an email and we'll get back to you