My spouse is going bankrupt. Will it affect my divorce?
4 Dec 2023 | Lisa Pepper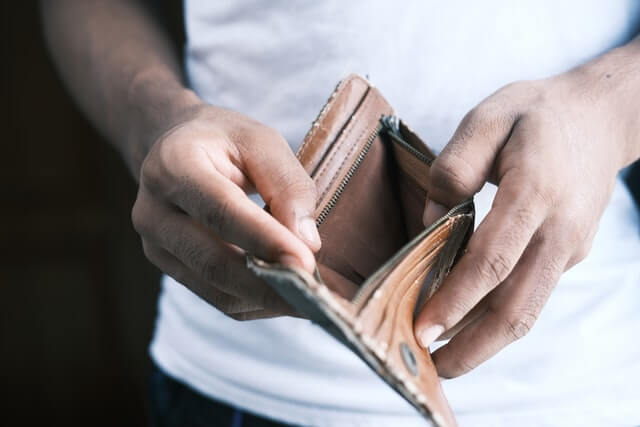 Bankruptcy is on the rise in the UK.
In 2022, more than 1 in 10 businesses reported a moderate-to-severe risk of insolvency. More than one in five (22%) of businesses said energy prices were their main concern, an increase from 15% in 2021. In SMEs with 10 to 49 employees, the figure was significantly higher at 30%.
Individual bankruptcy is up too. According to government figures, 5% more bankruptcies were registered in May 2023 than in May 2022.
Bankruptcy is known to be a stressful experience. Similarly, going through a divorce can be just as emotionally taxing, causing substantial upheaval in someone's personal life.
What happens when these situations coincide? Below, we outline the impact that bankruptcy has on divorce proceedings and the issues that can occur as a result.
How does bankruptcy affect divorce settlements?
When a marriage breaks down, the assets of you and your ex form the pot of matrimonial assets. The pot is divided between you as part of the divorce financial settlement.
However, if your spouse is bankrupt, almost all of their assets get transferred to the Trustee in Bankruptcy. The Trustee will decide what to do with the assets and may sell them to pay your ex's debts. The assets no longer belong to the bankrupt person, your spouse.
This is likely to reduce your financial settlement as the pot of matrimonial assets is left much smaller.
What happens if one person is declared bankrupt during a divorce?
What happens with regard to the financial settlement depends on when the bankruptcy petition is filed.
Before a bankruptcy petition is filed, the financial settlement negotiations continue in the usual way. Both you and your ex must disclose your income and in detail on Form E, along with a list of all your debts. You should attempt to reach a financial settlement amicably with your spouse, and have it written into a financial Consent Order to make it legally watertight.
If you cannot reach an agreement, the Court has the power to decide how the family finances should be split. 
Orders made by the Court will be binding on a Trustee in Bankruptcy if your ex is made bankrupt in the future, as long as the Final Order (previously called a Decree Absolute) has been pronounced.
However, while the process for reaching a financial settlement is the same, the outcome may not be. Debt repayments will need to be taken into account when deciding what is a fair financial split between you. This can reduce the amount of money that is available for a lump-sum payment or ongoing spousal maintenance, for example.
What is the impact of a bankruptcy order?
Once the bankruptcy order is made, it is more difficult to reach an agreement about the division of the assets. The court can no longer order your ex to transfer assets to you as they are now under the control of the bankruptcy trustee.  This means it will be much harder for you to get any lump sum or maintenance payments.
Sadly, it is not uncommon for someone to declare bankruptcy with the sole intention of reducing their spouse's financial claim. In such cases, it is important that the non-bankrupt spouse gets urgent legal advice about their options.
It may be possible to challenge the bankruptcy proceedings and have them set aside as an abuse of process. The Court will look at whether or not the bankruptcy order should have been made in the first place, or whether your ex was not, in fact,  insolvent and they abused the bankruptcy process to thwart financial claims.
Ideally, you should attempt to reach a financial settlement as soon as you get wind of a possible bankruptcy, before the bankruptcy order is made final. Your solicitor can help you make the agreement waterproof so the Trustee in Bankruptcy cannot challenge it once the bankruptcy takes effect.
What happens to the family house?
Where the family home is owned jointly, it is common for one party to receive all or a share of the other's interest in the property as part of the financial settlement.
However, if one spouse is made bankrupt, then the house cannot be transferred into the other spouse's name without the consent of the Trustee in Bankruptcy. The Trustee is only likely to give consent if the spouse is buying the bankrupt's share at its full market value.
The Trustee can also take money from any sale of the house. However, they can't usually sell the house as long as you continue to live there and pay the mortgage payments.
What happens about pension sharing?
In most cases, the Trustee in Bankruptcy will not take control of the bankrupt person's pension unless it is held in an unapproved pension scheme.
This means that you should still be able to put pension sharing arrangements in place even when your ex is bankrupt.
What about bankruptcy after a divorce settlement?
Bankruptcy has the potential to disrupt matters even after the divorce is finalised and you have a financial settlement in place. For example, if you have agreed lump-sum payments that haven't been paid yet, and your ex declares bankruptcy, you will have to claim the payments from the Trustee in Bankruptcy alongside all the other creditors.  
Usually, a bankrupt person will be discharged from their debts automatically one year after the commencement of the bankruptcy. However, the court has discretion on whether or not to release a discharged bankrupt from a debt arising from a family order. In the case of Hayes v Hayes (2012), which deals with a husband and wife in divorce and financial settlement proceedings, the judge decided it was inappropriate to discharge a divorce-related debt. 
In this case, the Judge considered it the default position that financial settlement and family orders had to survive the discharge of a bankrupt to achieve a fair outcome. So even if your ex owes you money that hasn't been paid yet, you may still be able to claim those payments once the bankruptcy has run its course.
Talk to our expert family law solicitors
The issue of bankruptcy and divorce is complex and the outcome is largely dependent on when the bankruptcy petition is filed. 
If you are contemplating divorce and believe that your spouse may have money trouble, it's advisable to consult a specialist family lawyer as soon as possible. Swift action can make the difference between a fair financial settlement and one that is more difficult to negotiate and enforce. 
Go to our divorcee pages for more information on how we can assist you in your divorce. You can also look through our family law pages to see all our other services. To speak with one of our divorce solicitors, contact us by:
Filling in our online enquiry form; or

Calling us on 020 4502 8767
Speak to us about Bankruptcy and Divorce
Email us Send us an email and we'll get back to you
Lisa is a robust and caring mediator. She strives to help the parties reach an outcome that they are both happy with.

Lisa is hard-working, knowledgeable, efficient and bang up to date with the law. 

Lisa is realistic in her advice, which clients need in the moment of uncertainty. Clients trust her and her advice.

Lisa is an exceptional mediator and lawyer. She has impressive insight and is down to earth, giving pragmatic and clear advice.

Lisa Pepper – one of the best mediators around, whose very reasonable rates don't reflect her excellent client base

Lisa Pepper is a great go-to solicitor for anyone wanting quick and appropriate advice

Lisa Pepper at Osbornes is hugely approachable. She is calm, clients always praise her. Underneath her calm and approachable exterior is an excellent legal brain

I am confident that Lisa will do her utmost to try and settle matters so that both parties walk away feeling satisfied that they have managed to reach a fair outcome with the assistance of a professional mediator.

Lisa Pepper is robust, competent and knowledgeable and is always keen to try and help parties settle without intervention of the court.

Lisa Pepper is an outstanding mediator. She gets results in very difficult cases. She works extremely hard to get a good outcome for clients who mediate with her

Lisa Pepper- she has a great combination of skills. She is empathetic, approachable and calm, and has good legal judgment. She inspires confidence and trust

Lisa Pepper is particularly recognised for her role as a mediator in complex cross-border disputes. Her practice also includes handling prenuptial agreements and issues arising from divorces. She is additionally skilled in Schedule 1 and other child arrangement matters.


"She's an extremely supportive and kind lawyer. She has an increasing mediation profile too. I can't think of anyone who would handle a mediation better than Lisa."


"Lisa is extremely hard-working and adored by her clients. She is a very empathetic and approachable lawyer."


"I have a huge amount of respect for the way she approaches legal issues; she is really knowledgeable, approachable and always works hard to help a client find an amicable solution."


"She has a real drive to push things forward to a solution, which means she can handle the more difficult cases."


"Lisa Pepper is good at making herself available to clients and has a real focus on finding pragmatic solutions."

"Lisa Pepper is a complete all rounder. Her mediation skills are second to none. She is kind and compassionate and knows the law inside out!."

"Lisa Pepper is 'compassionate, supportive and committed to hear clients, with a very warm manner."

"Lisa Pepper is fantastic. She goes the extra mile for her clients and is a superb mediator."

"Osbornes has a hugely experienced mediation team with Andrew Watson, Bridget Thompson and Lisa Pepper who are able to offer financial and children mediation for a range of cases including those that are highly complex involving challenging clients."

"Lisa Pepper is fantastic with people and generates calm in her meetings to help clients give of their best."

I can't think of anyone who would handle a mediation better than Lisa.

Lisa Pepper is extremely hard-working and adored by her clients. She is a very empathetic and approachable lawyer.

"Lisa Pepper was recommended to me as non-nonsense and able to help me with a difficult and confrontational divorce. She more than lived up to that – she was practical, collected and always available with a clear opinion and suggestions of how to move forwards. She also was open and helpful about costs and how to mitigate them"

"Lisa Pepper is an outstanding mediator. She is very skilled and has an empathetic and professional approach which is comforting for clients. She never imposes her own view but is even handed and provides helpful guidance to clients so that they can make empowered decisions"

"Lisa Pepper has built up a very impressive mediation practice. She is very engaging and easy to relate to. She embodies mediation in the sense that she approaches her case in a very non-judgmental fashion and can quickly gain the confidence of those with whom she is mediating"

"Lisa Pepper is a brilliant mediator who produces results. She is effective at resolving matters without the need for the parties to engage in expensive and protracted litigation"

"Lisa Pepper is a fantastic mediator. She is fair, robust when she needs to be, and finds a way of facilitating agreements in the hardest of cases. Her guidance is spot on. She has an approachable and constructive mediation style"

"She has impressed me as someone who fights my corner but also understands the importance of resolving issues without unnecessary escalation. She is calm and reassuring."

"Her mediation practice is exceptional; she is also a great solicitor and has a breadth of skill which is really useful."

Lisa Pepper is extremely approachable and this shines through in the outcomes she achieves from mediation. She makes clients feel at ease, which enables them to feel empowered to resolve matters amicably and find a creative outcome which many mediators may have overlooked.

Lisa Pepper is building a very strong mediation practice at very competitive rates and is able to build a rapport quickly with almost anyone.

Lisa Pepper loves her work and has a very sensible head on her. That means her practice is thriving and rightly so.

Lisa Pepper is very thorough in her preparation and has super personal skills to put parties in mediation at ease

Lisa Pepper – good litigator, very friendly and approachable but tough, "straight bat" with the opposition. Can steer a client deftly to settle when he should.

Lisa Pepper is particularly recognised for her role as a mediator in complex cross-border disputes. Her practice also includes handling prenuptial agreements and issues arising from the dissolution of civil partnerships.

"Lisa Pepper is "caring and considerate of the issues behind a matter, and will speak directly if she feels clients need that advice."

"The very personable and client-focused Lisa Pepper."

"Lisa Pepper somehow manages to get parties to settle on matters where there isn't much hope to start out with."

"Lisa can handle the large and complicated cases but takes equal care with the smaller cases. She is a highly skilled mediator who is a consummate professional."

Lisa Pepper is a skilled collaborative lawyer. Her instinct is always to resolve matters without compromising her clients' interests.

Lisa Pepper is always looking for a solution and has a very sympathetic approach to clients. She is highly regarded for her collaborative law practice.

Lisa Pepper deals with separation proceedings and leave to remove cases. Sources describe her as "a great person to work with: constructive, helpful and always infectiously happy.