Personal Injury Solicitors
Personal Injury Lawyers In London
Being injured is difficult enough. When you also need to deal with issues about who is to blame and what to claim, having an outstanding personal injury team on your side will make all the difference.
"A niche firm that punches well above its weight in the catastrophic injury sector, borne out by the quality of work they obtain."

"They have quality and depth and provide an excellent service."
Our Personal Injury Law Services
Giving the best advice in the worst of times takes more than mastery of the law itself. It needs empathy, discretion, and a commitment to putting the welfare of the injured person first.
We have been fighting the corner of the injured person for nearly 50 years and are now one of the UK's leading personal injury litigation firms.
Osbornes' award winning 35-strong department specialises in life changing brain and spinal injuries, limb amputation and fatal accident claims and cycling accident cases.
So if you have been seriously injured in an accident or suffered a bereavement caused by the negligence of another, our personal injury solicitors will give you "a rare level of commitment" (Legal 500) and will tailor our efforts to you and your circumstances in order to secure the right treatment, rehabilitation and maximum compensation.
Please see our separate pages on making a serious injury claim including brain and head injuries, spinal cord injuries, fatal accidents and cycling accidents.
FINALIST: Personal Injury Awards 2021 'Claimant Team of The Year'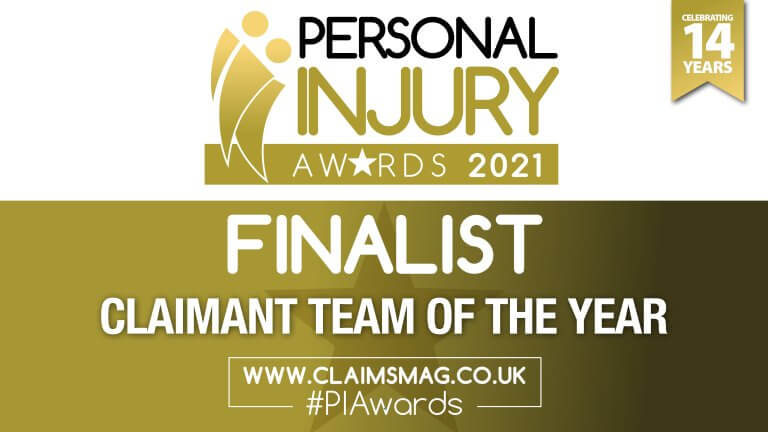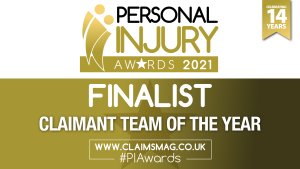 "They punch well above their weight. The quality of service they provide equals that of any of the larger top-name firms in this area"

The group is noted for its expertise in matters relating to cycling injuries, and is the official legal partner of the London Cycling Campaign charity.

"A small but high-powered team, dealing with cases of significant value and complexity."

"An excellent firm which achieves fantastic outcomes for clients."

"Osbornes Law have captured the magic of keeping the customer service levels of a smaller firm whilst having all the expertise and power of the biggest firms."

"A superb boutique catastrophic injury firm."

"Really good at dealing with people who have suffered a serious injury."

"Affable and charming with very good client-handling skills."

"superb firm with consummate professionals and a human touch."

Osbornes now has a team of highly experienced personal injury lawyers; particularly strong on high-value quantum cases, workplace accidents and claims involving foreign workers injured in the UK.

The team provides fantastic strength-in-depth for personal injury claims. It is also particularly well placed to service clients from Eastern Europe with specialist native language speakers. From the smallest case to a multimillion-pound spinal injury case, Osbornes has the right staff to manage every claim.

Ben Posford remains pre-eminent in his field with expert understanding of litigating cases of the upmost severity. His experience builds on Stuart Kightley's running of the firm with recent partner additions of Rob Aylott making a fantastic addition.

A firm going from strength-to strength-which retains its client care whilst being able to offer a full personal injury service.

Beneath Ben Posford's calm and reassuring presence, which clients love, lies a formidable tactical and legal brain. His experience tells and he gets it right at every stage of the process from arranging the best possible rehabilitation, to ensuring, so far as possible, a polite relationship with those acting for the defendant in order to ensure best and early resolution of the claim.

"Clients say he is very impressive, in terms of both his experience and his management of the personal injury team."

"They have an expanding profile in personal injury and clinical negligence and offer a superb, broad service in accidents abroad, enabled by their recruitment of bilingual legal executives who can guide non-English speakers through complex litigation."

"Solid personal injury practice well equipped to advise on high-value and high-profile claims arising from fatalities and severe head and spinal injuries."

"Offers specialist expertise in cycling-related injury claims."

"Offers specialist expertise in cauda equina syndrome cases."

"An exceptional outfit. They take on difficult cases, fight hard and win."

"Stuart Kightley is an incredibly empathetic solicitor who is very knowledgeable about traumatic brain injury."

"They are an outstanding firm to work with. They are consistently impressive in their work."

"Osbornes has a growing influence and impressive work load and is gaining a reputation for handling complex catastrophic work."

"Osbornes often handles claims valued at over £1m, particularly relating to severe brain and spinal cord injuries and niche areas such as cauda equina syndrome and cycling accidents."

"The hard-working, thorough and committed Robert Aylott, who brings significant heavyweight personal injury experience."

"Key team members include the energetic and personable Stuart Kightley who is head of the personal injury department."

"Catastrophic injury cases head Ben Posford is an excellent practical litigator who offers exceptional service."

Thank you for the hard work and patience and for being so patient with my constant questions.

"I have found Osbornes to be thorough, clear and understanding from the initial call. They do exactly what they say they will and with passion! I would recommend them to anyone".

Very good efficient service. Would not hesitate to use again.

I will use Osbornes for any future needs.

I don't think I could have asked for anything more. One of the best dealings I've had with the legal profession.

Sam was excellent and very professional in dealing with our claim.

Head of the personal injury department, Stuart Kightley is a first-rate practitioner, wholly focused on getting his client the best outcome in a pragmatic, sensible and consensual manner.

As a real specialist in spinal cord injuries, Ben Posford is always looking at new angles on how to maximise his cases.

Ben Posford is one of the best catastrophic injury lawyers around.

They provide exceptional service, great knowledge and understanding of the law, excellent client care and tactical nous

Stuart Kightley is praised for his expertise in catastrophic and fatal claims. Clients say he is very impressive, in terms of both his experience and his management of the personal injury team.

My claim was dealt with efficiently and professionally. Communication was excellent, and timely. Shrewd and sound advice was provided at every stage of the claim from beginning through to completion. On the basis of my personal experience I would strongly recommend Osbornes.

I just wish to thank you for your hard work and successful outcome. I am pleased with the result and would recommend you and your firm to anyone in the future.

Ben Posford … is 'tactically astute' and 'one of the best personal injury solicitors around'.

Ben Posford 'knows how to maximise the value of the claim for his clients'.
Personal Injury FAQs
How do I choose the best personal injury lawyer for me?
First, look out for a personal injury solicitor that is regulated by the Solicitors Regulatory Authority and more widely accredited. This means experts that are members of the Association of Personal Injury Lawyers or involved with organisations such as Headway and other charities. You can also check whether they are particularly well respected by looking at Chambers & Partners and Legal 500, which provide a ranking based on reviews.
Next, do a bit more research. Ask for recommendations for a personal injury solicitor near you and take a look at their Trustpilot or Google reviews. Have a look through examples of their accident law work and clients testimonials.
Finally, have an initial conversation with them – whether on the phone or in person. You need to be happy you trust your personal injury solicitor and their approac
How much do personal injury lawyers charge?
When you book your initial conversation we'll take you through all the options and work out the best way to fund your Personal Injury case.
In the vast majority of cases, your accident or injury lawyer will be able to proceed on a No Win No Fees basis. This means there isn't any financial risk to you if your case isn't successful.
How long does the legal process take?
You usually have three years from the date of an accident or injury – but we'd always advise getting in touch as soon as possible.
Because each case is different it's impossible to say exactly how long your personal injury claim will take. It will depend on the severity of your injuries and whether or not your opponent admits blame.
A relatively simple case – like minor whiplash or when the other party admits responsibility – could be settled in a few months. A case relating to more serious injuries – or where the other party doesn't admit responsibility – will take longer as we'll have to seek medical evidence. This is partly so that we can make sure any compensation supports you for your longer-term medical needs. We may also have to wait to understand the full impact of your injuries because compensation may depend on how long it takes you to heal.
Other factors that could prolong your case might include whether it has to go to court when a criminal offence has been committed and police charges also have to be brought and if you've been injured in a hit and run accident when the police and insurance companies will be trying to locate the driver.
Your personal injury solicitor or legal assistant will be able to give you a clearer idea, once you've had your initial conversation.
Will my personal injury case go to court?
Although in the majority of cases we're able to settle out of court, sometimes this isn't possible. In particular, if the opponent refuses to accept responsibility or if criminal proceedings have to be brought, we might have to start court proceedings. Don't worry, your personal injury lawyers will be by your side handling this for you at every step of the way. If this is the case we'll explain each step and what will happen so as to make things as simple and straightforward as possible.
What are the different ways of resolving my claim?
Where possible we'll always try to settle your case without going to court. We understand that neither party wants to go to court if it can be avoided. Typically a case will be resolved through negotiation between your personal injury solicitor, your insurer and the defendant (the person opposing). This can be done gradually through correspondence, a formal meeting such as a joint settlement meeting or mediation. Alternatively, we might look to something called 'early neutral evaluation' (where a judge, retired judge or QC hears each side's submissions and then states their view of what the likely outcome at trial will be), arbitration (where each side puts forward their submission to an arbitrator, who will make a binding decision) or a court trial (where each side argues their case in front of a judge).
Before any decisions are made as to how your case will be resolved, we'll talk you through the options available, to get the best result.
Making A Claim With Osbornes Law
Your road to recovery starts with a free initial consultation. We will give you a full, fair assessment of your personal injury case – and if we don't think it is a strong one, we will tell you. To help you prepare, here is a checklist of the things we'll ask about when we speak to you:
When did your accident or injury happen?
Can you tell us the details of how it happened?
Who was involved in your accident or injury?
Were there any witnesses to the accident or injury?
Do you have a police report?
Have you had any medical examinations and/or treatment since your accident or injury?
Have you lost any income as a result of your accident or injury?
Have you had to make any specific payments as a result of your accident or injury?
We help people who have been in all types of accidents, but we mainly assist people in high-value and complex trial litigation involving severe brain, head and spinal cord injuries and fatal accident claims.
If you aren't sure whether we can help then, please, just give us a call. We are grateful for the opportunity to talk about your case, regardless whether you decide to work with us. The phone call is free, and there's no pressure to hire us. We want you to get better, and we promise you'll walk away with a better understanding of your rights.
Personal Injury Accreditations
Insights From our Personal Injury Lawyers VIEW ALL