Failed to identify nerve damage caused during operation
18 May 2021 | Nicholas Leahy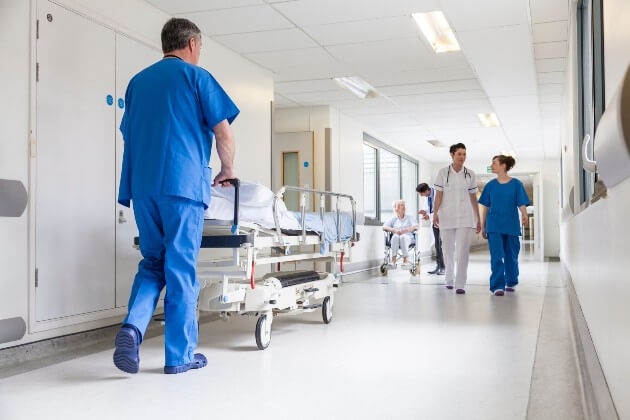 The Clinical Negligence team at Osbornes Law have this week successfully negotiated the settlement of a case in which our client sustained a serious injury to her superficial peroneal nerve during surgery to her right ankle in September 2014. The case was settled at a virtual Joint Settlement Meeting, with the legal teams for the Claimant and the Defendant NHS Trust meeting via Zoom in an attempt to resolve the case. Our client was represented by Nick Leahy, a solicitor in the Clinical Negligence team, Andra Popoiag, a paralegal in the Clinical Negligence team, and Helen Pooley (Counsel) of 9 Gough Chambers.
Our client, IM, sustained a fractured ankle in an accident in Romania in September 2014. She travelled back to the UK where she attended the Accident and Emergency Department of her local hospital Trust. She was told that she had fractured her ankle and that she would need to undergo an open reduction and internal fixation (ORIF) procedure. The operation took place on 7 September 2014. During the procedure, the surgeon damaged IM's superficial peroneal nerve. This was not identified during the procedure. Following the surgery IM immediately began to complain of sharp pain and numbness in her lower right leg, ankle and foot, which had not been present prior to the operation. However, she was told that this was normal.
IM was later discharged from hospital and she attended various follow up appointments over the next few months. At an appointment on 25 November 2014 she reported right ankle stiffness to her surgeon. No proper examination took place and she was simply referred for physiotherapy. She attended the physiotherapy sessions as arranged but this did not alleviate her symptoms.
Almost 2 years later, on 6 September 2016, IM reported pain in the lateral aspect of her right foot which localised over and around the metalwork. She also complained of pins and needles in the lateral aspect of her foot which radiated down to the third and fifth toes. She was told the metalwork would be removed in an operation and then she would have a scan.
The removal of the metalwork took place on 8 October 2016. Following this operation IM was told that the surgeon had damaged a nerve in her ankle during the original procedure that took place on 7 September 2014. She was immediately referred to neurosurgeons at the Royal National Orthopaedic Hospital (RNOH).
The doctors at RNOH investigated and eventually they performed a nerve exploration, neurolysis and nerve graft on 4 October 2017. IM was told that her symptoms would improve thereafter. However, by 6 March 2018, although IM had reported her pain had improved slightly, she still had a burning sensation and possibly regeneration pain too. The team at RNOH decided to try alternative treatment and this included the application of Capsaicin patches to try to reduce the hypersensitivity in her foot. IM underwent several of these procedures but they offered little relief to her symptoms.
IM has recently been referred to the pain management clinic at a major London hospital in an attempt to manage her continuing neuropathic pain.
Nicholas Leahy of Osbornes was instructed by IM in March 2019 to pursue a claim against the NHS Trust. Following initial investigations, a Letter of Claim was sent to the hospital in May 2019, and a response was received in November 2019. The NHS Trust admitted that the surgeon had failed to identify the nerve injury during the operation, but argued that the nerve injury was caused non-negligently and that the nerve had been damaged irreparably during the procedure, such that any later diagnosis would not have made a difference to IM's outcome.
IM's legal team obtained evidence from a Consultant Orthopaedic Surgeon, a Consultant in Peripheral Nerve Surgery and a Consultant in Pain Management, which was supportive of her case.
The case raised complex issues on both breach of duty, causation and quantum, and negotiations took place with the Defendant's solicitors during the course of 2020. Various offers of settlement were made by both parties however no agreement could be reached and so in March 2021 the Defendant's solicitors agreed to attend a Joint Settlement Meeting, via Zoom, in an attempt to resolve the case.
The JSM took place on 10 March 2021 and IM was represented by Helen Pooley of 9 Gough Chambers, Nick Leahy and Andra Popoiag, both of Osbornes. Some important aspects of IM's case continued to be in dispute, including the type and cost of the treatment which had been recommended by the pain management expert (the cost of neuromodulation treatment). However after just two hours of negotiation the parties were able to agree settlement.
The sum IM has received will enable her to have the neuromodulation treatment which was recommended by the pain management expert and also to take part in a residential pain management programme at a private London hospital to attempt to alleviate her symptoms. Additionally, a sum was agreed to reflect the prolonged period of pain and suffering which IM has endured since the date of her first operation.
Contact us today
Email us Send us an email and we'll get back to you