Cyclist receives compensation after taxi driver causes accident
17 May 2021 | Blanca Diego Casas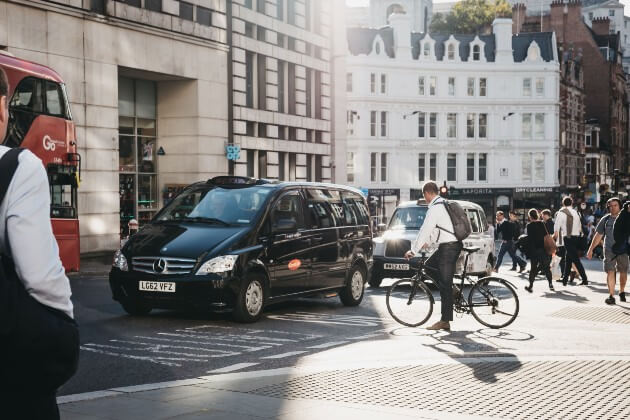 Blanca Diego, a bike accident solicitor in the Osbornes Personal Injury Department, settled a claim for a 30-year-old Spanish cyclist who was involved in a road traffic accident in Bristol.
Our client rode along a cycle lane, the defendant taxi driver drove past him at a speed and very close to his offside, clipping his front wheel. Our client fell off to his left and the bicycle then fell on top of him.
As a result of the accident, our client sustained a fracture of his left kneecap and soft tissue injuries to the side of the leg, the right hand and the left side of the torso.
At the hospital, his knee was fitted with a knee brace extension. He had to go back to Spain to receive care and help from his family. In order to fly with his leg extended, he had to buy three airline tickets.
Our client wore the rigid knee brace for a number of months and used a soft knee brace after. He also needed to use crutches. He received extensive physiotherapy but still had a significant loss of muscle mass in the left quadriceps due to the patella fracture. He was finally discharged six months post-accident
He was not able to return to his original job as a waiter following the accident. Whilst he was off work he developed a recurrence of depression and anxiety due to the fact that he had to go back to Spain, the physical restrictions of these activities and the financial consequences of being out of work.
The case settled for £35,000 and included the cost of future psychological therapy as well as a few months of loss of earnings.
If you have suffered an injury due to a bike accident, you may be able to claim compensation. Call our specialist bicycle accident lawyers for a free consultation on 020 7485 8811.
Contact our cycling team today
Email us Send us an email and we'll get back to you
Megerkezett a penz. Megegyszer koszonok mindent.
Szep napot kivanok!


Bridget Thompson, is an exceptional lawyer: super bright; realistic; funny; friendly, and she is able to navigate the most complex cases. Human rights, ethics, and fairness are always at the front of her thinking. She is a pleasure to work for and one of my favourite women in family law – love her!

[The Family Law department] handles significant matrimonial finance cases and complex nuptial agreements. Respected for its expertise in cross-border children law matters.

"Ben Posford is a hugely experienced solicitor who approaches his cases with confidence and realism."

"Lisa Pepper has built up a very impressive mediation practice. She is very engaging and easy to relate to. She embodies mediation in the sense that she approaches her case in a very non-judgmental fashion and can quickly gain the confidence of those with whom she is mediating"