Cyclist receives compensation after taxi driver causes accident 17 May 2021 | Blanca Diego Casas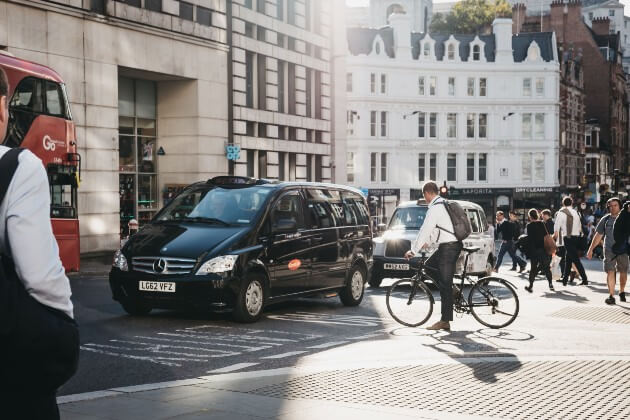 Blanca Diego, a bike accident solicitor in the Osbornes Personal Injury Department, settled a claim for a 30-year-old Spanish cyclist who was involved in a road traffic accident in Bristol.
Our client rode along a cycle lane, the defendant taxi driver drove past him at a speed and very close to his offside, clipping his front wheel. Our client fell off to his left and the bicycle then fell on top of him.
As a result of the accident, our client sustained a fracture of his left kneecap and soft tissue injuries to the side of the leg, the right hand and the left side of the torso.
At the hospital, his knee was fitted with a knee brace extension. He had to go back to Spain to receive care and help from his family. In order to fly with his leg extended, he had to buy three airline tickets.
Our client wore the rigid knee brace for a number of months and used a soft knee brace after. He also needed to use crutches. He received extensive physiotherapy but still had a significant loss of muscle mass in the left quadriceps due to the patella fracture. He was finally discharged six months post-accident
He was not able to return to his original job as a waiter following the accident. Whilst he was off work he developed a recurrence of depression and anxiety due to the fact that he had to go back to Spain, the physical restrictions of these activities and the financial consequences of being out of work.
The case settled for £35,000 and included the cost of future psychological therapy as well as a few months of loss of earnings.
If you have suffered an injury due to a bike accident, you may be able to claim compensation. Call our specialist bicycle accident lawyers for a free consultation on 020 7485 8811.
Contact our cycling team today
Email us Send us an email and we'll get back to you
"Excellent assistance with a personal injuries claim after I was hit by a car driver while I was cycling. Andrew Middlehurst was very professional and communicative, answered queries quickly and kept me informed regularly on the case's progress. His advice was easy to understand and a good result was achieved. I would recommend Osbornes highly and in particular Andrew Middlehurst."

Maria Elliot is excellent to deal with and gives valuable advice.

"Literally, putting your future in their hands, Rob Aylott and the team at Osbornes Law took the uncertainty, vulnerability and fear resulting from a catastrophic life event and turned it into a safety net for the rest of my life. Empathy, professionalism and delivering exactly what they say. You're safe in their hands."

"Increíble el buen trato que recibes y lo mucho que se preocupan por ti y tu caso. Realmente un placer y una suerte haber llevado mi caso con ellos y especialmente con Blanca"

"A superb boutique catastrophic injury firm."