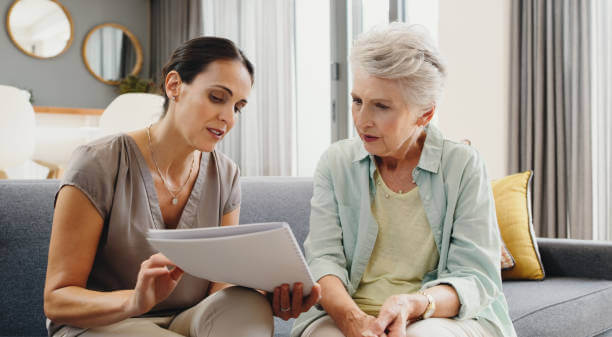 If the contents of a will comes as a surprise, then one of the things to consider is whether the will was made by the deceased and is valid. Forgery is difficult to prove but a successful claim will result in the forgery being set aside in favour of a previous, valid will, or the Intestacy Rules, if there is no earlier valid will.
What is a forged will?
Fraud can take many different forms. The most common example of fraud in the context of wills is when a testator's last valid will has either been destroyed or hidden. Either an earlier will is put forward in its place which normally benefits the person attempting to commit the fraud, or there is an allegation that there is no valid Will so the estate passes to the surviving family members in accordance with the Intestacy Rules.
A will could also be fraudulent if the person trying to prove it as a valid will knows that the testator did not sign the will in front of two witnesses and the witness' signatures were added to the will at a later date. This means that the will was not duly executed in accordance with the requisite legal formalities.
It could also be the case that the person attempting to commit the fraud, has used a signature that does not match previous versions of the testator's signature.
How do I tell if a will has been forged?
Many forgeries are difficult to spot as the forger may have taken great care to make the document look genuine. In some cases, forensic handwriting experts are needed to identify differences in the testator's signature . However, there are some signs that can indicate that the will might have been fraudulently created or tampered with.
These include:
The signature on the will does not match other known signatures of the testator
The Will benefits certain people and it would be out of character for the testator to provide for them
The provisions are significantly different from those in an earlier valid will
The Will was found unexpectedly after the testator's death with no previous knowledge of its existence
The purported witnesses to the will are being obstructive and will not answer questions regarding the execution of the will, or are otherwise unidentifiable
What do I do if I think a Will has been forged?
If you suspect that a Will has been forged, it is important to act quickly and speak to a solicitor. The solicitor can investigate whether the will is genuine and what action should be taken. This may include appointing a handwriting expert who is trained to assess whether a signature is genuine . For example, a suitably qualified handwriting expert would be able to identify whether the signature is traced or freehand, when it was added to the document, or whether it has been cut and pasted in.
What are the consequences of having a forged Will?
Forgery is grounds for contesting a will. If there is sufficient evidence to prove that the will is forged, then the will would be invalid. If there is an earlier valid will, then this will should be admitted to probate. If there is no earlier valid Will, then the Intestacy Rules will govern both who the beneficiaries of the estate are and who is entitled to administer the deceased's estate.
How do I prevent forgery when making a will?
The best way to protect against forgery is to ensure that your will is legally binding and up-to-date. It always preferable to instruct a firm of solicitors to prepare your will, rather than making your own will and risk forgery or the will being found to be invalid for another reason.
Contact us today
Email us Send us an email and we'll get back to you
A private client team offering a range of services to assist with private client matters including trust and probate services. A friendly approach with a keen eye for detail.

I have been a client of this firm for a number of years and been impressed by particular individuals, the care and thoughtfulness with which they have worked.

An efficient firm which provides an excellent service at highly competitive charging rates.

The team receives a steady flow of instructions from high-net-worth individuals and families on an array of tax planning, wealth preservation, estate and succession planning issues

I think this firm has excellent strength and depth in this area, for both contentious and non-contentious work, and they can hold their own against any other firm.

I have found them to be incredibly knowledgeable and pragmatic in settling claims for their clients.

The contested estates team is strong with talented young solicitors doing good quality work

The nimble team acts for a broad range of high-net-worth individuals and families on a variety of complex estate and trust litigation.

Osbornes has a 'strong private client department' and 'the firm seems to be going from strength to strength'.

"I wish to thank you for your advice, efficiency and professionalism throughout which has been greatly appreciated."

"I am proud to be a private client of Osbornes Solicitors LLP, a client of many years. I appreciate the swift and efficient work of the Private Client Department Team."

My family had the pleasure of Jan Atkinson working with us on the will and probate issues of [my mother's] estate in Camden and Ireland after she passed on last year. Jan and her assistant(s) offered us a fantastic service at a sad time.

The team is very caring, experienced and detailed and was clear about the  next steps and offered very helpful advice and suggestions

The situation was handled by your extremely competent, efficient hands - I would not hesitate to recommend Osbornes to others.

"Service prompt and effective. I have absolute confidence in Maggie."

I am happy with the service that I got and would recommend you to other potential clients.

I found Osbornes always very helpful and efficient.

We are very pleased with the services of Osbornes. Highly professional and through with close attention to detail.

I would highly recommend Jan Atkinson in any probate matter and Osbornes Solicitors in any other legal matters.

Jan Atkinson is a very proficient lady whom I would highly recommend to anyone involved in probates.

Thanks for all your work and explaining everything so clearly. For any legal matters in the future I would not hesitate in instructing Osbornes.

We have found your service to date as the most informative we have come across.

Osbornes Solicitors always responded promptly to any request for information I had.

"Geoffrey's affairs were dealt with just the right combination of friendliness and professionalism, which really helped."



Jan Atkinson is confident with a straightforward approach. Her practice covers both contentious and non-contentious matters, including wealth planning and estate administration.

I would like to thank everyone in my case for the excellent job!
More from SophieVIEW ALL
31.10.2023

Constructive Trusts

Property rights are not always clear-cut. Sometimes, a person who does not legally own a property could be entitled to...

Read more

26.7.2023

Wills Disputes: The Duty To Account Is Not...

Beneficiaries frequently ask us whether trustees or personal representatives can be required to provide a financial account. Their request may...

Read more