Diagnosticarea întârziată a cancerului de piele
27 Oct 2023 | Andreea Martin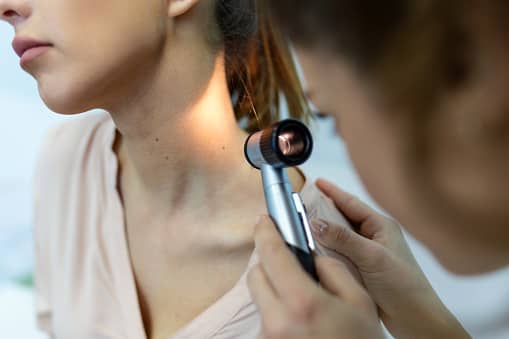 Suntem încântați că am reușit să soluționăm cu succes cererea de despăgubire a unei cliente pentru un diagnostic întârziat de cancer – carcinom bazocelular ("BCC"). Înțelegerea îi va permite clientei noastre să beneficieze de produse de camuflare a pielii pentru a-și ascunde cicatricile de pe față.
Simptome si semne
Clienta noastră, C, a dezvoltat o umflătură pe partea laterală a nasului, ceea ce i-a provocat disconfort. Era îngrijorată că ar putea fi malignă din cauza unui istoric familial de cancer de piele, așa că și-a făcut o programare la medicul de familie în septembrie 2019. Nodul era rotund și avea un diametru de 1,1 cm la momentul respectiv.
Medicul de familie al lui C a examinat nodul; acesta i-a prescris o cremă topică pe care să o folosească de 3 ori pe zi și a trimis-o pe C la un dermatolog, cu o descriere clară de manual a unui carcinom bazocelular în scrisoarea de trimitere, deoarece era îngrijorat de caracteristicile nodulului.
C a avut o programare la dermatology pe 10 ianuarie 2020 și a fost diagnosticată ulterior cu un chist sebaceu. Notele dermatologului consemnează în mod specific "nicio caracteristică care să sugereze un CBC". Lui C i s-a administrat o injecție cu steroizi la "chist" și i s-a furnizat un gel pentru a fi aplicat. A fost externată fără niciun fel de urmărire și fără niciun sfat de siguranță.
Nodul lui C nu s-a ameliorat în următoarele luni, în ciuda faptului că C a aplicat gelul care îi fusese prescris. La sfârșitul lunii august 2020, nodul era inflamat, roșu și sângera. La jumătatea lunii septembrie, C a decis să consulte un dermatolog privat, deoarece era în continuare îngrijorată de nodul. La această consultație, nodul măsura 1,5 x 2 cm. Ea a fost trimisă pentru o biopsie, confirmând diagnosticul de carcinom bazocelular.
C a fost supusă unei intervenții chirurgicale Mohs (o metodă de tratare a leziunilor de cancer de piele) în decembrie 2020 pentru a îndepărta carcinomul și a avut nevoie de o grefă de piele
C a formulat o cerere de malpraxis medical împotriva pârâtului pentru o întârziere de 9 luni în diagnosticarea carcinomului bazocelular, care a dus la faptul că a necesitată o procedură mai invazivă decât ar fi avut nevoie dacă ar fi fost diagnosticată corect în ianuarie 2020.
C a suferit de îngrijorare și anxietate între momentul în care a solicitat sfaturi medicale și diagnosticul din septembrie 2020; de asemenea, a rămas cu cicatrici suplimentare din cauza întârzierii, ceea ce a avut un impact asupra încrederii în sine.
Carcinomul bazocelular este unul dintre cele mai frecvente tipuri de cancer de piele. Potrivit NHS, reprezintă aproximativ 75% din toate cancerele de piele. Sfatul este să vă adresați medicului dumneavoastră de familie în cazul în care aveți "o anomalie a pielii, cum ar fi un nodul, o ulcerație, o leziune sau o decolorare a pielii care nu s-a vindecat după 4 săptămâni", chiar dacă este puțin probabil să fie vorba de un cancer de piele.
Puteți găsi mai multe informații despre CBC și cancerele cutanate non-melanomice aici.
Contactați Osbornes pentru a discuta cu un avocat român specializat în cazuri de malpraxis medical
Sunați pentru a discuta cu un avocat român chiar astăzi 0207 482 8445
Contactați-ne acum Completați formularul online
Bună ziua, ma numesc Elena și am fost implicata într-un accident de mașină, eu pieton fiind și partea vătămată. Datorită celor de la Osbornes Law și în special doamnei Alexandra Culic am primit compensația pentru daunele cauzate.
Va mulțumesc încă odată Osbornes Law și Alexandra Culic

"My experience with your company has exceeded my expectations both in 2014 and especially in my recent case this year, especially to the lady Alexandra Culic whom I strongly recommend."

"Sunt foarte multumit de serviciile oferite de doamna avocata alexsanda Culic,
Mulțumesc Osborne solicitors"

"The best law firm! Alexandra Culic was very professional and helpful all the time. I recommend with confidence!"

"I was so happy with all the support for my needs and also was a successful result. Thank you Alexandra for all your support was the best one ever."

O echipă profesională.
Va recomandam cu incredere sa apelați la serviciile Doamnei Avocat Maria Tiron.
Va multumesc pentru ajutorul acordat.

Am avut un accident in Anglia , am colaborat cu aceasta firma . O durat aproape 2 ani ce i drept dar sa rezolvt vina find a inculpatilor . Este o firma serioasa vo recomand cu incredere deplina .

Recomand cu incredere! Sunt o firma serioasa de avocatura care ofera servicii de calitate prin angajati foarte bine pregatiti.

Recomand cu incredere! Sunt cea mai serioasa firma de avocatura care ofera servicii de calitate prin angajati foarte bine pregatiti.

Avocati de incredere si bine pregatiti. Multumesc mult!

Va recomand cu încredere aceasta firma deoarece ofera servicii prompte si foarte bune. Redirectioneaza solicitarile si pe alte domenii, gasind rezolvare problemelor.