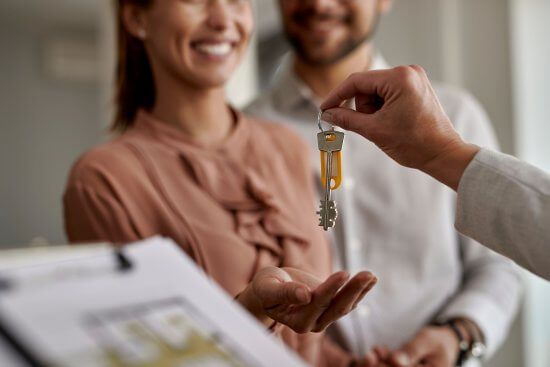 First-time buyers have been urged to make the most of a 'forgotten tax relief' that could save them thousands of pounds as the stamp duty holiday ends.
While the stamp duty holiday finished at the end of the month, many have forgotten that an even better tax relief is still available for first-time buyers, according to a leading property lawyer.
The first-time buyer stamp duty exempts buyers if they purchase properties for less than £300,000.
Simon Nosworthy, Head of Residential Conveyancing, says: "In the chaos of the stamp duty holiday most people seem to have forgotten that there is a fantastic stamp duty exemption for first-time buyers. The exemption is actually better than the last part of the stamp duty holiday as the latter only allowed for £250,000 tax free. While many may be bemoaning the end of the holiday, for first time buyers the holiday effectively isn't over as they still have the chance to buy a property without paying stamp duty."
The first-time buyer stamp duty exemption was introduced in November 2017 and made first time buyers in England, Northern Ireland and Scotland exempt from paying the duty on properties purchased up to a value of £300,000. This means first-time buyers can save up to £5,000.
For properties costing up to £500,000, they pay no stamp duty on the first £300,000, and pay the duty on the remaining amount up to £200,000.  If first-time buyers purchase a property worth in excess of £500,000 they do not qualify for any of the exemption and have to pay the full duty.
With the end of the stamp duty holiday many would-be home buyers may be waiting to see if the market drops, but Simon says a dip in prices is unlikely.
He says: "While the stamp duty holiday definitely fuelled prices across the UK, I wouldn't expect to see a drop in prices once the holiday ends. There are a number of reasons I would expect prices to continue increasing including people wanting more space because of being stuck at home during the pandemic and because of the move towards home working. Interest rates are extremely low, which makes borrowing cheap and there isn't enough housing coming onto the market. As a result, if you wait for a drop in house prices for too long you could end up paying a lot more for a property."
Simon says there will probably only be a thawing of the market if interest rates go up.
He adds: "With inflation rates predicted to rise to almost 4% next year it seems likely that interest rates will go up. This will have a cooling effect on the housing market, but whether or not this will cause a dip in prices will remain to be seen."
If you'd like to speak to a property lawyer, please call us, or complete an online enquiry form.
"Simon Nosworthy at Osbornes, ably assisted by Emma Healey, recently completed the sale of a flat for my sister and me, and we cannot speak too highly of them. These are solicitors who have 'direct dial' at the foot of their communications, who answer their phone and respond promptly to emails! The sale process was long-drawn-out and somewhat complicated and Simon was brilliant - patient, he gave confident timely advice when needed, and with Emma's help, all the details were meticulously attended to. We also felt the fee was very reasonable. I would say, if you enjoy long ponderous solicitors letters and waiting a week for a reply, then don't go to Osborne's. But if you want an intelligent, nimble-footed, helpful and nice solicitor - then you won't do better!"

"I was recommended Simon Nosworthy of Osbornes solicitors by my estate agent. At first I was reluctant as I had always previously used another solicitor for my conveyancing, but I did use Simon (assisted excellently by his paralegal Emma Healy) and I am very glad I did. The sale of my property was completed with the minimum fuss. You could count the telephone calls made on one hand and there was only one visit to the office. Simon is affable, professional and extremely efficient, hence the five stars. Thank you Simon and Emma."

"Great personal service from Simon and Emma. Always approachable and constantly looking for the best possible solution. Would definitely use their services again and have no hesitation in recommending them to friends and family!"

"I would highly recommend Osbornes to anyone looking for a Solicitor to assist them to purchase a house. Simon is clearly committed to ensuring that his clients receive the best possible service. He was very ably assisted by Emma. Simon and Emma kept us informed along the way. As a first time buyer, I really appreciated all the advice Emma gave me on what to expect from the process and how it works. Thanks so much Emma and Simon!"

"Great service - we were kept informed of the progress of our sale without having to ask, Simon and Emma ensured the transaction ran to the agreed timetable and everyone we encountered in the firm were always helpful and friendly."

"I highly recommend Simon Nosworthy… Our case was a bit more complicated than usual with a hard and fast deadline in the end. Simon has an eye for details and guided us through a frustrating conveyancing process. He got it over the line for us in the end which was a real joy to complete and move in"

I am much indebted to Simon Nosworthy and his staff for the efficient completion of our sale.