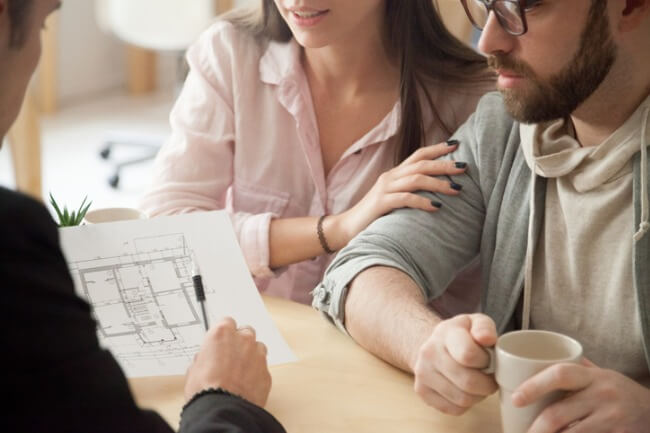 The Daily Mail reported recently that 300 families a week are having to move into shoddy newly built homes. Not all of them will have been purchased off plan but many of them will have been.
Buying off plan means committing to purchasing a property before it's finished and whilst it is being built. Whilst there are many advantages of buying off plan such as it being cheaper and a developer taking into account your wishes in terms of colour schemes and such, there are also several risks:
Buying off plan is not for the faint hearted especially where you are having to wait a number of years for completion but you have exchanged contracts and pay over a substantial sum in terms of deposit. The biggest risk is of the developer going bust. The contract to purchase the property will include a term which requires the developer who is usually the seller to build the property and then complete the purchase by handing it over to the buyer.
If the developer becomes insolvent there is a possibility that the company's liquidator tries to sell the contract on to another developer to enable the build to be finished and for the contractual obligations to be met. The process will inevitably cause a delay which might entitle a purchaser to revoke the contract and get back the deposit but where the deposit has been released to fund the development there is little chance that the deposit would be returned.
In circumstances where the development is to be sold, purchasers may acquire a lien over the net proceeds of sale if their contract was protected with the registration of a unilateral notice at the Land Registry. However, often developers will have registered charges which will have priority over the purchaser's interests.
It is likely that a number of buyers are in the same situation and it might be worthwhile them all attempting to club forces as they may have a louder voice but if there is no money then this may be a futile exercise.
The developer  may well have contracted to provide a new homes warranty and it is worth investigating the terms of that policy and whether it offers protection and covers the deposit. However these warranties can often limit the deposit protection provided and purchasers paying large deposits may find that they are not fully protected.
It may be that the developer simply does not finish the project before the longstop date expires leaving them in breach of contract. However pursuing a developer for breach of contract is not a simple matter and is timely and expensive and there is certainly no guarantee of success with the added risk that during the course of proceedings the developer may become insolvent.
It may be simpler for a purchaser to check if it has any rights under the Consumer Code for Home Builders. It requires the developer seller to provide reliable and realistic information about when the construction of the property may be finished, the date of completion and the date of handover of the property.  If the developer is a participating developer under the code there is a low cost dispute resolution scheme available however the maximum value of the combined aware available under the Code is £15,000 inclusive of VAT and therefore the scheme is unsuitable for the vast majority of homebuyers given their deposit is likely to be more than this. The adjudicator may issue a performance award (that is, where the participating developer has to do something). I am not sure the adjudicator can order the developer to deliver the build where there are more serious issues.
With the government's focus being on building homes and the increased availability of off plan purchases surely it is time for the issues of developers going insolvent or simply not completing projects being addressed so as not as to leave purchasers who have already invested in their proposed purchase without redress. It is in the government's interests to encourage such developments and for the public to feel safe when investing in them.
If you would like to discuss a similar matter with the property litigation team, call Shilpa Mathuradas or complete an online enquiry form.
"Shilpa is knowledgeable and helpful. She is not afraid to challenge the boundaries for her clients, with excellent results."

"Shilpa combines the fierce representation of her clients' best interests with the reasonable and constructive attitude that the Court always looks for in modern litigation. She has invaluable tactical awareness and skilfully handles complex and unusual cases and difficult opponents. As a barrister it is a pleasure to be instructed by her because you so often find that she has already taken the steps that you would have recommended had you been the client's first point of contact. Her preparation of cases for trial is extremely thorough and helps ensure a positive result before you have set foot in Court."

"Thank you so much for your help. You were efficient, clear and advised me well in addition to being very pleasant to work with."

"I would like to sincerely thank you for all the hard work in assisting me to resolve my rather unusual and complicated case. Last 2 years were very stressful and intensive and often only your professional approach and personal realistic but positive attitude helped me not to give up. The uncertainty weight of more than 10 years is off my shoulders thanks to you and your colleagues. Thanks once again for your legal advice, time, and efforts".

"Mostly I am grateful that Shilpa was understanding about the delays caused by my illnesses, and that she stuck with me and got a good deal for my tenancy. I did feel she fought to protect me and my rights. I appreciate that she kept me informed about progress, sending copies of emails with the other side and consulting me when necessary. I appreciated her eye for detail on legal matters and how she stood firm against a somewhat tricky opposing solicitor."

"Shilpa was very thorough in the advice she provided and I was immediately put at ease with her involvement. She works hard to achieve the agreed objective and I very much appreciate her help in my matter."

"Shilpa was very diligent in her attention to detail and her pursuit of all necessary documentation; she showed great determination in the face of many requests by the other party's solicitor to let certain things slide. She was thorough and professional which gave us a great sense of security."

Shilpa really helped us take charge of the situation and helped resolve this property dispute. I would not hesitate to recommend her or the team to anyone in a similar situation.

On first meeting Shilpa I was sure that she understood immediately my requirements, and was sympathetic both to my financial restraints and my emotional state. She achieved everything I asked of her and proved to be invaluable, professional and efficient

At every step Shilpa alleviated any concerns and stresses we had. Always fast to respond, always professional and super knowledgeable.

Shilpa has helped us through some key property litigation matters (residential and commercial) since 2014 and has delivered on every occasion. One particular issue had kept us in a state of stress and tension for almost a decade and after getting in touch with Shilpa she was able to help us bring the matter to a peaceful and successful conclusion.

I received a call from Shilpa Mathuradas a couple of hours after filling the enquiry form for a callback. She actively listened to my party wall concerns responding with gentle professionalism, answering my concerns, letting me know what is and is not possible and when best to bring in a solicitor. All this within 10 minutes. Excellent.

If I had another reason to have to seek legal advice again, I wouldn't hesitate to use Shilpa, and would recommend her to anybody who needed legal advice.

Shilpa was professional, realistic, and unflappable. Shilpa managed to persuade a reluctant witness to come forward to support my case. She obviously knows her subject very well.

I always had full confidence in Shilpa keeping my best interests at heart. I often didn't understand the legal language, and she would follow this up with a phone call and patiently explain.