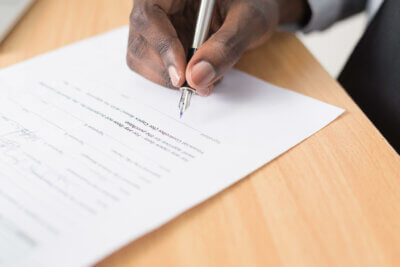 Deed of Variation to a Will
After someone dies, it is possible for the beneficiaries to change the way the estate is distributed instead of following the instructions in the will. A deed of variation is sometimes used when beneficiaries want to split the assets more fairly or provide for someone who was not included in the will or intestacy.
What is a deed of variation?
A deed of variation is a legal document which can be used to alter the terms of the will after someone dies. The process can be used to redirect all or part of someone's inheritance to another beneficiary, add a new beneficiary, or even remove a beneficiary completely.
Why would I need a deed of variation?
After someone dies, their estate needs to be wound up and then distributed to the beneficiaries named in the will. If there is no will, the law decides who the beneficiaries are under the rules of intestacy. However, there may be several reasons why the beneficiaries wish to change the will. These include:
Splitting the distribution more equally between the beneficiaries

Ensuring that someone who is struggling financially receives a larger share of the

estate

Redirecting the inheritance directly to children, so it skips a generation and is only assessed for Inheritance Tax once

rather than twice

Providing for someone excluded from the will, for example, a grandchild who was born after the will was made

Providing for someone who

does

not inherit under the intestacy rules, such as an unmarried partner

Making gifts to reduce the amount of

Inheritance Tax

that needs to be paid by the estate
How do deeds of variation work?
Deeds of variation are flexible documents. Any adult beneficiary  who has capacity can sign one to redirect their share to someone else, even if the recipient was not included in the original will. Any of the beneficiaries giving up some or all of their inheritance under the will or the intestacy rules would need to sign the deed of variation. If the reallocation negatively impacts another beneficiary, for example, by reducing their share from 30% to 25%, then they would need to give their consent.
A deed of variation must take place within two years of the date of death to be effective for tax purposes. If it is completed within the two year period, the changes effected by the deed will be 'read back' in to the will or intestacy rules and IHT will be assessed  as if the person who has died included the changes in their will. A deed of variation can be completed  before or after the grant of probate is issued, but it is usually a good idea to agree this with all involved before any assets are transferred.
What are the pros and cons of a deed of variation?
A deed of variation can provide for beneficiaries who have not been included in a will or the provision is insufficient for the beneficiary's needs. This can be especially useful if there is no will or when family dynamics are complex. Unmarried partners, relations by marriage, close friends and carers have no right to inherit when someone dies without leaving a will, but a deed of variation can provide for them.
The disadvantage is that a deed of variation can only be made once concerning the same assets. Once made, there's no going back. It is vital that you take legal advice from an expert in this area of law to ensure there are no unintended consequences of signing a deed of variation.
What are the tax consequences of signing a deed of variation?
Signing a deed of variation carries with it certain tax implications. These tend to be favorable. One of the more popular reasons for signing a deed of variation is to make sure that Inheritance Tax reliefs don't go to waste. For example, if a property qualifies for Business Property Relief and the spouse inherits this asset, then the relief is wasted as the spousal transfer is already exempt from Inheritance Tax. 
The deed of variation must contain certain elections to ensure that any tax advantages are properly claimed and that the variations are "read back" to the date of death. You will need a solicitor to guide you through this process. Without observing the proper formalities, the deed may lose its tax advantages.
Contact us today
Email us Send us an email and we'll get back to you
A private client team offering a range of services to assist with private client matters including trust and probate services. A friendly approach with a keen eye for detail.

I have been a client of this firm for a number of years and been impressed by particular individuals, the care and thoughtfulness with which they have worked.

An efficient firm which provides an excellent service at highly competitive charging rates.

The team receives a steady flow of instructions from high-net-worth individuals and families on an array of tax planning, wealth preservation, estate and succession planning issues

I think this firm has excellent strength and depth in this area, for both contentious and non-contentious work, and they can hold their own against any other firm.

I have found them to be incredibly knowledgeable and pragmatic in settling claims for their clients.

The contested estates team is strong with talented young solicitors doing good quality work

The nimble team acts for a broad range of high-net-worth individuals and families on a variety of complex estate and trust litigation.

Osbornes has a 'strong private client department' and 'the firm seems to be going from strength to strength'.

Thank you for managing my case, following a complete fiasco before I contacted Osbornes Law. I know that the work involved was rather complicated, possibly frustrating and often time consuming. I was impressed with your current knowledge of the case when we had the first meeting at your office. I regard a face-to-face meeting as imperative in developing positive relationships. Members of your team, such as Alex and Ella were impressive too, with their efficient, friendly manner of working.
I am grateful for your patience, advice and excellent support at a difficult time. Hopefully it won't be necessary to contact you again regarding this matter! I will definitely use Osbornes Law in the future.

"Jan Atkinson, with her steely, steady, calming presence, instils confidence in the most highly-strung of us clients. With her masterful knowledge of the law, old and new, and its application, Jan can navigate through the most complex of cases to a successful end."

"I find Osbornes' client-friendly approach welcoming and refreshing"

"A medium-sized London firm dealing with big litigation and doing it extremely well because of a depth of expertise and experience."

My family had the pleasure of Jan Atkinson working with us on the will and probate issues of [my mother's] estate in Camden and Ireland after she passed on last year. Jan and her assistant(s) offered us a fantastic service at a sad time.

"Jan Atkinson stands out for her wide-ranging knowledge and experience of estates; whatever problem you throw at her, she has seen it all before and is able to find a creative and sustainable solution. She has exceptional commitment to her clients and explores every avenue to find the best solution for them"

The team is very caring, experienced and detailed and was clear about the  next steps and offered very helpful advice and suggestions

Jan Atkinson has extensive experience in private client matters, which underpins her excellent skills in the contentious probate area. Plus she is strong on international matters

A small but formidable team, punching above its weight. Jan Atkinson is a seasoned pro. Approachable but no push-over

"They are an outstanding firm to work with. They are consistently impressive in their work."

"Elspeth Neilson is very reliable and practical."

"The team frequently deals with cross-border estates for high–net-worth individuals."

"The team were extremely professional in putting my needs first. There was a joined-up approach to catering for the client, and all lawyers involved were briefed and constructive."

"Service prompt and effective. I have absolute confidence in Maggie."

I am happy with the service that I got and would recommend you to other potential clients.

I found Osbornes always very helpful and efficient.

We are very pleased with the services of Osbornes. Highly professional and through with close attention to detail.

I would highly recommend Jan Atkinson in any probate matter and Osbornes Solicitors in any other legal matters.

Jan Atkinson is a very proficient lady whom I would highly recommend to anyone involved in probates.

Thanks for all your work and explaining everything so clearly. For any legal matters in the future I would not hesitate in instructing Osbornes.

We have found your service to date as the most informative we have come across.

Jan Atkinson is confident with a straightforward approach. Her practice covers both contentious and non-contentious matters, including wealth planning and estate administration.

I would like to thank everyone in my case for the excellent job!