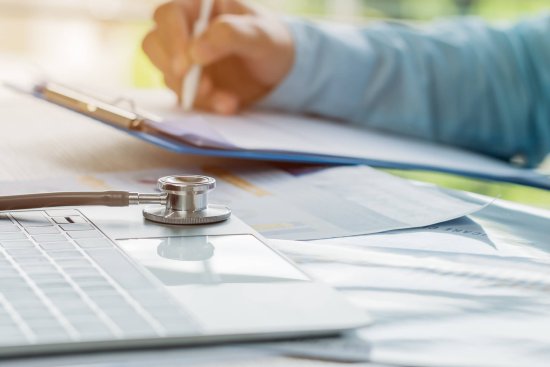 Remote appointments have been one of the measures adopted by GP Practices in the UK throughout the COVID-19 pandemic.  It has recently been reported in the press that on average, face-to-face GP appointments remain similar to lockdown levels, as most consultations are taking place remotely. In addition, there have been some reports that patients have been facing difficulties securing a consultation with their GP, be it remote or face-to-face.
It has been quoted that only 54% of patients were seen by their GP face to face in January and a slight increase of 58% in August 2021. Before the pandemic, over 80% of patients were seen by their GP at a face to face appointment.
Can I request a face to face consultation?
Not all GP appointments require a face to face consultation but likewise, not all will be suitable for telephone consultations. As a patient at a GP surgery, you are entitled to request a face to face consultation but it is ultimately for your GP to decide whether they are able to offer this to each individual patient.
Some patients prefer face to face appointments with their GP as it allows them to properly engage and expand on the problem that they are complaining of. It allows the GP to carefully examine his or her patient and crucially, it may allow the GP to spot or notice other health issues that are not mentioned. It is difficult for a patient to show a GP where their pain is over the telephone.
The government has recently requested that GPs offer more in-person appointments.  However, GPs have reported they are under increased pressure to meet the demand for appointments with a diminishing number of GPs across the country. Statistics from NHS England show that the number of permanent GPs in England fell by almost 7% from March 2016 to March 2021.
A fine balance
The healthcare sector has been under immense pressure throughout the pandemic and healthcare providers are working tirelessly to meet patient needs. While telephone consultations may be sufficient and efficient for GPs and many patients, they, unfortunately, pose an inherent risk as GPs do not have the benefit of seeing their patients. Patients may be adversely affected where treatment opportunities have been missed or diagnoses have been delayed as a result of not being seen face-to-face.
The inability to see a GP in person can force a patient to rely on other services, such as A & E and emergency services. This places increased pressure on these services who are already under increased stress. This extra pressure causes a deterioration in the standard of care these tertiary services provide.
Remote appointments do have their place for many patients, especially those who are working and can take the call at work, or while working at home. However, it is reported that the more vulnerable patients such as the elderly, those with disabilities or on low incomes do not cope as well with remote GP appointments. Every patient must be assessed individually by the GP and many factors need to be taken into account to determine if a remote appointment is suitable for the said patient.
If you would like to speak with a clinical negligence solicitor please call Elline Demetriou, or complete an online enquiry form.
Stephanie has developed a particularly strong reputation for her handling of birth injury claims, as well as cases concerning surgical negligence and delays in surgery.

"An excellent firm which achieves fantastic outcomes for clients."

"Stephanie Prior takes on complex cases and gets excellent results. She has a background in medicine which serves her clients well and is a realistic but tough litigator."

"Stephanie Prior is hugely dedicated, adored by her clients, tenacious, efficient and extremely knowledgeable."

"Stephanie Prior is very good with troubled clients and is easily able to make them feel at ease."

"Stephanie shows sensitivity and deals with things in an understanding way."

Osbornes provides a very intimate and personal client service which is increasingly rare in this sector.

The lawyers in the team are highly experienced and will drive cases very hard on behalf of their clients.

"Stephanie Prior has a realistic attitude to the complexities of the cases. She wins the trust of her clients and goes the extra mile to ensure they get the best outcomes."

"Stephanie Prior... manages a varied caseload, including obstetric claims, child and adult brain injury cases and fatal and non-fatal spinal cord injury cases."

"Stephanie is experienced, knowledgeable of all aspects of clinical negligence work, and strategic in running cases."

"The team were extremely professional in putting my needs first. There was a joined-up approach to catering for the client, and all lawyers involved were briefed and constructive."

Stephanie Prior is always very professional and kind. Highly recommended.

Quite simply excellent, with a highly competent and well-rounded team. They understand complex medical litigation and have been our lifesavers, and we will always owe them our immense gratitude.