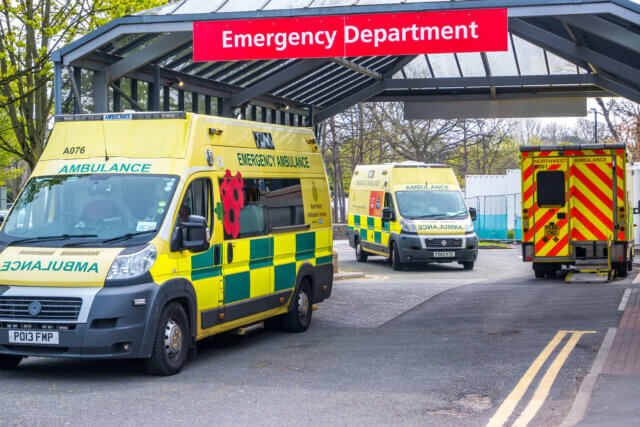 According to recent NHS figures, in October this year patients in England who were presenting with potential heart attacks or strokes, had to wait for almost an hour for an ambulance: three times as long as they should have to wait. All across the UK, health targets are being missed. The official ambulance target for life-threatening conditions is seven minutes and for critically ill patients the target is 18 minutes. Despite this, some seriously ill people are waiting up to nine hours for an ambulance.
In addition to the delays in ambulance attendance, the data also demonstrated that there were an unprecedented 1,012,143 calls to the 999 service in October. This meant that the average wait time for the call to be answered was 56 seconds.
Longer waits and lives lost
These delays in call answering and ambulance attendance are almost certainly putting lives at risk. In one case, a sick patient had been assessed as 'stable' and was held within an ambulance parked outside the Worcestershire Royal Hospital. After a wait of five hours, the patient became seriously ill and was rushed to the Accident and Emergency resuscitation room, where they died of a cardiac arrest. A patient safety investigation has been launched into the case.
In another case, the BBC reported, 82-year-old Margaret Root, suffered a stroke and waited nearly six hours for an ambulance to take her to hospital and then another three hours before she was taken through the hospital doors. By that stage, nine hours after falling ill, it was too late for her to receive medications that are usually prescribed to reverse the effects of stroke. However, the service Margaret received was speedy compared to that received by a gentleman who waited nine hours for assistance, with his family calling the emergency services six times, before help finally came.
Unacceptable for patients and staff
Richard Webbers, speaking on behalf of the College of Paramedics said ambulances are, 'simply not providing the level of service they should' and the situation was 'unacceptable'…… 'everyday services are holding hundreds of 999 calls with no-one to send'.
In addition to the suffering faced by patients waiting for care, the working conditions are taking a toll on the paramedics and other healthcare staff. Speaking to the BBC, Webber states, 'We have members who have been working for 20,30 years and they have never before experienced anything like this, at this time of the year'.
Cause and effect
There are several reasons for the ambulance delays:
The pandemic has resulted in greater demand on all health services
Calls to the ambulance service are up by 25% from pre-pandemic levels
Due to a lack of social community care, hospitals are unable to discharge medically fit patients
These factors all result in delays in handing patients over from ambulances to hospital staff. So, ambulance staff are held up, parked outside hospitals, rather than attending to emergencies. Although ambulances are supposed to transfer patients within 15 minutes of arrival at the hospital, waits of more than an hour are becoming more frequent. This means that in an average 12-hour shift, ambulance staff are attending just one or two incidents instead of the usual six to eight.
Data from the Association of Ambulance Chief Executives backs this up: right now, the number of hours lost due to handover delays is twice as high as it was at the start of the year. Deborah Ward, analyst for the King's Fund said, 'Today stats reveal the worst performance since current records began for ambulance calls and A and E's, suggesting the health and care system is 'now on its knees'.
Demonstrable harm
A review by the Association of Ambulance Chief Executives published in the Health Service Journal, examined 470 cases of delayed handover to hospital staff on a single day, January 4th, 2021. It was found that 85% of those patients subjected to delayed handover suffered potential harm, and 9% suffered potentially severe harm. As reported by 'The Times', when these statistics are extrapolated across a year, as many as 160,000 patients face harm annually, solely due to handover delay.
Bleak winter months
With hospitals and ambulance services already struggling before the onset of winter, the next few months are set to be very bleak for the NHS and for the people that use the service. Doctors are already warning that people are dying in ambulances and in hospital corridors, because emergency services are overwhelmed. For already highly stressed staff, the winter could represent a real breaking point.  Health union GMB said, 'With grim predictability, Ministers completely ignored' and a warning for 'those on the front line. Unless rapid […] action is taken, the winter crisis could become a catastrophe' (ibid.).
To speak with Stephanie Prior, a partner and senior medical negligence lawyer at Osbornes Law, fill in the online form below.
Speak with Stephanie today
Email us Send us an email and we'll get back to you
"Stephanie Prior is very empathetic and practical, she gets to the heart of a case quickly."

"Stephanie Prior is highly respected in the marketplace, with a great wealth of experience, superb judgment and medical knowledge that is second to none."

"Stephanie has always shown great judgment and common sense whilst building valuable relationships with her opponents."

"Stephanie Prior is a standout solicitor."

"Stephanie Prior is an experienced lawyer with immense knowledge of her specialism, which allows her to run her cases with strategic precision."

"Stephanie knows her way effortlessly around any clinical negligence issue and has a great strategic mind."

"I know [we have] expressed our appreciation, but I also wanted to thank you for all your hard work, time and patience in pursuing mum's claim through to a successful outcome - your kind and professional approach was genuinely appreciated."

"May I take this opportunity to thank you for your patience and true compassion in yet another very tough year of representation on the behalf of my wife. I certainly must say you did it all with amazing stamina and positivity which regenerated my self-esteem…. You honestly eased the pain and I can see a healing process ahead."

Stephanie has developed a particularly strong reputation for her handling of birth injury claims, as well as cases concerning surgical negligence and delays in surgery.

"Stephanie Prior takes on complex cases and gets excellent results. She has a background in medicine which serves her clients well and is a realistic but tough litigator."

"Stephanie Prior is hugely dedicated, adored by her clients, tenacious, efficient and extremely knowledgeable."

"Stephanie Prior is very good with troubled clients and is easily able to make them feel at ease."

"Stephanie shows sensitivity and deals with things in an understanding way."

The lawyers in the team are highly experienced and will drive cases very hard on behalf of their clients.

"Stephanie Prior has a realistic attitude to the complexities of the cases. She wins the trust of her clients and goes the extra mile to ensure they get the best outcomes."

Stephanie's background in medicine gives her an ability to read between the lines where medical records and expert evidence are concerned and is a great asset.

"Her knowledge base is second to none and her understanding of the litigation process stands out, as does her ability to work collaboratively."

"Stephanie Prior... manages a varied caseload, including obstetric claims, child and adult brain injury cases and fatal and non-fatal spinal cord injury cases."

"Stephanie is experienced, knowledgeable of all aspects of clinical negligence work, and strategic in running cases."

"Key team members include the approachable, compassionate and efficient Stephanie Prior."

Stephanie Prior is always very professional and kind. Highly recommended.

Stephanie Prior is 'very warm' and 'caring', and an 'exceptional professional'.

Stephanie Prior continues to receive widespread praise from clients, who state that she explains the legal aspects of the case very clearly, and she is also a caring person who handles cases on a personal level.