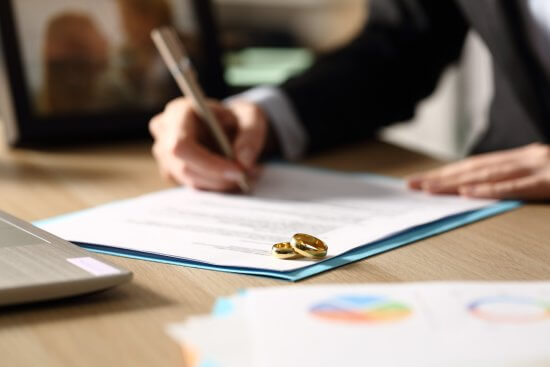 Have you heard that breakup rates were exploding during the pandemic? New data from the Office for National Statistics (ONS) suggests this may not be entirely true, since divorce petitions were actually down by 4.5% in 2020 compared to 2019. 
But in practice, the fall in divorce statistics may not mean more people are living happily ever after.
The drop in rates seems to be, in part, due to the general slowing down of the legal system due to Covid-19, which created a significant backlog for the courts. It may also be due to the delayed impact of the pandemic which turned many couples' lives upside down. Most divorces take six months or longer from the date court proceedings are begun, so it's likely that any pandemic effect will not be discovered until at least the 2021 figures. 
However, we believe there's another reason why the 2020 figures may be artificially low. Soon, the law will change to allow 'no fault' divorce in England and Wales for the first time. Many couples have been eagerly awaiting the new rules since they'll be able to divorce more amicably, without playing 'the blame game'. 
Unreasonable behaviour most common ground for divorce
Under the current law, the only way for couples to divorce without apportioning blame is to wait at least two years (if both partners consent) or five years (if there's no consent) before issuing divorce proceedings. 
Otherwise, one spouse must show that the other has behaved badly in order to prove that the marriage has irretrievably broken down—either adultery or unreasonable behaviour. The latter can include anything from emotional abuse to financial recklessness or simply refusing to spend time with a partner.   
According to the ONS, unreasonable behaviour was the most common reason for divorce among opposite-sex couples in 2020, accounting for 47.4% of petitions filed by women. Men preferred the more harmonious approach of waiting and relying on two-years separation, although unreasonable behaviour came a close second.
For same-sex couples, unreasonable behaviour accounted for 55.2% of female divorces and 57% of male divorces.
New law ends the blame game  
Under the new no-fault procedure, couples will be able to divorce on the basis that the marriage has broken down irretrievably. They will not have to rely on one of the old blame-based facts. The new rules are widely seen as a game-changer for divorcing couples who often want to take a much more cooperative and non-confrontational approach to ending their marriage, without the mudslinging. 
For separating couples, it can be much harder to focus on the financial arrangements and the needs of the children when they're forced to argue about who should divorce who and what the allegations of unreasonable behaviour will be. The new law cuts unnecessary conflict from the divorce process, allowing couples to move more amicably towards a separation and focus on what really matters.
As to whether the introduction of no-fault divorce will have any impact on divorce rates, we'll have to wait and see. Most couples will divorce in any event if their marriage is over, whatever hurdles are put in their way. This doesn't mean they want all the fighting though.  
How Osbornes Law can help
We specialise in divorce, advising on child arrangement orders, property and financial agreements. Our divorce lawyers are recognised as one of London's leading teams with a particular emphasis on advising those who have international assets, built up both during the marriage and before and assets that have been inherited.
To speak with a specialist divorce lawyer and to find out more about the new no-fault divorce process, please call Lauren Gaines, or complete an online enquiry below and we will call you back.
I would highly recommend Osbornes Law Firm and Lauren Gaines. Her advice and support in dealing with a difficult and emotional legal matter made the process just that bit easier. She is understanding, sensitive, professional, responsive and provided great guidance throughout the process. I'd give her more stars if I could. Excellent Firm.

"You have done an outstanding job. Thank you so much"

"Many thanks for your patience and clear explanations"

"It has been great to have your calm and measured guidance over my divorce proceedings and I am most grateful to you for all your help"

"It is a pleasure to recommend Lisa Pepper and her team (Lauren Gaines and Sophie Brand) at Osbornes Law for their professionalism and hard work in our case, which was a difficult one and which they brought to a successful outcome."

"Osbornes Law provided me with the most professional service that met my requirements every step of the way. Their Solicitor Lauren Gaines supported me at every stage and provided me with solid, helpful and empathetic advice throughout. I would recommend Osbornes Law to anyone should I be asked and even more, so Lauren Gaines. Thanks Osbornes Law and thank you so much Lauren"