Record high waiting lists put cancer patient lives at risk
23 Feb 2022 | Stephanie Prior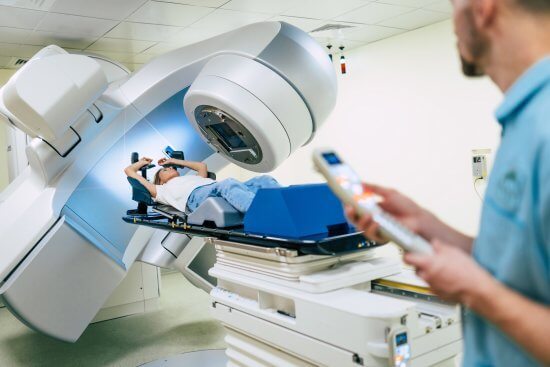 In early January 2022 there were nearly six million people in England waiting for routine operations and treatment: a record high. As health trusts are struggling to cope, the Health and Social Care Select Committee described the backlog as an 'unquantifiable challenge'.
Included in the six million are around half a million people with a suspected cancer diagnosis.
The NHS has national targets across the board relating to the timeframe within which patients receive care.
NHS England Targets
In cases of suspected cancer, the first benchmark target is for GPs to refer their patients to a specialist consultant within 1 working day.
That specialist consultation should then take place within 2 weeks, known as the "2WW" (2 week wait) referral.
Once a decision has been made to treat cancer, patients should receive their first treatment within 31 days from the date of that decision.
Patients should receive their first treatment no later than 62 days after the first GP referral.
The Reality
Results of recent research show that the targets are not being met and a record number of patients are waiting longer than the target timeframes for cancer treatment.
We are all well aware of the knock-on effect of the COVID-19 pandemic on cancer treatment. Despite being classed as essential treatment that was to continue during the pandemic, the reality of the situation sadly led to long delays and a backlog of patients waiting to receive and/or continue their cancer treatment. Nonetheless, government figures state that cancer treatment was at 94% of pre-pandemic levels but acknowledge there were 34,000 fewer cancer diagnoses in England from March 2020 – November 2021.
Patients are not just experiencing delays in the treatment stage but also delays in being offered a first consultation with a specialist. The percentage of patients who had attended a first specialist appointment within 2 weeks of their GP's referral fell from 94.5% in January-March 2009 to 88.6% in the same period of 2021. The first drop to levels below 90% occurred after early 2021.
Research published in the BMJ found that people whose cancer treatment is delayed by even one month, have a 6-13% higher risk of dying from their disease. This figure applies to several types of cancer, including breast, lung and colon, no matter if the delayed treatment is surgery, chemotherapy or radiotherapy. The entire cancer care pathway needs to operate efficiently with targets for both diagnosis and treatment times being met if patients are to be afforded their best chance for successful treatment. The worry of having a cancer diagnosis and the uncertainty of not knowing the test results following a referral can only add more stress and anxiety to a person's mental health and wellbeing once they have a suspected diagnosis. Any delays in addition to this must be another layer of unnecessary stress and concern to the patient and his or her family.
Legal storm brewing
Leading cancer specialists are warning that the NHS could face a 'legal storm' for compensation claims from patients whose cancer has spread due to delays in diagnosis and treatment. Professor Gary Middle, a cancer surgeon said, 'I think the likelihood is enormously high that potentially we're sitting on a legal minefield with this.'
Waiting list recovery plan
The government recently unveiled their plan for the NHS to construct more than 100 community diagnosis centres in which teams of specialists will provide a faster clinical service in an attempt to address the record high waiting lists. New surgical hubs will also be created, ensuring efficient use of resources and creating extra capacity so patients are seen quickly.
The future
New targets have just been announced for a shorter period of time between the first GP referral to a specialist and having a cancer diagnosis confirmed or rejected. The aim is for this to happen within 28 days but the programme is due to be implemented across England by 2024. We can only wait and see if the current backlog of patients awaiting treatment is caught up with in time for these new plans to be implemented or whether they turn out to be too optimistic given the current state of affairs.
If your cancer diagnosis was missed or delayed, or you did not receive the cancer treatment you should have received, Osbornes can help. To speak to a medical negligence specialist, contact Stephanie Prior, or complete an online enquiry form.
"She has represented victims in a number of high-profile cases."


"Stephanie Prior is very empathetic and practical, she gets to the heart of a case quickly."

"Stephanie Prior is highly respected in the marketplace, with a great wealth of experience, superb judgment and medical knowledge that is second to none."

"Stephanie has always shown great judgment and common sense whilst building valuable relationships with her opponents."

"Stephanie Prior is a standout solicitor."

"Stephanie Prior is an experienced lawyer with immense knowledge of her specialism, which allows her to run her cases with strategic precision."

"Stephanie knows her way effortlessly around any clinical negligence issue and has a great strategic mind."

"She works tirelessly for her clients and is incredibly focused on their needs. Attention to detail is key and she is meticulous."

"She's a very committed lawyer and always has the best interest of the client at heart."

"Stephanie Prior is excellent to deal with. She keeps everything up to date and works extremely hard for the clients and their families."

Stephanie Prior is very experienced, with an encyclopaedic medical knowledge. Fights tooth and nail for her clients.

Stephanie Prior is a first-rate clinical negligence specialist whose industry, great experience and medical background put her in an exceptional class.

Stephanie Prior is a superb senior practitioner with an accurate eye for the nub of a case and an acute sense of the merit of any claim.

A very experienced team headed up by the wonderful Stephanie Prior, who has a fantastic reputation in the marketplace.

"I know [we have] expressed our appreciation, but I also wanted to thank you for all your hard work, time and patience in pursuing mum's claim through to a successful outcome - your kind and professional approach was genuinely appreciated."

"May I take this opportunity to thank you for your patience and true compassion in yet another very tough year of representation on the behalf of my wife. I certainly must say you did it all with amazing stamina and positivity which regenerated my self-esteem…. You honestly eased the pain and I can see a healing process ahead."

Stephanie has developed a particularly strong reputation for her handling of birth injury claims, as well as cases concerning surgical negligence and delays in surgery.

"Stephanie Prior takes on complex cases and gets excellent results. She has a background in medicine which serves her clients well and is a realistic but tough litigator."

"Stephanie Prior is hugely dedicated, adored by her clients, tenacious, efficient and extremely knowledgeable."

"Stephanie Prior is very good with troubled clients and is easily able to make them feel at ease."

"Stephanie shows sensitivity and deals with things in an understanding way."

The lawyers in the team are highly experienced and will drive cases very hard on behalf of their clients.

"Stephanie Prior has a realistic attitude to the complexities of the cases. She wins the trust of her clients and goes the extra mile to ensure they get the best outcomes."

Stephanie's background in medicine gives her an ability to read between the lines where medical records and expert evidence are concerned and is a great asset.

"Her knowledge base is second to none and her understanding of the litigation process stands out, as does her ability to work collaboratively."

"Stephanie Prior... manages a varied caseload, including obstetric claims, child and adult brain injury cases and fatal and non-fatal spinal cord injury cases."

"Stephanie is experienced, knowledgeable of all aspects of clinical negligence work, and strategic in running cases."

"Key team members include the approachable, compassionate and efficient Stephanie Prior."

Stephanie Prior is always very professional and kind. Highly recommended.

Stephanie Prior is 'very warm' and 'caring', and an 'exceptional professional'.

Stephanie Prior continues to receive widespread praise from clients, who state that she explains the legal aspects of the case very clearly, and she is also a caring person who handles cases on a personal level.