Croydon Tram Crash Inquest Recommendations Welcomed
23 Sep 2021 | Ben Posford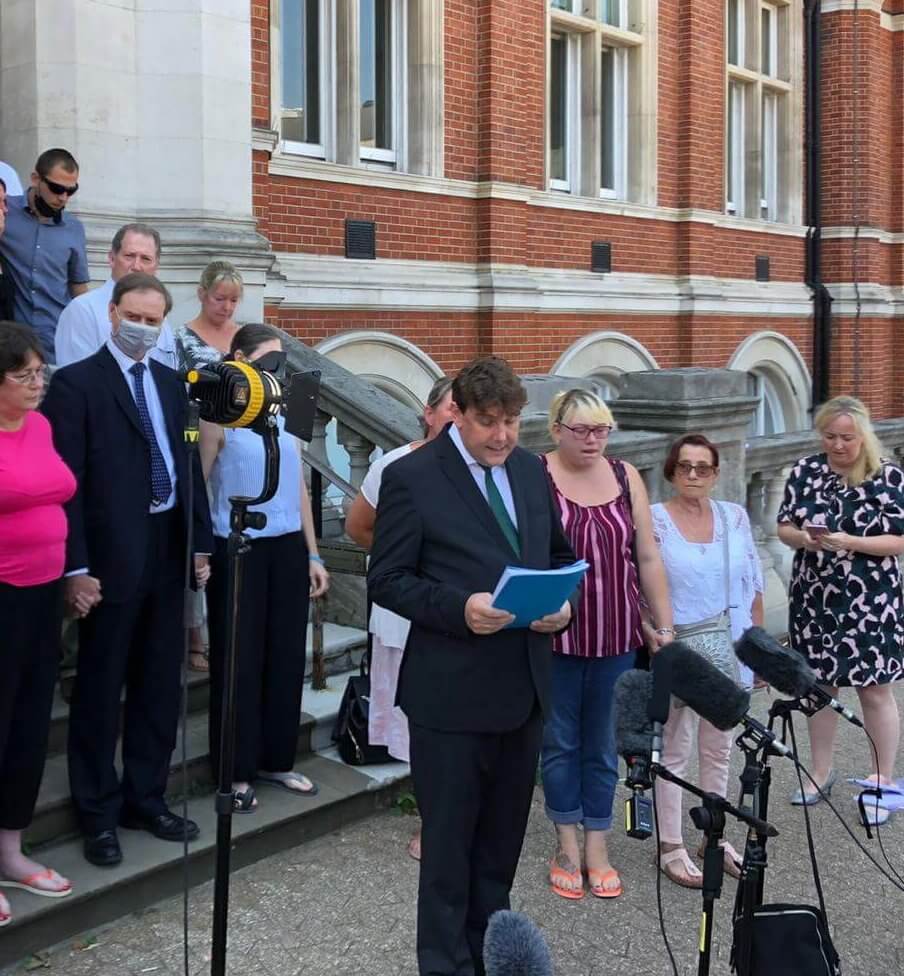 The families of victims killed in the Croydon tram crash today welcomed a coroner's recommendations to prevent another tragedy.
Senior Coroner Sarah Ormonde-Walsh, who presided over the inquest into the seven people who died when a tram turned over on 9 November 2016, has recommended four actions in a prevention of future deaths report.
The coroner said automatic braking systems should be installed on trams and doors should be strengthened. She added all tram operators should sign up to an anonymous reporting scheme to allow whistle-blowers to report incidents and that a national tram safety passenger group is set up.
Dane Chinnery, 19, Philip Logan, 52, Philip Seary, 57, Dorota Rynkiewicz, 35, and Robert Huxley, 63, all from New Addington, and Mark Smith, 35, and Donald Collett, 62, from Croydon died when a tram overturned at Sandilands Junction, while 62 of the 70 on board were injured, 19 seriously.
An inquest earlier this year concluded that all seven died as a result of an accident.
Jean Smith, 64, mother of Mark Smith who died after he was ejected through a door of the tram, said: "I am pleased the coroner has adopted most of the changes that the families campaigned for, in particular the recommendation that relates to strengthening doors. As the coroner points out, it was recommended that doors were strengthened after the crash five years ago and nothing has been done about it. It is outrageous that people travelling in trams could suffer the same terrible death that Mark did as they simply haven't strengthened the doors.
"While the coroner's recommendations are welcome, I am still angry and upset that nobody has been held accountable for what happened to my son and everybody else on that tram. It hurts more than words can say. It is also wrong and frustrating that we were not able to hear any evidence at the inquest from those responsible. We will now look to the Office of Rail and Road to see if they will prosecute."
Ben Posford, Partner and Head of Catastrophic Injury  is lead solicitor for five of the seven families (the families of Mr Logan, Mr Seary, Ms Rynkiewicz, Mr Smith, and Mr Collett).
He said: "These recommendations are very welcome and if properly implemented, along with the 15 recommendations of the Rail Accident Investigation Board, they will go some way towards ensuring nobody else will lose their lives in the same horrific way as those who died in the Croydon tram crash. While nothing will bring their loved ones back, the families have always wanted to ensure that no other families in Croydon or the country suffer the same loss of loved ones on tramways.
"The families will now meet Baroness Vere, the minister with responsibility for light rail, to press her to ensure that all these recommendations are implemented.
"I would like to thank Croydon Central MP Sarah Jones for securing a debate in the House of Commons this week on the tram crash. During that debate Parliamentary under secretary for transport Trudy Harrison said she would look further into the legal loophole whereby driving causing fatalities on the part of bus drivers can lead to prosecutions that are only available in relation to tram drivers when they are on a road, but not on sections of track off the public highway. It is also to be welcomed that the government will agree to open a dialogue with the families. They will be continuing to campaign for a change in the way inquests into public transport mass fatality events are conducted, after the coroner ruled that the jury at the Croydon tram crash inquest could not hear oral evidence from any of the people directly responsible for the tragedy."
Story can also be read in BBC news article
If you would like to speak to a serious injury lawyer, please call us, or complete an online enquiry form.
Ben Posford is an intellectual powerhouse, loved by his clients and feared by his opponents.

Head of catastrophic injury Ben Posford, has particular experience regarding spinal cord and brain injuries, and fatalities.

"Ben Posford has a very effective and engaging style, which puts injured clients at their ease. He is willing to take on the most challenging of clients and the most challenging of cases which sets him aside from many. He wears his exceptional intelligence lightly."

"Ben Posford is a pre-eminent solicitor in the field of very high-value catastrophic injury claims."

"Ben Posford is a great tactician, a great negotiator and generally, the man you want on your side when dealing with serious personal injury work."

"Ben Posford is a top-class litigator. He knows everything there is to know about catastrophic injury and major disaster litigation."

"Ben Posford has his finger on the pulse as one of the leading catastrophic injury lawyers in the country, dealing with some of the highest profile cases."

"Straightforward and clear, he is good at cutting through the noise."

"Totally tenacious but brilliantly commercial; very impressive."

"Incredibly impressive; he not only knows the technical ins and outs but is a charismatic personality, one clients absolutely love and trust."

"An excellent practical litigator who offers exceptional service', 'tactically astute… he is one of the best personal injury solicitors around"

"He finds angles other lawyers miss and fights incredibly hard for his clients"

"Ben Posford is a hugely experienced solicitor who approaches his cases with confidence and realism."

"Ben Posford is a hugely experienced solicitor who approaches his cases with confidence and realism."

"A really strong team, led by Ben Posford, who is an exceptionally experienced and talented catastrophic injury lawyer."

"Affable and charming with very good client-handling skills."

Beneath Ben Posford's calm and reassuring presence, which clients love, lies a formidable tactical and legal brain. His experience tells and he gets it right at every stage of the process from arranging the best possible rehabilitation, to ensuring, so far as possible, a polite relationship with those acting for the defendant in order to ensure best and early resolution of the claim.

Ben Posford is "very meticulous, good with clients and knowledgeable."

"Intellectually rigorous and intelligent."

Ben Posford is one of the best catastrophic injury lawyers around.

Ben Posford is 'exceptional and a real expert in the field of catastrophic injury'.

Ben Posford … is 'tactically astute' and 'one of the best personal injury solicitors around'.

Ben Posford 'knows how to maximise the value of the claim for his clients'.

Ben Posford...'couples meticulous legal skills with a hugely personable manner with clients and opponents,' and is noted for his skills in 'directing and motivating those working beneath him'

"Ben Posford is a fantastic lawyer who is extremely personable in dealing with clients and with opponents, and he has an unusual level of knowledge of the intricacies of procedure and substantive law."