Ben Posford named catastrophic injury lawyer of the year
24 Nov 2021 | Ben Posford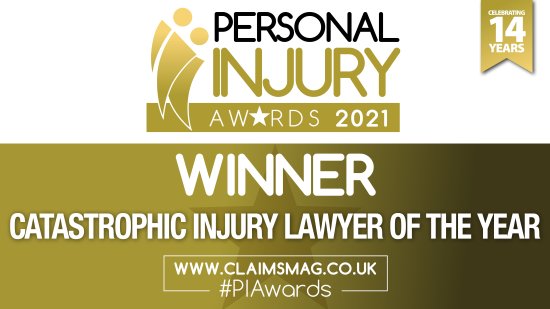 Osbornes Law are delighted to announce that Ben Posford has been named as 'Catastrophic Injury Lawyer of the Year' at The Personal Injury Awards 2021.
The awards, which took place on Tuesday 23rd November 2021 brought together hundreds of personal injury lawyers and other professionals to recognise the important work being done in this sector on behalf of often extremely vulnerable clients.
The judging panel said of Ben:
"The Catastrophic Injury Lawyer of the Year expertly undertakes a large breadth of cases, including some with a very high profile, and possesses a deep knowledge of quantum issues that the judges find impressive. They also come highly recommended and praised."
As lead solicitor for most of the families of the Croydon tram crash, Ben was a constant figure at the recent inquest into the crash and continues to support the families as they campaign for safety changes to the tram network.
Ben is head of the catastrophic injury at Osbornes Law and has particular expertise in severe brain injury & spinal cord injury claims and is also a leading fatal accident practitioner. He is also known for his niche practice involving cauda equina syndrome claims and is one of only a few lawyers listed in band one of Chambers UK for his personal injury practice in London.
Ben is an accredited Fellow of the Association of Personal Injury Lawyers (APIL) and is also an advanced APIL accredited specialist in both Brain Injuries and Fatalities.
"Ben Posford has a very effective and engaging style, which puts injured clients at their ease. He is willing to take on the most challenging of clients and the most challenging of cases which sets him aside from many. He wears his exceptional intelligence lightly."

"Ben Posford is a pre-eminent solicitor in the field of very high-value catastrophic injury claims."

"Ben Posford is a great tactician, a great negotiator and generally, the man you want on your side when dealing with serious personal injury work."

"Ben Posford is a top-class litigator. He knows everything there is to know about catastrophic injury and major disaster litigation."

"Ben Posford has his finger on the pulse as one of the leading catastrophic injury lawyers in the country, dealing with some of the highest profile cases."

"Straightforward and clear, he is good at cutting through the noise."

"Totally tenacious but brilliantly commercial; very impressive."

"Incredibly impressive; he not only knows the technical ins and outs but is a charismatic personality, one clients absolutely love and trust."

Ben Posford is fiercely bright, with an unrivalled passion for his clients' cases. His encyclopaedic knowledge of all things PI is second to none. His foresight and commercial nous have propelled Osbornes into the highest echelons of the market where they rightly belong.

Ben Posford is one of London's best catastrophic injury lawyers, in my view. He is a real brain injury specialist.

"An excellent practical litigator who offers exceptional service', 'tactically astute… he is one of the best personal injury solicitors around"

"He finds angles other lawyers miss and fights incredibly hard for his clients"

"Ben Posford is a hugely experienced solicitor who approaches his cases with confidence and realism."


"Star performer, Ben Posford is a dynamic and impressive solicitor who takes a creative and dedicated approach to claims of the utmost complexity; he specialises in catastrophic brain and spinal injury claims"


"For spinal cord injuries, particularly cauda equina, Ben Posford is a key contact"

"Ben Posford is a hugely experienced solicitor who approaches his cases with confidence and realism."

"A really strong team, led by Ben Posford, who is an exceptionally experienced and talented catastrophic injury lawyer."

"Affable and charming with very good client-handling skills."

Beneath Ben Posford's calm and reassuring presence, which clients love, lies a formidable tactical and legal brain. His experience tells and he gets it right at every stage of the process from arranging the best possible rehabilitation, to ensuring, so far as possible, a polite relationship with those acting for the defendant in order to ensure best and early resolution of the claim.

Ben Posford is "very meticulous, good with clients and knowledgeable."

"Offers specialist expertise in cauda equina syndrome cases."

"Intellectually rigorous and intelligent."

As a real specialist in spinal cord injuries, Ben Posford is always looking at new angles on how to maximise his cases.

Ben Posford is one of the best catastrophic injury lawyers around.

Ben Posford is 'exceptional and a real expert in the field of catastrophic injury'.

Ben Posford … is 'tactically astute' and 'one of the best personal injury solicitors around'.

Ben Posford 'knows how to maximise the value of the claim for his clients'.

Ben Posford...'couples meticulous legal skills with a hugely personable manner with clients and opponents,' and is noted for his skills in 'directing and motivating those working beneath him'

"Ben Posford is a fantastic lawyer who is extremely personable in dealing with clients and with opponents, and he has an unusual level of knowledge of the intricacies of procedure and substantive law."

"Ben Posford is singled out for his expertise in high-level catastrophic claims, particularly his handling of devastating brain and spinal injuries"
Catastrophic Injury Case StudiesVIEW ALL