100 000 LIBIER PRE CYKLISTU PáDE
10 Aug 2021 | Jaro Bernat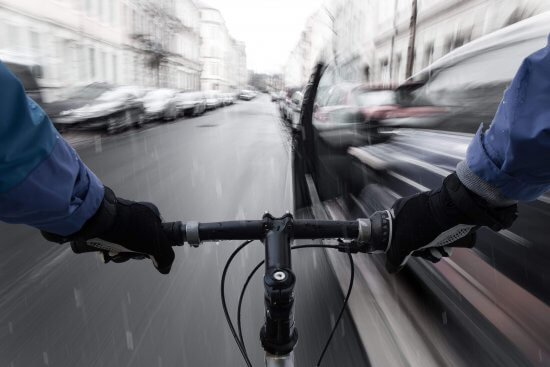 Náš klient bicykloval po ceste v Londýne. Držal sa blízko chodníka, keď pri boceni vľavo náhle stratil kontrolu, bicykel spod neho vyletel a klient dopadol tvrdo na rameno a ruku. Pribehli svedkovia a spolu so zraneným klientom zkontrolovali stav vozovky. Bolo jasné, že vozovka bola pokrytá olejom. Jeden zo svedkov potvrdil, že minútu predtým tadiaľ prešlo zametacie auto, z ktorého niečo vytekalo. Cyklista to nemohol tušiť a olej na vozovke si nemohol všimnúť.
Svedok pre nás poskytol písomnú svedeckú výpoveď. Miestnej samospráve bola poslaná žiadosť o odškodné s vysvetlením, ako k úrazu došlo. Samospráva pripustila, že auto patrilo jej a že na ňom našli poruchu, kvôli ktorej tiekol z auta olej. Poisťovňa samosprávy formálne prijala zodpovednosť za úraz nášho klienta. Tým potrvdila, že bude ochotná vyplatiť kompenzáciu. Otázka bola ako vždy: v akej výške má kompenzácia byť. Klient musel v prvom rade podstúpiť liečbu, posudky a tým nám umožniť vypočítať jeho straty a výdavky.
Klient mal zlomenú kľúčnu kosť, vykĺbený ramenný kĺb a zlomené zápästie. Poverili sme posudkového lekára, ktorý potvrdil, že klient bude potrebovať operáciu. Preddavok na operáciu na súkromnej klinike sme získali od poisťovne samosprávy. Rehabilitácia po operácií trvala niekoľko mesiacov. Bohužiaľ sa ukázalo, že klient bude mať trvalé následky, ktoré okrem bolesti a nepríjemnosti spôsobia aj peňažnú ujmu v budúcnosti. Pre klienta sme získali peňažnú náhradu za nasledovné straty/výdavky:
– Bolestné za zranenia a nepríjemnosti
– Ušla mzda po úraze a ušla mzda po operácií
– Náklady na privátnu liečbu a rehabiitacie
– Cestovné náklady (klient všade jazdil bicyklom, no po úraze viac neprichádza do úvahy a bude nútený jazdiť hromadnou dopravou)
– Opatera a pomoc, ktorú poskytla rodina
– Náklady za psychoterapiu (klient býval veľmi aktívny a zistenie, že bude mať trvalé následky zle znášal)
– Náklady na údržbu a renováciu klientovho domu (pred úrazom bol klient aktívny kutil, svojpomocne sa staral o svoj dom. Desiatky rokov bude nútený platiť údržbárom a remeselníkom za prácu, ktorú bezproblémov zvládal sám.)
Prípad bol doriešený mimosúdnou cestou. Väčšinu prípadov dotiahneme do konca bez nutnosti podania súdnej žaloby. Aj keď je niekedy nutné žalobu podať, drvivá väčšina prípadov má dohru ešte pred pojednávaním.
Poradím Vám, aké máte možnosti, ak chcete požiadať o odškodné po pracovnom úraze, dopravnej nehode alebo inom incidente či po pochybení lekárov. Za služby sa platí provízia až po úspešnom doriešení prípadu ("no win no fee").
Kontaktujte má súkromnou správou priamo na Facebook, www.facebook.čom/SlovenskipravnicivUK , telefonicky/sms na čísle 0775 255 1479 alebo telefonicky na čísle 0207 482 8433. Na oboch čísla je možnosť zanechať hlasovú správu.
Volám sa Jaro Bernát. Som advokát a plne registrovaný člen Advokátskej komory Anglicka a Walesu. Už 10 rokov účinkujem v Advokátskej kancelárii Osbornes Law.
Kancelária Osbornes Law zastupuje klientov od roku 1973 a získala početné ocenenia.
Pán Jaro Bernat ako zástupca Slovákov, v spoločnosti Osborne's Solicitors bol profesionál ale aj priateľ . Kedykoľvek vysvetlil všetok právny žargón a vďaka tomu bolo situácii oveľa ľahšie porozumieť. Najmä v ťažkej dobe Covid -19 bol Jaroslav viac ako poradcom. Strávil so mnou veľa hodín telefonickými konzultáciami nielen o mojom prípade. Rovnako dôležité je, že aj jeho kolegyňa, ktorá ma priamo zastupovala bola prístupná keď som potrebovala jej názor alebo radu. Po úspešnom ukončení môjho prípadu by som ju bez váhania odporučila každému, kto by potreboval pomoc v prípade úrazu V UK.

Advokát mal nápomocný, profesionálny prístup pri riešení prípadu. Odlišnosť riešenia v UK bola konzultovaná, vysvetlená. Prípad bol poriešený podľa očakávania. Ďakujem a doporučujem túto advokátsku kanceláriu.

V prvom rade by sme chceli podakovat Panovi Bernatovi ze to za nas dotiahol do finalneho konca. Velmi profesionalna a diskretna advokatska poradna odporucam vsetkym.