The risk of extravasation injuries during iron infusion therapy
14 Feb 2023 | Elline Demetriou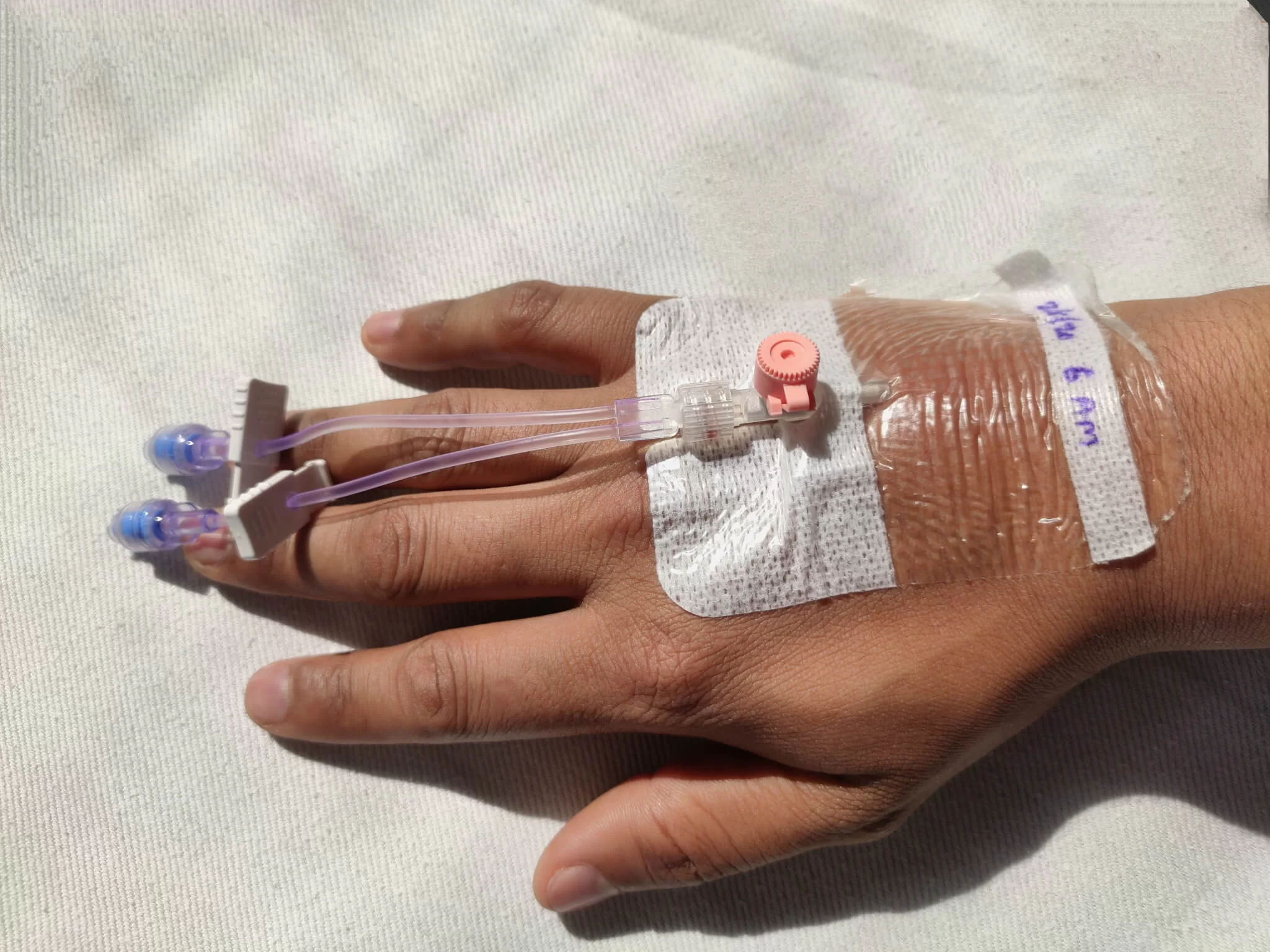 Many patients with low iron, particularly during pregnancy or postnatally, may be advised they need an iron infusion such as Ferinject. A little known risk of iron infusion therapy is the risk of extravasation injury. Extravasation happens when any fluid being administered intravenously leaks into a patient's tissues surrounding their veins, which can cause injury.
What causes extravasation injury?
There is a known risk of infusion therapies, however, in our experience patients rarely seem to be informed of the risks of the procedure or the warning signs of extravasation before undergoing an infusion. Based on cases in which we are instructed, it is often the case that patients' complaints of pain and/or other physical symptoms during the infusion therapy are not taken seriously and the infusion is continued, indicating that not all medical staff are aware of the risks.
The exact cause of such injuries varies and can be due to a patient having fragile veins or impaired circulation, or the improper insertion of a cannula. Extravasation injuries that occur are commonly around cannula sites in the hand, ankle and the inner elbow crease.
Symptoms and effects of extravasation
Extravasation of any infusion can cause a range of symptoms including but not limited to pain and/or discomfort, tingling, swelling, blistering and discolouration (i.e. staining). In the most severe cases, extravasation injury can cause surrounding tissues to become damaged or necrotic although this very much depends on the type of fluid/medication that is being administered intravenously and how the patient's tissue reacts when it comes into contact.
With iron extravasation injuries in particular, patients frequently experience pain, swelling and discolouration to the affected area. Some patients also report blistering to their skin and tenderness in the affected area. Iron extravasation can also cause anaphylaxis.
What should happen during iron infusion therapy?
Patients should be observed closely and continuously throughout the duration of their infusion therapy. In the short term, the iron infusion should be stopped immediately upon the patient and/or hospital staff recognising symptoms of extravasation and the hospital staff should then assess whether to continue treatment and if so, whether the cannula needs to be resited.
Treatment of iron extravasation injury
There is no one-size-fits all treatment for iron extravasation injuries and any discolouration is likely to be permanent.
Laser Treatment
Some patients may benefit from laser therapy, which may improve the discolouration to a degree, but a laser patch test is first required to determine how each patient's discolouration will respond; a specialist will want to wait around 6 months to assess the results of the patch test and if the patch test is successful a 'laser prescription' for treatment can be prepared.
Access to laser treatment is abundant in the UK, with laser centres located on most high streets. However, the laser industry in England is unregulated and not all laser centres will necessarily have the expertise to treat these types of injuries. Extravasation injuries, particularly when the fluid that has leaked is iron, need specialist care. Individuals should undertake research and do their due diligence when it comes to seeking laser treatment, to make sure the treating professional is suitably qualified and has the requisite expertise and specialist equipment to provide proper treatment.
Patients usually face problems in trying to access NHS laser treatment as it is deemed a 'cosmetic procedure' and is therefore not covered by NHS treatment. This appears to be the case regardless of whether the extravasation injury was caused whilst undergoing NHS treatment.
Whilst laser may improve iron extravasation injuries, it is unlikely to resolve them entirely and put the patient in the position they were in prior to sustaining the injury.
Skin Camouflage Treatment
An alternative and sometimes concurrent treatment option alongside laser is skin camouflage. This is essentially high grade, specialised and more durable make-up which patients can use to conceal their discoloured skin. A consultation with a skin camouflage consultant will allow them to examine the affected area and test various products in order to find the best colour match for the patient which will conceal the injury. The effects of skin camouflage can be remarkable and are likely to be able to effectively conceal the discolouration so that it is not visible to the naked eye. Applying and removing the products can however be time consuming, although this tends to decrease over time as they become more familiar and comfortable with using the products.
According to a report published by NHS Resolution, claims relating to extravasation injuries from 1 April 2011-31 March 2021 have cost the NHS a total of £15.6m.
How Osbornes Law can help
Our medical negligence lawyers are ranked as leading lawyers in London by Chambers UK and The Legal 500. We are approved solicitors of Action against Medical Accidents (AvMA). This means we have demonstrated our specialist legal expertise and experience in running clinical negligence claims for patients.
To speak with Elline regarding an extravasation injury or another medical negligence claim, please complete the online enquiry form below.
Osbornes has a skilled team of solicitors advising clients on a wide range of clinical negligence matters.

Hard working, approachable, good knowledge of clinical negligence and clients' specific conditions

A joy to work with and always 100% client focused at all times.

The clinical negligence team at Osbornes is much lauded for its ability to 'represent the diverse range of London-based clients

Stephanie has developed a particularly strong reputation for her handling of birth injury claims, as well as cases concerning surgical negligence and delays in surgery.

"An excellent firm which achieves fantastic outcomes for clients."

"Stephanie Prior takes on complex cases and gets excellent results. She has a background in medicine which serves her clients well and is a realistic but tough litigator."

"Stephanie Prior is hugely dedicated, adored by her clients, tenacious, efficient and extremely knowledgeable."

"Stephanie Prior is very good with troubled clients and is easily able to make them feel at ease."

"Stephanie shows sensitivity and deals with things in an understanding way."

Osbornes provides a very intimate and personal client service which is increasingly rare in this sector.

The lawyers in the team are highly experienced and will drive cases very hard on behalf of their clients.

"Stephanie Prior has a realistic attitude to the complexities of the cases. She wins the trust of her clients and goes the extra mile to ensure they get the best outcomes."

"Stephanie Prior... manages a varied caseload, including obstetric claims, child and adult brain injury cases and fatal and non-fatal spinal cord injury cases."

"Stephanie is experienced, knowledgeable of all aspects of clinical negligence work, and strategic in running cases."

"The team were extremely professional in putting my needs first. There was a joined-up approach to catering for the client, and all lawyers involved were briefed and constructive."

Stephanie Prior is always very professional and kind. Highly recommended.

Quite simply excellent, with a highly competent and well-rounded team. They understand complex medical litigation and have been our lifesavers, and we will always owe them our immense gratitude.
Related Insights VIEW ALL
28.9.2022

Women more likely to have symptoms ignored by...

An increasing number of women in the UK feel brushed off by GPs when presenting with real symptoms, with many...

Read more

14.7.2022

Insulin overdose in hospitals due to limited staff...

A century ago, insulin was first used to treat a 14-year-old boy dying of type 1 diabetes A hundred years later,...

Read more

29.10.2021

Medical Negligence Case Study: Iron infusion cannula injury

Nick Leahy, Solicitor in Osbornes Clinical Negligence team recovered damages for his client who suffered an extravasation injury following an...

Read more