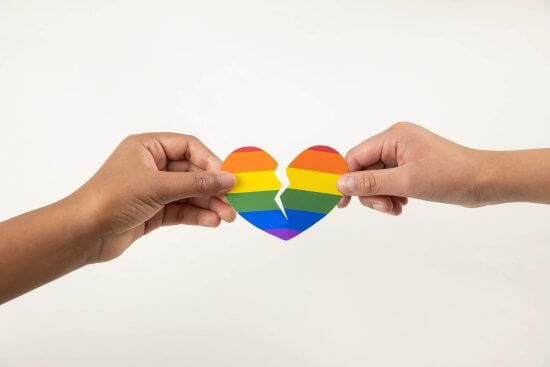 What Happens When a Same-Sex Relationship Breaks Down?
Recent news of Rylan Clark-Neal and Dan Neal's divorce after failing to salvage their six-year marriage shows that sadly, sometimes things go wrong and couples decide to end their relationships. 
For married couples to do this, they need to apply for divorce in the usual way. The process is different for civil partners who need to apply for a dissolution of their civil partnership.
How do you get divorced as a same-sex couple?
In the eyes of the law, same-sex marriage is exactly the same as opposite-sex marriage. When the relationship breaks down, either party can apply for a divorce on the ground that the marriage has broken down irretrievably. To prove this, the applicant has to show:
Unreasonable behaviour 

Two years desertion 

Two years of separation (and the other party consents to the divorce)

Five years separation (no consent required)
The main difference between a same-sex divorce and an opposite-sex divorce is that a same-sex couple can only rely on four facts when applying for a divorce, not five. This is because 'adultery' has a specific legal definition including heterosexual sex. 
You can still use the infidelity of your spouse as a reason for the divorce, however, you would just use it as an example of unreasonable behaviour. 
However, the new no-fault divorce laws are soon to come into effect. There will no longer be a requirement to state one of the four (or five for an opposite-sex divorce) facts and instead, either one or both spouses make a statement that the marriage has irretrievably broken down. The statement will be conclusive evidence that the marriage has broken down and the divorce can then progress in the usual way (with slightly different terminology). The new legislation is due to come into effect in Spring 2022. Read our step-by-step guide on getting divorced.
The process for divorce is exactly the same regardless of whether you are a same-sex couple or an opposite sex-couple. To start proceedings, the couple must have been married for at least a year and one party must file a divorce petition via the online divorce portal.  
How do you dissolve a civil partnership?
In England and Wales, you end a civil partnership by applying for a 'dissolution order'. The process is virtually identical to the divorce process. You'll need to have been in the civil partnership for at least 12 months before applying for a dissolution, and you'll have to prove that the relationship has broken down irretrievably using one of the four reasons listed above. 
If your partner agrees to the dissolution of your civil partnership, the court will review the papers and make a Conditional Order of dissolution. The conditional order is like a Decree Nisi [link] in divorce. It shows that you are legally entitled to end the civil partnership.
After the Conditional Order is made, you must wait six weeks and one day (43 days) before you can apply for a Final Order. This legally ends the civil partnership in the same way that a Decree Absolute legally ends a marriage.
Claire Andrews is a specialist divorce lawyer with a particular emphasis on complex high net worth cases often involving a trust element.  She is also featured in The Legal 500 as a recommended lawyer.
To speak with Claire, please call, or complete an online enquiry form.
"Claire Andrews is an associate to watch. Tenacious, diligent, professional and astute. She is very impressive."