NHS England Waiting Lists: PM Blames Doctors' Strike
19 Sep 2023 | Stephanie Prior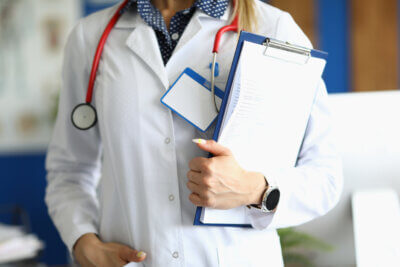 NHS England's waiting list has been growing over the past decade, rising from 3 million in 2014 to 7.7 million in July of this year. This latest data point represents a record high in the number of people waiting for routine hospital care in a year that has seen eight consecutive months of rises.
NHS England guidelines are no longer meaningful
In January 2023, Prime Minister Sunak pledged to cut NHS England waiting lists, saying, 'lists will fall and people will get the care they need more quickly'. He explicitly promised to eliminate all waits of 18 months by April of this year and all waits of more than a year by March 2025.
The waiting lists must be dragged back into some order. According to NHS England's website, patients have a, 'legal right to start non-urgent consultant-led treatment', within a maximum of 18 weeks, while the maximum waiting time to be seen for a specialist for suspected cancer is just 2 weeks.
The problem is that more than 40 % of patients are waiting longer than 18 weeks to start essential treatment. In Accident and Emergency departments, just 73% of patients are seen within 4 hours, as opposed to the standard of 95%. Vulnerable cancer patients are also suffering. As a Cancer Research representative stated, 'These figures are among the worst on record and represent anxious delays' for patients with suspected cancer, while placing 'immense pressure on NHS staff'.
It is clear that the guidelines are now breached to such an extent that they no longer serve any practical purpose.
Hidden statistics: backlogs and hidden waiting lists
While the current statistics on waiting lists are indisputable, the problem is even deeper than immediately apparent due to the 'backlog', 'hidden backlog' and the 'hidden waiting list'.
The COVID-19 pandemic created a backlog in secondary care, which, according to the BMA, will 'take years' to clear while waiting times remain 'far higher than pre-COVID'. BMA figures for July 2023 show that:
The median waiting time for treatment is now 14 weeks, nearly double the pre-COVID wait
Around 3.18 million people have been waiting for treatment for over 18 weeks, and of these, around 390,000 have been waiting over a year, nearly 308 times as many as before the pandemic took hold.
The BMA also cites a 'hidden backlog' which is growing relentlessly. This hidden backlog represents people who, in normal times, would already be in the secondary healthcare system but, for various reasons, have not yet been referred.
There is also a 'hidden waiting list' to get a hospital referral. New research shows that nearly 1 in 5 people have to attend 4 or more GP appointments before getting a secondary care referral and 11% of these waited over 4 months from their first GP appointment to being referred. Understandably, the people affected repeatedly return to their GP or refer themselves to Accident and Emergency for help, creating additional pressure on already depleted services.
Scapegoating the caregivers
Sunak admits that his January 2023 pledge will be hard to meet in the face of record waiting times. For this failure, he casts blame on junior doctors and other striking medical staff. He claims that until the strikes began, the Government had been making progress on whittling down the waiting list, 'We were making progress on bringing the overall numbers down. What happened? We had industrial action.'
It is true that since December 2022, more than 885,000 inpatient and outpatient appointments have been cancelled due to industrial action. However, the number of elective surgeries and outpatient attendances is, 'still well below pre-pandemic levels'. Indeed, the hidden statistics outlined above show that the problem goes deeper than the Sunak headlines suggest.
No resolution in sight
While the nurses' pay dispute has been resolved, senior and junior doctors will continue to strike. Despite this, Sunak still refuses to meet with them. His position is that the current pay offer is generous and that strike action by medical staff will not change the Government's mind.
Rather than negotiate with the medics, Sunak offers a short-term, headline-grabbing 'solution' in the form of an extra £200 million of funding. However, this cash is already spent. According to one NHS manager, the extra money will not, 'come close to covering the costs of the strikes' that have already happened, let alone those to come.
If you feel you have suffered adversely due to NHS backlogs or other similar issues, our Medical Negligence department may be able to help. If you would like to get in touch, please contact stephanie.prior@osborneslaw.com or fill in the form below.
Contact Stephanie Prior today
Email us Send us an email and we'll get back to you
Osbornes has a skilled team of solicitors advising clients on a wide range of clinical negligence matters.

Hard working, approachable, good knowledge of clinical negligence and clients' specific conditions

A joy to work with and always 100% client focused at all times.

The clinical negligence team at Osbornes is much lauded for its ability to 'represent the diverse range of London-based clients

Stephanie has developed a particularly strong reputation for her handling of birth injury claims, as well as cases concerning surgical negligence and delays in surgery.

"An excellent firm which achieves fantastic outcomes for clients."

"Stephanie Prior takes on complex cases and gets excellent results. She has a background in medicine which serves her clients well and is a realistic but tough litigator."

"Stephanie Prior is hugely dedicated, adored by her clients, tenacious, efficient and extremely knowledgeable."

"Stephanie Prior is very good with troubled clients and is easily able to make them feel at ease."

"Stephanie shows sensitivity and deals with things in an understanding way."

Osbornes provides a very intimate and personal client service which is increasingly rare in this sector.

The lawyers in the team are highly experienced and will drive cases very hard on behalf of their clients.

"Stephanie Prior has a realistic attitude to the complexities of the cases. She wins the trust of her clients and goes the extra mile to ensure they get the best outcomes."

"Stephanie Prior... manages a varied caseload, including obstetric claims, child and adult brain injury cases and fatal and non-fatal spinal cord injury cases."

"Stephanie is experienced, knowledgeable of all aspects of clinical negligence work, and strategic in running cases."

"The team were extremely professional in putting my needs first. There was a joined-up approach to catering for the client, and all lawyers involved were briefed and constructive."

Stephanie Prior is always very professional and kind. Highly recommended.

Quite simply excellent, with a highly competent and well-rounded team. They understand complex medical litigation and have been our lifesavers, and we will always owe them our immense gratitude.