Naša kancelária nedávno dotiahla do úspešného konca žiadosť o odškodenie zraneného cyklistu.
10 Aug 2023 | Jaro Bernat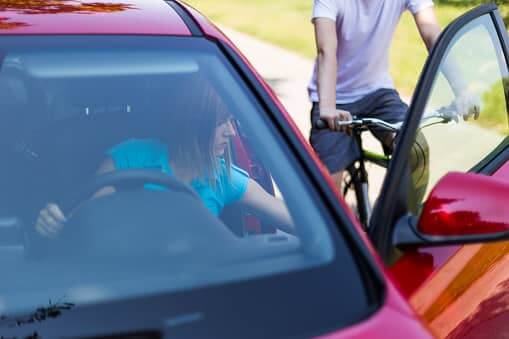 Klient šiel po hlavnej ceste, keď vodič zaparkovaného auta otvoril dvere vodiča do cesty nášho klienta. Klient sa nestihol uhnúť ani zabrzdiť.
Klient utrpel viaceré poranenia mäkkých tkanív a psychickú ujmu. Klienta vyšetril lekársky znalec, ktorý vo svojom posudku potvrdil jeho rozsah zranení, dobu liečenia a vylúčil hrozbu komplikácií alebo trvalých následkov.
Poisťovňa odporcu bola zo zákona povinná vyjadriť sa, či zodpovednosť za nehodu v mene vodiča prijíma alebo nie, no na opakovane výzvy nereagovala. Naša kancelária preto pohrozila podaním súdnej žaloby a súčasne dala uzmierovací návrh. Po krátkom vyjednávaní sa nárok nášho klienta urovnal vo výške 8 000 libier bez nutnosti začať konať súdne.
Nehody, pri ktorých cyklista narazí do otvorených dverí auta, sú veľmi časté a kancelária Osbornes Law sa špecializuje na tento typ prípadov, pomáha cyklistom, ktorí boli po zrážke zranení. Firma je partnerom Londýnskej cyklistickej kampane (London Cycling Campaign LCC).
Naša kancelária zastupuje klientov, ktorí utrpeli ľahké až veľmi vážne zranenia s trvalými následkami a to od roku 1973 odkedy získala početné ocenenia. Volám sa Jaro Bernat. Som advokát a plné registrovaný člen Advokátskej komory Anglicka a Walesu. Viac ako 10 rokov pôsobím v Advokátskej kancelárii Osbornes Law.
Poradím Vám, aké máte možnosti, ak chcete požiadať o odškodné po pracovnom úraze, dopravnej nehode alebo inom incidente či po pochybení lekárov. Za služby sa platí provízia až po úspešnom doriešení prípadu ("no win no fee").
Kontaktujte má súkromnou správou priamo na Facebook, www.facebook.čom/SlovenskipravnicivUK , telefonicky/sms/Whatsapp na čísle 0775 255 1479 alebo telefonicky na čísle 0207 482 8433. Na oboch číslach je možnosť zanechať hlasovú správu.
Contact us today
Email us Send us an email and we'll get back to you
Pán Jaro Bernat ako zástupca Slovákov, v spoločnosti Osborne's Solicitors bol profesionál ale aj priateľ . Kedykoľvek vysvetlil všetok právny žargón a vďaka tomu bolo situácii oveľa ľahšie porozumieť. Najmä v ťažkej dobe Covid -19 bol Jaroslav viac ako poradcom. Strávil so mnou veľa hodín telefonickými konzultáciami nielen o mojom prípade. Rovnako dôležité je, že aj jeho kolegyňa, ktorá ma priamo zastupovala bola prístupná keď som potrebovala jej názor alebo radu. Po úspešnom ukončení môjho prípadu by som ju bez váhania odporučila každému, kto by potreboval pomoc v prípade úrazu V UK.

Advokát mal nápomocný, profesionálny prístup pri riešení prípadu. Odlišnosť riešenia v UK bola konzultovaná, vysvetlená. Prípad bol poriešený podľa očakávania. Ďakujem a doporučujem túto advokátsku kanceláriu.

V prvom rade by sme chceli podakovat Panovi Bernatovi ze to za nas dotiahol do finalneho konca. Velmi profesionalna a diskretna advokatska poradna odporucam vsetkym.