The Legal Grounds For Divorce
2 Jan 2018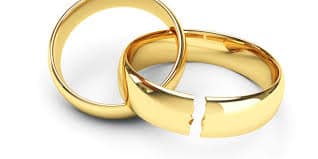 A study by sociologists from the University of Washington found that people are more likely to file for divorce at two peak times of the year: just after the summer holidays and in the New Year. So now, at the start of January 2017, we are heading into the one of the hot spots for separation and divorce.
But what are the main reasons for the breakdown of a marriage and what are the legal grounds for divorce in the UK? And what are the main consequences that must be dealt with in order for a divorce to be completed with the least stress and distress for all involved?
The Main Reasons for Marital Breakdown
The causes of marital breakdown are as varied and complex as the people who are divorcing. However,  according to the expert, Elizabeth S. Scott, it seems that the reasons for divorce can fall into three general categories.
The first reason is that the marriage was a mistake from the outset, mainly because the information about each other or the expectations of the marriage was inadequate. Then, when this information finally surfaces, the marriage runs into trouble.
The second situation is when one or both partners changes over time, to the point that the couple is no longer compatible.
The final reason is that the initial commitment cannot be sustained over time. When this happens, people make choices that are inconsistent with their relationship and incompatible with maintaining a lasting marriage. This may not be surprising, given that even in successful marriages, 'partners will be tempted to engaged in selfish behaviour that undermines the stability of the relationship'.
The Five Grounds for Divorce in the UK
So, on what grounds can you apply for a divorce? The UK government website www.gov.uk lays out the reasons very clearly : you must prove your marriage has irreparably broken down due to one of these five scenarios.
On the grounds of adultery. In this case, you or your partner had sexual intercourse with someone else. However, you cannot give adultery as a reason for divorce if you lived together for 6 months after you found out about the affair.
There has been unreasonable behaviour such as abuse – physical, psychological, sexual or financial. These abuses include incidents such as physical violence, threats and intimidation and with-holding money for abusive purposes
Desertion – simply when your partner has left without your agreement  and without good reason.
You have lived separately for more than 2 years. In this case, your partner must agree to the divorce in writing.
You have lived separately for more than 5 years. In this case, you do not need the agreement of your partner to apply for a divorce.
Divorce in the 21st Century
Of course, 'divorce does not just happen on the day that the divorce decree is issued: it is a long, drawn-out process'. It is unusual for partners to reach the decision to divorce simultaneously: often one partner wants to end the marriage more than the other. It is notable however that while men are less likely than women to directly initiate the process of divorce, they are more likely to sabotage their relationship in order to push their partner to end the marriage.
That said, no matter who initiates the divorce proceedings, both partners have to undertake and organise the practicalities of separation, which can be distilled into these five general tasks.
Five Practicalities of Separation and Divorce
The book, 'A Marriage End in Divorce: Causes & Consequences' highlights the following five practicalities of separation and divorce.
Couples must separate psychologically and emotionally, in order to assert their separate personalities and identities. This allows time to grieve the loss of the marriage and to begin a new life, with redefined or entirely new goals and values.
If parents, they must learn to co-parent as well as to become single parents. This requires substantial cooperation in order to maintain consistent boundaries, which in turn reduces confusion and distress for children.
They must separate from each other financially. Supporting two households is more complex and more expensive than supporting one. For this to be successful careful organisation and planning is vital.
Social networks need to be re-established as the partners begin to re-establish themselves as single. Depending on circumstances, children may also experience changes in their social networks.
From a legal standpoint, the legality of the divorce needs to be settled, including details of financial arrangements and custody of any children.
Ultimately while divorce has the potential to be stressful and distressing, if both partners are on the same page and are able to work together, it can be quite straightforward and even turn out to be something to celebrate. As Jim Halfens, founder of Divorce Hotel said, 'When the papers are signed, some couples say a chilly goodbye and leave [… but] sometimes it's a moment of joy, […] it's quite special'.
To speak with an expert divorce lawyer call us on 020 7485 8811 or fill in our online enquiry form.