ELEKTRICKÉ KOLOBEŽKY A BICYKLE: SÚ LEGÁLNE? ČO ODŠKODNÉ PO NEHODE?
19 Apr 2022 | Jaro Bernat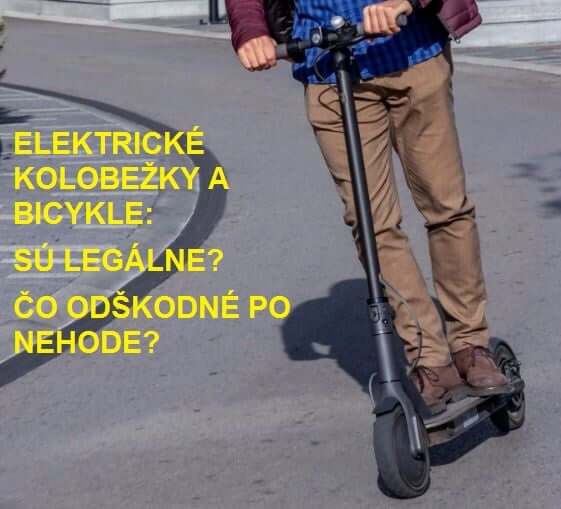 Dnes už sú všade, preto ich nie je nutné predstavovať. Prekvapením je, že mnohí ľudia netušia, ako e-kolobežky a e-bicykle vníma zákon.
Elektrické kolobežky:
V skratke sa dá povedať, že sú NELEGÁLNE. Je síce legálne si kolobežku kúpiť, no nie je legálne na nej jazdiť na verejnom priestranstve – teda na cestách, cyklotrasách, chodníkoch popri ceste ani v parku. Prečo to tak je?
Zákon považuje kolobežku za motorové vozidlo. Každé motorové vozidlo musí spĺňať isté kritériá, aby ho bolo možné legálne používať. Väčšina kolobežiek nespĺňa technické parametre k tomu, aby získala schválenie úradov. Kolobežku teda nie je môže poistiť. Nie je možné na ňu získať štátnu poznávaciu značku alebo MOT (podobne slovenskej STK), ani zaplatiť cestnú daň (road tax). Pokuta za použitie elektrickej kolobežky na verejnosti je udelenie 6 bodov do vodičského preukazu a/alebo £300. V prípade že spôsobím nehodu a zranenie, navyše hrozí trestné stíhanie.
Realita (aspoň tá londýnska) je taká, že polícia sa v tomto čase zjavne nezaujíma o jazdcov na e-scooters. V súlade so zákonom je jedine použitie e-kolobežky, ktorú si jazdec pozícia od schválenej požičovne (takej ktorá má povolenie od miestnej samosprávy – local authority alebo council).
Elektrické bicykle:
V skratke sa dá povedať, že narozdiel od e-kolobežiek sú LEGÁLNE. Musia však spĺňať určite kritériá:
– Výkon do 250 wattov
– Maximálna rýchlosť 15.5mph alebo 20km/h
– Jazdec má aspoň 14 rokov
– Elektromotor nesmie byť schopný poháňať bicykel v čase, kedy jazdec netočí pedálmi. To znamená, že ak je možné bicykel prepnúť do režimu, kedy jazdí ako motorka, považuje sa za motorku.
E-bicykel spĺňajúci kritériá môže jazdiť po cestách a cyklotrasách. Nemusí byť poistneny a tak ďalej. Zákon ho vníma presne tak ako obyčajný bicykel. Ak kritériá nespĺňa, je nelegálny práve tak ako elektrická kolobežka.
Čo prinesie budúcnosť?
Zákon sa meniť nebude, čo sa e-bicyklov týka. E-kolobežky sú vnímané ako možné riešenie v boji proti globálnemu otepľovaniu. Samozrejme, obyvateľom veľkým miest prinesú úľavu vo forme čistejšieho vzduchu a odľahčenia premávky. Toto je dôvod, prečo vláda skúma možnosti ako e-kolobežky zlegalizovať. Bude nutná registrácia kolobežky podobne ako auta? Povinné poistenie? Nosenie helmy? Rýchlokurz k získaniu povolenia? Čas ukáže.
Problémom e-kolobežiek je ich nízka bezpečnosť alebo vysoká nehodovosť: malé kolesá a rozbitý asfalt môžu byť smrteľnou kombináciou. Časté sú zrážky medzi kolobežkou a chodcom či kolobežkou a autom/autobusom. V našej právnickej praxi už vnímame nárast počtu prípadov ľahkých aj vážnych zranení.
Ako je to s odškodňovaním zranených osôb po nehode?
Túto otázku plnohodnotne zodpovieme v budúcom príspevku. Odškodné môže žiadať každá osoba, ktorá utrpela zranenie nie vlastnou vinou. Osoba, ktorej spôsobila zranenie iná osoba jazdiaca na elektrickej kolobežke môže o odškodné požiadať. Osoba, ktorej spôsobila zranenie iná osoba jazdiaca na elektrickom bicykly to bude mať ťažšie, no úspech nie je vylúčený. Treba sa poradiť.
Naša kancelária zastupuje klientov, ktorí utrpeli ľahké až veľmi vážne zranenia s trvalými následkami a to od roku 1973 odkedy získala početné ocenenia. Volám sa Jaro Bernat. Som advokát a plné registrovaný člen Advokátskej komory Anglicka a Walesu. Viac ako 10 rokov pôsobím v Advokátskej kancelárii Osbornes Law.
Poradím Vám, aké máte možnosti, ak chcete požiadať o odškodné po pracovnom úraze, dopravnej nehode alebo inom incidente či po pochybení lekárov. Za služby sa platí provízia až po úspešnom doriešení prípadu ("no win no fee").
Kontaktujte má súkromnou správou priamo na Facebook, www.facebook.čom/SlovenskipravnicivUK , telefonicky/sms na čísle 0775 255 1479 alebo telefonicky na čísle 0207 482 8433. Na oboch čísla je možnosť zanechať hlasovú správu.