Co należy niezwłocznie zrobić po wypadku rowerowym?
23 Apr 2023 | Magdalena Knez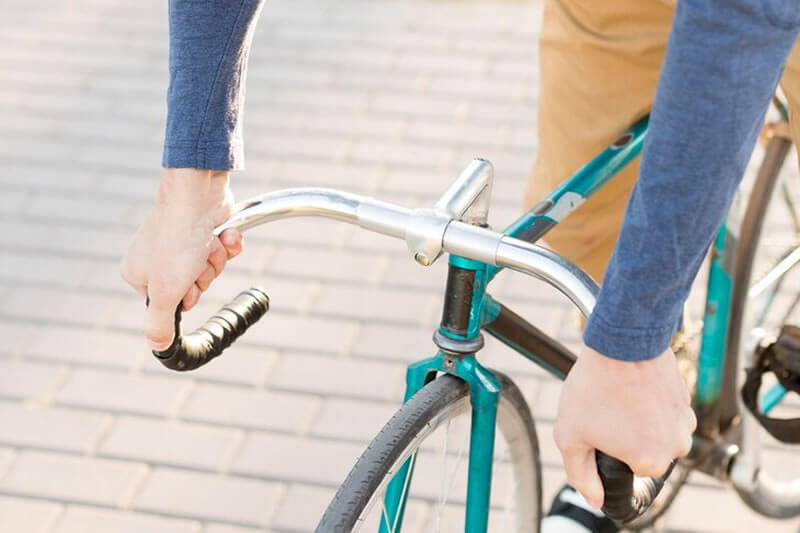 Jeśli brałeś udział w wypadku rowerowym, na miejscu zdarzenia możesz doświadczyć szoku i dezorientacji. W zależności od rozmiaru kolizji, mogą brać w niej udział inne osoby i/lub pojazdy. Ważne jest, aby najpierw zadbać o własne bezpieczeństwo. Jeśli możesz, spróbuj odejść od drogi i ze ścieżki innych uczestników ruchu drogowego. Usiądź, skup się na prawidłowym oddychaniu i poświęć chwilę na przetworzenie tego, co się stało.
Jeśli karetka została wezwana na miejsce wypadku, zostaniesz natychmiast przewieziony do szpitala. Gdy nie ma karetki, jak najszybciej poszukaj pomocy medycznej, niezależnie od tego, czy jest to przychodnia lekarska, czy lokalny szpital. Gdy doznałeś złamania lub uderzyłeś się w głowę, prawdopodobnie konieczne będzie zrobienie prześwietlenia, rezonansu magnetycznego lub tomografii komputerowej. Postaraj się dostarczyć personelowi medycznemu jak najwięcej informacji na temat urazów, aby zapewnić jak najlepsze leczenie.
Zawsze upewnij się, że policja została wezwana na miejsce wypadku. W przypadku, gdy  doznałeś jakiś obrażeń i nie jesteś w stanie sobie pomóc, poproś kogoś o pomoc, a nawet pozwanego. Policja będzie obecna i odbierze zeznanie zarówno od Ciebie, jak i od drugiej strony oraz świadków. Upewnij się, że zgłaszasz wszelkie obrażenia, których doznałeś.
Gdy zamierzasz dochodzić roszczeń z tytułu obrażeń ciała, zrób zdjęcia roweru i go zachowaj. Jeśli rower jest uszkodzony, zanieś go do warsztatu, gdzie pracownicy określą zakres uszkodzeń i doradzą, czy można go naprawić, czy też nie. Poproś o pisemną wycenę. Zachowaj wszystkie dowody, w tym odzież lub mienie, ponieważ może to być potrzebne do sprawdzenia przez prawnika lub powołania się na nie w ramach roszczenia z tytułu obrażeń ciała.
Jeśli wypadek był spowodowany w wyniku dziury w drodze, to koniecznie zrób zdjęcia jej długości, głębokości i szerokości. Staraj się robić zdjęcia w pobliżu punktów orientacyjnych lub znaków drogowych, aby można było łatwo zidentyfikować miejsce jej położenia.
Uzyskaj dane kierowcy i ewentualnych świadków, w tym imię i nazwisko, numer telefonu kontaktowego, adres i numer rejestracyjny pojazdu oraz dane ubezpieczyciela. Unikaj wdawania się w dyskusję o tym, kto jest winny i nie przyjmuj żadnej formy pieniędzy od kierowcy. Może to mieć wpływ na roszczenie z tytułu obrażeń ciała, jeśli później zdecydujesz się je wnieść.
Skontaktuj się z firmą ubezpieczeniową, aby zgłosić wypadek i podać szczegóły dotyczące zaangażowanych stron, a także obrażeń.
Zasięgnij porady prawnej u prawnika specjalizującego się w roszczeniach rowerowych, który ma szeroką wiedzę na temat wypadków drogowych. To on może Ci doradzić, jak dochodzić roszczenia z tytułu obrażeń ciała od ubezpieczyciela.
Skontaktuj Się Z Nami
Napisz Do Nas Wyślij do nas wiadomość, a my odpowiemy jak najszybciej!