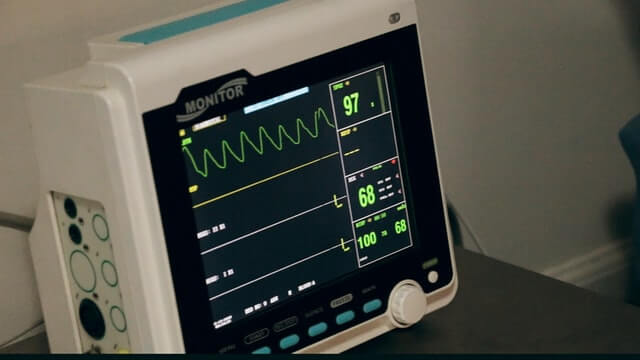 Kliknij i Zadzwoń
W tym roszczeniu o zaniedbanie kardiologiczne zostaliśmy poinstruowani przez 42-letniego Polaka, który trafił na oddział ratunkowy swojego lokalnego szpitala przez karetkę pogotowia, skarżąc się na duszność i ucisk w klatce piersiowej. Uznano, że ten ostatni objaw nie jest wyraźny i postawiono diagnozę ataku astmy. Nasz klient skarżył się na pieczenie w gardle i wykonano prześwietlenie klatki piersiowej z podejrzeniem infekcji w klatce piersiowej. Przeprowadzono również EKG, a automatyczny raport sugerował nieprawidłowość możliwego zawału serca. Mimo to EKG zostały zgłoszone przez lekarzy jako normalne i nasz klient został wypisany do domu.
Następnego dnia nasz klient ponownie trafił na oddział ratunkowy w swoim lokalnym szpitalu. Tym razem jego zapisy EKG wskazywały na ostry STEMI i został przeniesiony do najbliższego ośrodka kardiologicznego, gdzie wykonano koronarografię, pierwotną PCI i założono stent w prawej tętnicy wieńcowej. Zawał serca został opisany jako późna prezentacja.
Osbornes ponownie uzyskał raport od konsultanta kardiologa i specjalisty w dziedzinie kardiologii interwencyjnej, który był zdania, że ​​podczas pierwszej prezentacji naszego klienta w szpitalu należało rozważyć i zbadać kardiologiczną przyczynę jego objawów. Biegły stwierdził, że zaniechanie rozważenia i wykonania testu troponinowego było naruszeniem obowiązku, co znacząco zmieniło sposób leczenia naszej klientki. Gdyby nasz klient został przyjęty do szpitala na swojej pierwszej prezentacji, zostałby rozpoczęty odpowiednie leczenie ostrego zespołu wieńcowego, w tym aspiryna i klopidogrel zarówno jako leki przeciwpłytkowe, jak i rozrzedzające krew. Chociaż nasz ekspert stwierdził, że nasz klient potrzebowałby interwencji wieńcowej ze stentowaniem w obu przypadkach, powiedział, że biorąc pod uwagę prawdopodobieństwa, nasz klient doznałby mniej uszkodzeń mięśnia sercowego.
Pozew został wysłany do lokalnego szpitala naszego klienta i uzyskano przyznanie się do naruszenia obowiązków. Jednak szpital zakwestionował przyczynowy element sprawy i stwierdził, że nasz klient prawdopodobnie doznałby uszkodzenia mięśnia sercowego w każdym razie. Ostatecznie po negocjacjach ze szpitalem uzyskano dla naszego klienta pięciocyfrową sumę odszkodowania.
Działamy na rzecz kilku innych klientów w związku z podobnymi sprawami, a także jednym ze skutkiem śmiertelnym pozostawienia współmałżonka i dwójki małych dzieci. Zmarły mógł i powinien był być leczony w odpowiednim czasie, gdy po raz pierwszy został przedstawiony w A & E z problemami kardiologicznymi, a jeśli tak, to nadal by żył.
Jesteś poszkodowany w efekcie wypadku, kolizji lub wypadku drogowego?
Zadzwoń już teraz
Tel: 0203 930 1342