Rak piersi – Badania mammograficzne i zaniedbania
29 Nov 2022 | Alicja Glabicka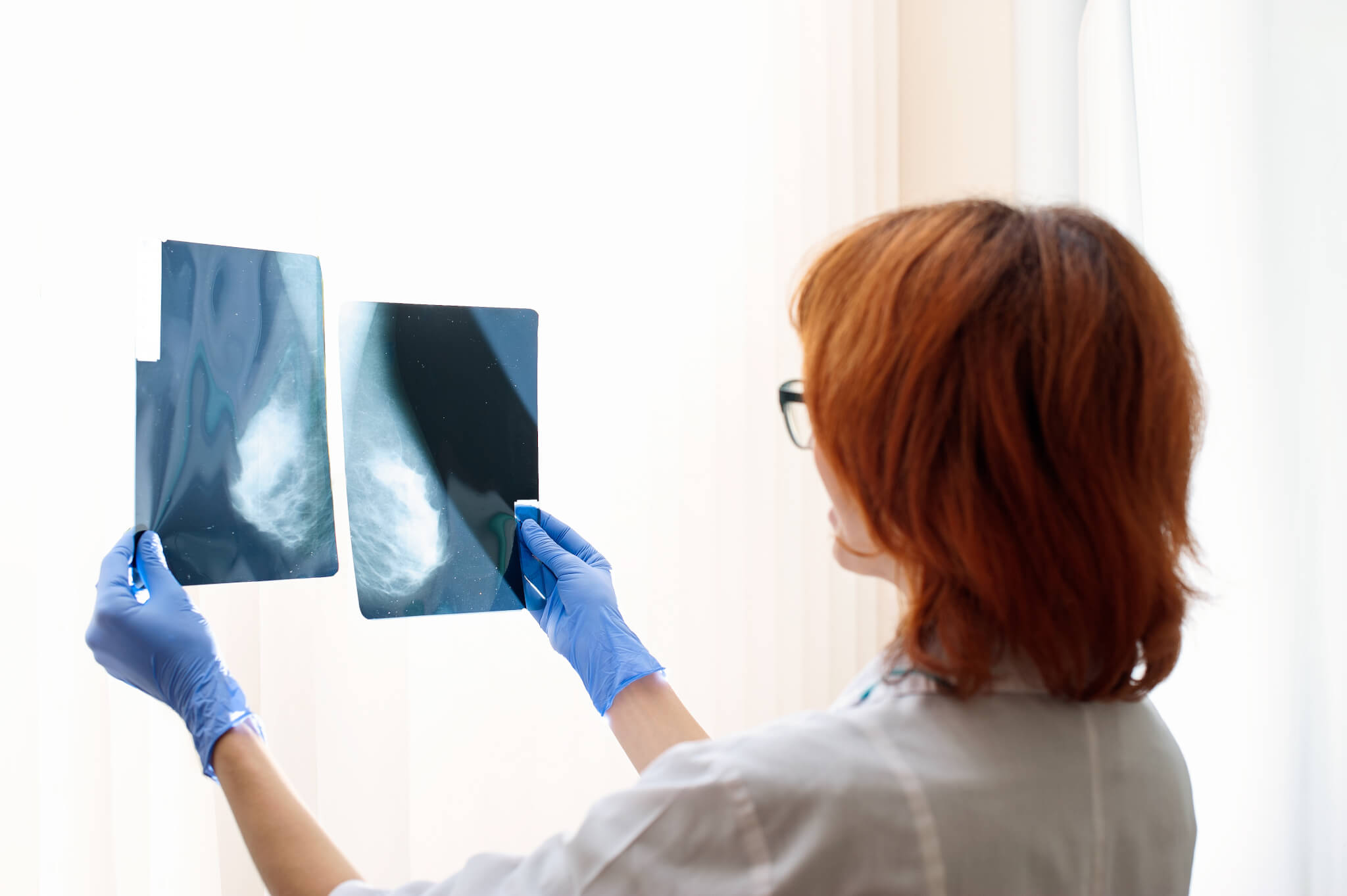 Badania przesiewowe w kierunku wykrycia raka piersi w Wielkiej Brytanii uległy znacznej poprawie dzięki badaniom poprawiającym zrozumienie tej strasznej choroby, co przyniosło postęp technologiczny. Posiadamy również protokoły i programy mające na celu ochronę pacjentów sklasyfikowanych jako osoby wysokiego ryzyka. Jest to najczęstszy rodzaj nowotworu w Wielkiej Brytanii, a zatem trzecia najczęstsza przyczyna zgonów związanych z rakiem. Jednak próby pokazują, że liczba zgonów z powodu raka piersi zmniejszyła się o około 20% osób zgłaszających się na regularne badania przesiewowe, zapobiegając 1300 zgonom z powodu raka piersi w Wielkiej Brytanii każdego roku.
Badania przesiewowe mogą wykryć raka piersi lub zmiany przedrakowe, zanim pojawią się jakiekolwiek oznaki lub objawy, a więc główną korzyścią jest wcześniejsze rozpoznanie raka piersi. Im wcześniej wykryty i leczony nowotwór, tym większe szanse na przeżycie, a także większe prawdopodobieństwo, że pacjent uniknie bardziej inwazyjnego leczenia. Rak piersi jest znany jako rodzaj nowotworu, który dobrze reaguje na wczesne leczenie.
Historia, aktualne programy i przyszłość badań przesiewowych
Mammografia została wynaleziona w latach 60. XX wieku, jednak dopiero w 1970 r., kiedy opracowano technologię wykorzystującą ekrany wzmacniające o wysokiej rozdzielczości i klisze mammograficzne, ale z obniżonym poziomem promieniowania, mammografia zyskała popularność jako narzędzie diagnostyczne raka piersi. Program badań przesiewowych piersi NHS był jednym z pierwszych tego rodzaju na świecie i zaczął zapraszać kobiety na badania przesiewowe w 1988 roku, ostatecznie obejmując całą Wielką Brytanię do połowy lat 90. W Anglii chcą rozszerzyć program, aby oferować mammografię kobietom w wieku od 47 do 73 lat, co ma nadzieję, że uratuje więcej istnień ludzkich. Kampanie domagają się, aby badania mammograficzne zaczynały się od 40 roku życia.
Obecnie każda osoba zarejestrowana jako kobieta u swojego lekarza pierwszego kontaktu będzie zapraszana na rutynowe badania przesiewowe w kierunku raka piersi co trzy lata w wieku od 50 do 71 lat. Oznacza to, że kobiety w wieku od 50 do 53 lat powinny otrzymać pierwsze pismo zapraszające je na badania przesiewowe. Dlatego musisz być zarejestrowana u lekarza rodzinnego, aby otrzymać zaproszenie na badanie przesiewowe piersi.
Co dzieje się podczas mammografii i po niej?
Podczas wizyty pacjentki mają wykonane cztery zdjęcia rentgenowskie, po dwa na każdą pierś. Nazywa się to mammografią. Po badaniu przesiewowym mammografia zostanie sprawdzona pod kątem nieprawidłowości, a wyniki zostaną przesłane do pacjentki i jej lekarza rodzinnego.
Pacjentki z oceną podwyższonego ryzyka raka piersi będą zapraszane na badania przesiewowe przed ukończeniem 50. roku życia. Jeśli pacjent zostanie oceniony przez specjalistę jako bardziej zagrożony niż w populacji ogólnej, zostanie mu zaproponowany wyższy poziom badań przesiewowych, które w niektórych przypadkach będą bardziej regularne niż rutynowe badania kontrolne co trzy lata i mogą obejmować badanie MRI a także mammografię.
Po rutynowym badaniu przesiewowym są zwykle trzy możliwe wyniki:
Normalny – mammografia nie wykazała żadnych cech raka, a kobieta zostanie zaproszona na kolejne rutynowe badanie przesiewowe za trzy lata do 70 roku życia.
Powtórzenie techniczne – w tym miejscu jakość mammografii jest zagrożona i radiologia musi zostać powtórzona z przyczyn technicznych. Częstość występowania wynosi 3 na 100 kobiet.
Ocena – jeśli mammografia dostarcza niewystarczających informacji, konieczne jest dalsze badanie w celu wyjaśnienia wyniku. W zależności od przyczyny wezwania do oceny, pacjent prawdopodobnie zostanie zbadany, przesłuchany w sprawie jego historii i może mu zostać zaproponowana biopsja. Mniej niż 10 procent kobiet wezwanych ponownie po mammografii zostaje zdiagnozowanych z rakiem piersi, więc z pewnością nie jest to powód do niepokoju.
Zaniedbanie i sprawdzanie
W maju 2018 roku sekretarz zdrowia Jeremy Hunt ujawnił, że błąd komputera doprowadził do niezaproszenia 450 000 kobiet w wieku od 68 do 71 lat w Anglii na mammografię przesiewową, w wyniku czego oszacowano, że skrócono życie 270 kobiet .
Wspólną podstawą zaniedbania jest brak skierowania lub monitorowania nieprawidłowych wyników badań, a obecnie występujemy w sprawach przeciwko różnym szpitalom, które tragicznie przeoczyły diagnozę z tego powodu, w tym szpitalowi w północnym Londynie, który nie monitorował mammografia dla pacjentki wysokiego ryzyka, u której rozwinął się rak piersi. Błędy popełniane podczas badań przesiewowych w kierunku raka piersi mogą wynikać z tego, że lekarz wykonujący badanie ultrasonograficzne nie zidentyfikował nieprawidłowości, ale może się to również zdarzyć, gdy błąd systemowy nie zainicjuje skierowania na rutynową mammografię lub nie podejmie działań następczych w przypadku nieprawidłowej mammografii.
Systemy i technologie są bardziej wyrafinowane niż były w przypadku badań przesiewowych w kierunku raka, ale biorąc pod uwagę ogromną liczbę pacjentów kwalifikujących się obecnie do rutynowych badań przesiewowych i badań przesiewowych pacjentów wysokiego ryzyka, będzie większa podatność na błędy. Śledząc błąd, niezależnie od tego, czy został on zainicjowany przez szpital, który zlecił dochodzenie w sprawie poważnego incydentu, czy skargę pacjenta, oraz niezależnie od tego, czy błąd jest systemowy, czy ludzki, niedociągnięcia są następnie podkreślane, z przy czym srebrna podszewka to zalecenia dotyczące ulepszeń, które należy wprowadzić. Dochodzenie w sprawie błędu nie tylko identyfikuje pierwotną przyczynę niepowodzenia, co jest ważne zarówno dla pacjenta, jak i zaangażowanych klinicystów, ale powinno również zainicjować ulepszone szkolenie i bardziej odporne na awarie systemy, aby zapobiec szkodom dla przyszłych pacjentów.
Skontaktuj Się Z Nami
Napisz Do Nas Wyślij do nas wiadomość, a my odpowiemy jak najszybciej!