Kompenzácia po pracovnom úraze: ako zabezpečiť dôkazy
7 Jun 2021 | Jaro Bernat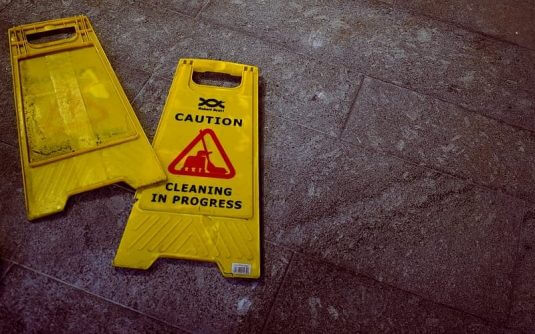 V tomto právnom systéme bohužiaľ nejde o to, či máte pravdu, ale o to či ju viete dokázať. Právnik vám pomôže, ale prvé kroky musíte vykonať vy, aby dôkazy boli a nezmizli.
Keď sa stane pracovný úraz, často je prítomný len zranený zamestnanec, niekedy ešte jeden-dvaja kolegovia. Po prvotnom šoku zo zranenia – možno po niekoľkých dňoch či týždňoch – zamestnanec začne rozmýšľať o žiadaní odškodného za bolesť, ušlú mzdu a rôzne výdavky.
Mnoho našich krajanov si myslí, že ak sa úraz stal v práci, tak automaticky vzniká nárok na odškodné. V Anglicku a Walese je však systém "fault-based" – t.j. založený na vine. Odškodné platí ten, kto úraz spôsobil. Preto treba dokázať, že úraz spôsobil zamestnávateľ alebo kolega. Uvediem niekoľko prípadov:
Niektoré chyby vídam pravidelne, iné sa objavujú zriedka, avšak neuveriteľné sťažujú dokazovanie nároku na odškodnenie. Nasleduje niekoľko tipov:
1. "Accident report book" alebo kniha úrazov. Nielenže je nutné úraz hlásiť šéfovi, ale ten musí PRAVDIVO a PRESNE okolností úrazu spísať. Ak vám nesedí, čo do hlásenia napísal, tak ho odmietnite podpísať, pokiaľ ho neopraví. Ak hláseniu dobre nerozumiete, radšej povedzte, že si ho chcete dať preložiť predtým, ako ho podpíšete. Skúste si urobiť fotografiu hlásenia. Ak úraz neviete spísať (napríklad pretože to šéf odmieta), treba poslať popis okolností úrazu a ďalšie údaje emailom alebo SMS, zamestnávateľovi, nadriadenému či agentúre pri prvej príležitosti.
2 .Ak boli prítomní svedkovia, požiadajte šéfov, aby do hlásenia napísali aj ich mená. Prípadne si ich mená, priezviská a telefónne čísla zapíšte/uložte vy. Často sú na veľkých pracoviskách kolegovia známi iba ako Jozef, Wojtek, John alebo "jeden indický kolega." Navyše agentúrni pracovníci sa nemusia nikdy viac ukázať a stratíte s nimi kontakt. Svedecké výpovede majú veľkú váhu.
3.Kvôli drobným zraneniam nemusíte vyhľadávať lekársku pomoc, no pri vážnejších to nutné je zo zdravotného aj právneho hľadiska. Návštevu lekára netreba odkladať a je nutné presne popísať, ako sa úraz stal. Záznam z vyšetrenia môžme použiť my a aj odporca pri dokazovaní okolností úrazu a druhu/závažnosti zranení.
4.Niekoľko dní po úraze môže zamestnávateľ urobiť vyšetrovanie "accident investigation," čo je vždy užitočná vec. Hlavne sa treba držať pravdy a byť pri popise presný. Poznámky z rozhovoru treba prečítať pozorne a až potom podpísať.
5. Bezpečnostné školenie má byť poskytnuté už pri nástupe do práce. Čo ak školenie nebolo, papiere podpísané neboli a stal sa úraz? Prefíkaní zamestnávatelia veci riešia tak, že po úraze dajú zranenému pracovníkovi hromadu papierov na podpísanie. Ten ich všetky podpíše. Navyše poslúchne šéfa a neuvedie dátum. Šéf následne dátum dopíše: dátum nástupu do práce. Pri žiadaní odškodného sa použije argument, že pracovník bol riadne zaškolený.
6. Ak mohol byť úraz zachytený na kamerovom systéme, žiadajte, aby vám záznam ukázali. Pozrite si ho spoločne s nadriadenými. Trvajte na tom, aby sa do hlásenia o úraze zapísalo, čo bolo na zázname vidieť. Aj keď nás dnes kamery sledujú takmer všade, záznamy nám vo väčšine prípadov odporcovia nedodajú s vysvetlením "kamera bola vypnutá."
Volám sa Jaro Bernat. Som advokát a plne registrovaný člen Advokátskej komory Anglicka a Walesu. Už 10 rokov účinkujem v Advokátskej kancelárii Osbornes Law.
Poradím Vám, aké máte možnosti, ak chcete požiadať o odškodné po pracovnom úraze, dopravnej nehode alebo inom incidente či po pochybení lekárov. Za služby sa platí provízia až po úspešnom doriešení prípadu ("no win no fee").
Kontaktujte ma súkromnou správou priamo na Facebook,
www.facebook.com/SlovenskipravnicivUK
, telefonicky/sms na čísle 0775 255 1479 alebo telefonicky na čísle 0207 482 8433. Na oboch čísla je možnosť zanechať hlasovú správu.
Kancelária Osbornes Law zastupuje klientov od roku 1973 a získala početné ocenenia.