Zastraszająca jazda prowadząca do naruszenia przepisów ruchu drogowego?
10 Feb 2021 | Magdalena Knez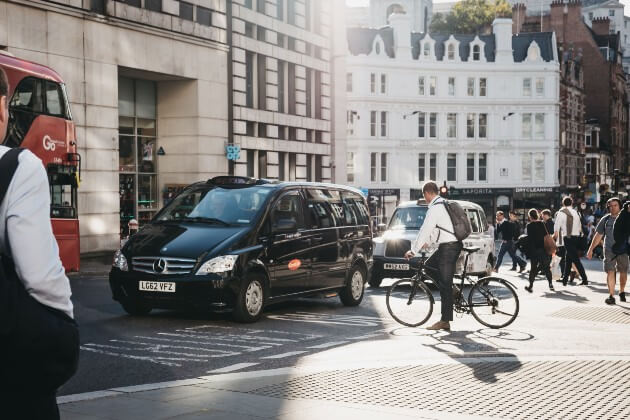 Rząd uważa, że ​​nowe wykroczenie drogowe, jakim jest "zastraszająca jazda", ma na celu zwalczanie bliskich przejazdów kierowców. "Otwarcie drzwi samochodu" i kara za zatrzymanie się w boksach dla rowerów na światłach również mogą skutkować punktami i grzywną. Nowe przepisy Departament Transportu publikuje wezwanie do zgłaszania dowodów w sprawie zwiększenia bezpieczeństwa jazdy na rowerze na drogach Wielkiej Brytanii.
To wezwanie do przedstawienia dowodów będzie również dotyczyło karania rowerzystów za niebezpieczną jazdę na rowerze, jak informowaliśmy w zeszłym tygodniu. Zgodnie z proponowanymi przepisami drogowymi kierowcy samochodów osobowych, furgonetek i ciężarówek mogą napotkać punkty i grzywnę za zbyt bliskie wyprzedzanie rowerzystów. Według driving.co.uk, "Odległości do pokonywania zostały już wprowadzone w wielu krajach, z co najmniej jednometrowymi przerwami na drogach lokalnych, które na szybszych trasach wzrastają do półtora metra. Kodeks drogowy nakazuje kierowcom dać rowerzystom "dużo miejsca", tak jak w przypadku wyprzedzania innego pojazdu, ale nie określono minimalnej odległości. " Ponadto właściciele pojazdów, którzy otwierają drzwi na jezdnię, nie patrząc i nie zrzucając rowerzysty z roweru, również mogą zostać ukarani grzywną.
Wykazano, że głównym czynnikiem w statystykach urazów jest "otwarcie drzwi samochodu". Ukarani zostaną również kierowcy, którzy zatrzymują swoje pojazdy w "boksach dla rowerów" na światłach. Według tego samego artykułu driving.co.uk Jesse Norman, minister transportu odpowiedzialny za jazdę na rowerze, powiedział: "Musimy stać się narodem rowerzystów, a ten rząd chce, aby rower był naturalnym środkiem transportu dla osób w każdym wieku i tła. "
Obecnie policja nie może wiele zrobić w wielu przypadkach poza zatrzymaniem kierowcy i sprawieniem, że poczuje się wyjątkowo niekomfortowo! Policja West Midlands jest dumna z faktu, że jako pierwsza policja w Wielkiej Brytanii rozprawiła się z bliskimi podaniami. Jednak na ich stronie internetowej czytamy: "Kierowcy otrzymają pomoc edukacyjną na poboczu drogi na temat bezpiecznego wyprzedzania", chociaż wielokrotni przestępcy i ci, którzy jadą zbyt blisko, mogą zostać postawieni przed sądem. Problem polega na tym, że sędzia będzie musiał zdecydować, jak blisko jest za blisko.

Jedna na cztery przejażdżki ma bardzo przerażający incydent.

Badania opublikowane w 2017 r., Które dotyczyły regularności bliskich przejazdów na drogach w Wielkiej Brytanii, sugerują, że "w Wielkiej Brytanii bliskie wypadki zdają się być "codziennymi" zdarzeniami, przy czym zdecydowana większość naszej grupy doświadcza co najmniej jednego w ciągu dnia. Jeden na czterech doświadczył incydentu, który ocenił jako "bardzo przerażający". Niemal każdego dnia rowerzysta będzie miał niebezpieczna sytuację, podczas gdy jeden dzień na cztery będzie miał przerażający wypadek i możliwość ubiegania się o odszkodowanie w UK.

W badaniu przyjrzano się 1600-dniowym dziennikom rowerowym rowerzystów z całej Wielkiej Brytanii. Jest to wystarczająco duża liczba, aby uznać ją za standardową, do której odnoszą się wszystkie kampanie rowerowe w swojej literaturze. Gwiazdy, takie jak Jeremy Vine, założyły kanały YouTube, aby pokazać, jak niebezpieczna może być jazda, gdy agresywni lub bezmyślni kierowcy samochodów, ciężarówek i furgonetek rutynowo podjeżdżają zbyt blisko.

Czy to nie najwyższy czas, by prawo wiedziało, jak blisko jest za blisko? Robiąc to, kierowcy będą musieli być bardziej uważni. Osoby z kamerami na hełmy również będą mogły zostać oskarżone. Z punktu widzenia bezpieczeństwa rowerzystów jest to krok we właściwym kierunku!