Wypadek w samolocie
8 Aug 2019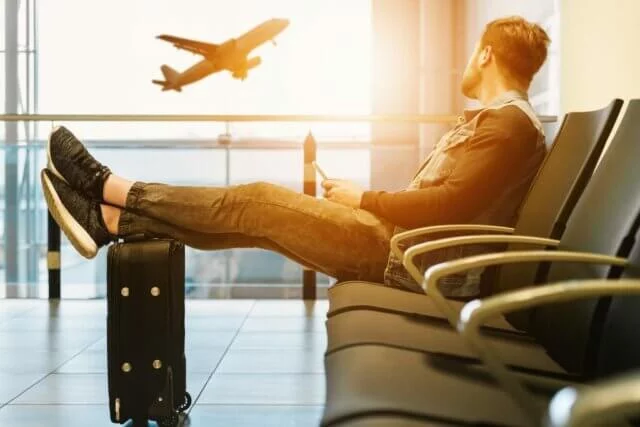 Podczas wsiadania, wysiadania lub podczas lotu, a odszkodowanie
Każdego roku na świecie odbywa się około 50 milionów lotów, w tym loty komercyjne, prywatne, wojskowe i biznesowe. Podobnie jak w przypadku każdego innego środka transportu, w samolocie mogą zdarzyć się wypadki. Najbardziej tragicznym wypadkiem lotniczym jest oczywiście taki, który skutkuje śmiercią. W 2018 r. Miało miejsce 15 śmiertelnych wypadków lotniczych, w wyniku których zginęło 556 osób. Pomimo tych danych wykazano, że ponad połowa pasażerów biorących udział w katastrofach lotniczych przeżyła.[1] Oczywiście każda śmierć to o jedną za dużo, w porównaniu z liczbą lotów odbywających się każdego roku, ryzyko śmierci z powodu katastrofy lotniczej pozostaje minimalne.
Niekrytyczne wypadki lotnicze
Podczas gdy katastrofy lotnicze prowadzą do większej liczby ofiar śmiertelnych, istnieją inne rodzaje wypadków lotniczych, które mogą zdarzyć się poszczególnym podróżnym i które są bardziej prawdopodobne niż katastrofa. Wypadek lotniczy ma miejsce również, gdy podróżny odniesie obrażenia podczas wsiadania, wysiadania lub na pokładzie samolotu.
Zgodnie z Konwencją o Międzynarodowym Lotnictwie Cywilnym pasażer jest liczony jako będący pod opieką obsługi samolotu od momentu wejścia na pokład, aż do momentu jego opuszczenia.
Wypadki w samolocie
Istnieją niezliczone powody nieśmiertelnych obrażeń, odniesionych podczas lotu. Chociaż tego rodzaju wypadki rzadziej trafiają na nagłówki gazet, nadal mogą mieć znaczący wpływ na poszkodowanego. Oto tylko cztery prawdziwe przykłady.
• Silne turbulencje mogą spowodować obrażenia. W tym miesiącu lot linii Air Canada z Vancouver do Sydney doświadczył ciężkich zawirowań. Ci ludzie, którzy nie zostali zapięci, zostali rzuceni w sufit, powodując obrażenia głowy i szyi. Jeden pasażer powiedział: "Wiele osób uderzyło w sufit, wielu krzyczało".[2] Co najmniej 35 z 269 pasażerów zostało rannych, a spośród nich aż 9 osób doznało poważnych obrażeń.
• Spadający bagaż jest częstą przyczyną obrażeń podczas lotu. Niedawno pasażerka linii Ryanair podróżująca z Londynu do Lizbony doznał poważnych obrażeń głowy po tym, jak laptop spadł z szafki ją uderzył. W wyniku odniesionych obrażeń musiała przejść operację.[3]
• Poślizgnięcie się na lotnisku podczas wchodzenia na pokład samolotu lub opuszczania samolotu.
• Ukąszenie pająka na pokładzie samolotu. Podczas podróży do Afryki Południowej pasażer został ugryziony przez jadowitego pająka.
Inne obrażenia podczas lotu mogą wynikać z poślizgnięć, upadków i potknięć, poparzeń spowodowanych gorącymi napojami, wadliwym wyposażeniem, takim jak uszkodzone fotele i kolizją z ciężkim wózkiem serwisowym.
Skontaktuj się z Magdaleną Knez pod numerem 020 7482 8437, aby dowiedzieć się czy przysługuje Ci odszkodowanie.
Konwencja Montrealska
Konwencja montrealska (1999 r.) została ustanowiona przez członków Organizacji Międzynarodowego Lotnictwa Cywilnego, by ujednolicić przepisy dotyczące lotnictwa, w tym traktowania pasażerów, załadunku i bagażu.[4]
Zgodnie z konwencją linie lotnicze muszą posiadać ubezpieczenie i są odpowiedzialne za wypadki, które mają miejsce na pokładzie ich samolotów.
Konwencja montrealska reguluje również roszczenia dotyczące urazów ciała. W przypadku szkód do kwoty 113 110 SDR linia lotnicza nie może kwestionować roszczeń o odszkodowanie. Tak więc, jeśli roszczenie nie przekracza tej kwoty, ofiara nie musi udowadniać, że linia lotnicza była winna, a mimo to linia lotnicza musi zapłacić. Dzięki temu ilość przedłużające się spory sądowych jest ograniczona.
W przypadku roszczeń przekraczających wartość 113 110 SDR należy udowodnić, że obrażenia powstały w wyniku zaniedbania linii lotniczej. W takim przypadku linia lotnicza może się bronić przed sądem, udowadniając, że nie dopuściła się zaniedbania.
Wszelkie działania sądowe muszą nastąpić w ciągu 2 lat od daty zdarzenia.
Oprócz odszkodowania, jeśli pasażer odniesie obrażenia lub zginie podczas lotu, linia lotnicza musi zgodnie z prawem zapłacić co najmniej 16 000 SDR w ciągu 15 dni od wypadku. Celem tego finansowania jest pokrycie wszelkich nagłych wydatków, które ofiara lub jej rodzina mogą ponieść w wyniku urazu.
Odszkodowanie – Special Drawing Rights
SDR (Special Drawing Rights) jest kapitałem Międzynarodowego Funduszu Walutowego (MFW), który można wymieniać na różne waluty państw członkowskich MFW. SDR został początkowo zdefiniowany jako ekwiwalent wartości 0,888 gramów złota lub wartość 1 dolara amerykańskiego, a jego wartość jest weryfikowana przez MFW co pięć lat.
Odszkodowania wypłacane przez linie lotnicze poszkodowanym klientom są obliczane w SDR. Obliczenia SDR zapewniają, że podobnie dotknięci pasażerowie otrzymają odszkodowanie o podobnej wartości, niezależnie od kraju, z którego pochodzą.
Zgłoszenie wypadku
Jeśli doznałeś wypadku podczas wsiadania, wysiadania lub na pokładzie samolotu, możesz być uprawniony do żądania odszkodowania. Powinno ono pokryć:
• Wydatki poniesione w wyniku obrażeń, takie jak koszty podróży, utrata zarobków i koszty leczenia.
• Ból i cierpienie w wyniku obrażeń fizycznych (Odszkodowanie za obrażenia psychiczne można dochodzić tylko wtedy, gdy obrażenia psychiczne zostały poniesione w wyniku obrażeń fizycznych. Jeśli pasażer doznał tylko obrażeń psychicznych, zgodznie z konwencją montrealską nie może on dochodzić odszkodowania).
Skontaktuj się z Magdaleną Knez, aby uzyskać poradę i omówić szczegółowo swoją sytuację. Magdalena wyjaśni ci jak wygląda postępowanie odszkodowawcze i odpowie na wszystkie Twoje pytania.
Kancelaria Osbornes jest uznawana za wiodącą firmę prawniczą w Londynie. Firma otrzymała tytuł Kancelarii Prawniczej w roku 2018 w Modern Law Awards.
TEL: 020 7482 8437 oraz 07514055052
---
[1] https://www.theguardian.com/travel/2009/feb/21/plane-crashes
[2] https://edition.cnn.com/2019/07/11/us/air-canada-turbulence-passengers-injured/index.html
[3] https://www.express.co.uk/travel/articles/1058693/ryanair-flights-head-injury-accident-laptop-hand-luggage
[4] https://www.citizensinformation.ie/en/travel_and_recreation/air_travel/airline_liability.html