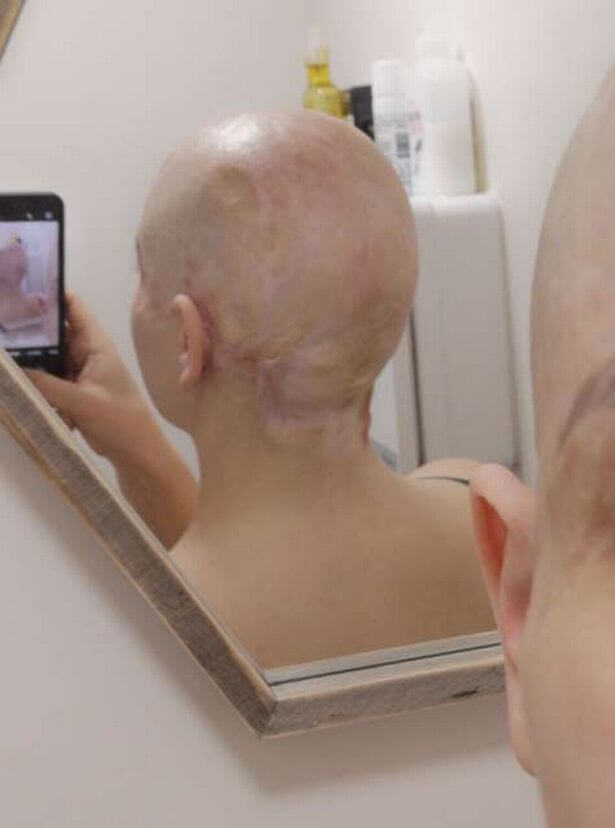 Młoda kobieta opowiedziała o tym, jak została całkowicie oskalpowana i straciła ucho, kiedy jej włosy zaplątały się w obracającą się wiertarkę w pracy.
25-letnia Anna M bała się, że umrze, gdy podczas pracy w firmie produkującej metalowe części poczuła, jak jej skóra odrywa się od głowy "jak rozrywana taśma".
P&D Engineering Ltd w Coventry, West Midlands, została uznana za winną niedopasowania osłon wokół wiertła obrotowego po dochodzeniu przeprowadzonym przez The Health and Safety Executive i została ukarana grzywną w wysokości 62 334 funtów.
Anna, która przeszła 14 operacji po tym, jak w wypadku zerwano jej wszystkie mięśnie głowy i skórę, powiedziała, że ​​jest zła, że ​​jej byli pracownicy otrzymali tak niewielką grzywnę po incydencie, który zrujnował jej życie.
Anna powiedziała: "Moje życie zostało zniszczone przez to, co mi się przydarzyło, ale mój pracodawca może ujść grzywnę w wysokości 62 000 funtów. Jaka jest sprawiedliwość? Mój szef będzie żył dalej, ale ja będę musiała na zawsze zmagać się ze skutkami wypadku. Kiedyś kochałam życie, zawsze byłam aktywna, ale teraz czuję się jak więzień we własnym domu, bo boję się wyjść i wyglądać tak, jak ja."
Wspominając wypadek z września 2019 r., Anna powiedziała, że ​​nigdy nie zapomni nawiedzającego dźwięku po tym, jak została złapana w maszynę.
Powiedziała: "Pracowałam sama i rozległ się głośny huk jednej z maszyn i nagle odwróciłam głowę. Moje włosy musiały zaplątać się w jedno z wierteł, ponieważ zaczęły mocno szarpać mi głowę. Próbowałem wyrwać włosy z wiertarki, chwytając się za koński ogon w desperacji i panice, ale maszyna jechała tak szybko, że nic nie mogłem zrobić, aby się jej oprzeć. Nie mogłem dosięgnąć klamki, aby go wyłączyć i zacząłem słyszeć przerażający dźwięk mojej skóry odrywanej od głowy, jak taśma odrywana od skóry. To dźwięk, którego nigdy nie zapomnę.
"Wołamywałam o pomoc, ale z maszyn dobiegał zbyt duży hałas iw tym momencie myślałam, że umrę. Pomyślałem o tym, że już nigdy nie zobaczę swojego partnera i rodziny i straciłem przytomność".
Anna została w końcu odkryta przez kolegów kilka minut później pokryta krwią i wciąż przytwierdzona do wirującej maszyny. Nie była w stanie otworzyć oczu, ponieważ na jej twarzy było zbyt dużo krwi i została przewieziona do szpitala.
Anna dodała: "Kiedy się obudziłem, moja rodzina była ze mną. Wszyscy płakali i widziałem, jak bardzo się bali. Lekarze wyjaśnili, że w wypadku straciłem całą skórę, mięśnie i włosy na głowie, brwi i jedno ucho. Pamiętam, że powiedziałem "Więc wyglądam jak potwór" i zacząłem płakać".
Anna ma obecnie pod skórą trzy balony "rozprężające skórę", aby wyhodować dalszą skórę do przeszczepów na głowie.
Anna powiedziała: "Kiedy kilka miesięcy później spojrzałam w lustro, nie poznałam siebie. Cieszyłem się, że żyję, ale osoba, która na mnie patrzy, nie byłam mną. Nadal boję się, że w przyszłości nigdy nie będę wyglądać tak, jak kiedyś. Oprócz widocznych kontuzji – deformacji głowy, szyi i policzków – straciłam również czucie w głowie. Nie jestem w stanie przewidzieć czubka głowy w stosunku do innych przedmiotów i mam skłonność do uderzania i skaleczenia głowy przy różnych okazjach. Również lekkie swędzenie może przekształcić się w krwawą ranę. Mimo rehabilitacji i ćwiczeń, które wykonuję regularnie, skóra na szyi i głowie nadal jest bardzo napięta i zdrętwiała i pozostanie na długo. Każdy zakręt powoduje dyskomfort, a czasem ból.
"Z powodu wypadku i wszystkich zabiegów, które przeszłam, mimo całej rehabilitacji i odpoczynku, która miała miejsce w ciągu ostatniego roku, czuję się jak osoba starsza, moja terapeutka zgłosiła, że ​​moje mięśnie i tkanki miękkie przeszły ogromny uraz . Będą musieli dużo manipulować, aby powrócić do swojej normalnej pozycji. Cały obszar skóry i mięśni szyi i głowy łączy się z bólem pleców i łopatek. Czasami mam trudności z oddychaniem, kiedy leżę na plecach i przodzie. Czuję, że całe moje ciało potrzebuje naprawy."
Ben Posford, partner i szef działu katastroficznego w londyńskiej firmie prawniczej Osbornes Law, powiedział: "Anna doznała najstraszniejszych obrażeń i ma szczęście, że przeżyła ten straszny incydent, ponieważ jej pracodawca nie miał odpowiednich procedur BHP . Ta sprawa powinna stanowić surowe ostrzeżenie dla wszystkich pracodawców, aby mieli odpowiednie środki, aby uniknąć kolejnego incydentu, który rujnuje życie innych osób. Moja klientka jest, co zrozumiałe, zdenerwowana, że ​​jej były pracodawca otrzymał tak znikomą grzywnę i będziemy ścigać ją przez sądy, aby uzyskać dla niej choć pozory sprawiedliwości.