Hampstead law firm celebrates second birthday
7 Oct 2019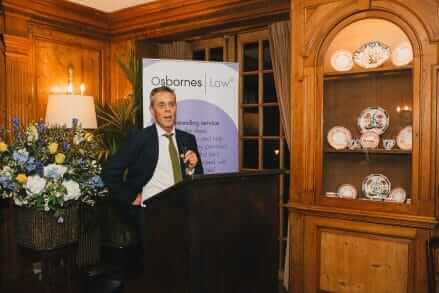 Hampstead law firm Osbornes Law, on Thursday evening, hosted over 100 business owners, professionals and local friends at Burgh House to celebrate its second birthday in the village.
Osbornes Law has been serving north London since the 1970s from its Camden office, but has seen increased demand from private clients and business owners in Hampstead in recent years.
Its office on Hampstead High Street was recently bolstered by the arrival of veteran family law specialist, and Hampstead resident, David Leadercramer. He was joined at the event by wills, probate and court of protection specialist, Elspeth Neilson, who recently became a Notary Public, which means she is now authorised to authenticate and certify documents for use abroad.
Also, in attendance were lawyers from across the firm's family, private client, medical negligence, personal injury, property and housing departments. They were joined by many Hampstead residents and business owner clients including Linda Chung, trustee of Hampstead Community Action and Vicky Bobasch of Keats Community Library.
In a speech to welcome guests, Osbornes' managing partner, Stuart Kightley, said that the firm had received a warm welcome from the Hampstead community and that he hoped the firm's Hampstead office would grow to the same size of its Camden office, which now has over 100 staff.
Just last week the firm was recognised by prestigious legal directory Legal 500 for its work in clinical negligence, family, social housing, personal injury, contentious trusts and probate, family and mediation. While a number of its lawyers were given individual mentions for being leaders in their field or as future stars.
Osbornes Law is a proud supporter of Hampstead's Keats Community Library and sponsor of the Hampstead Summer Festival.