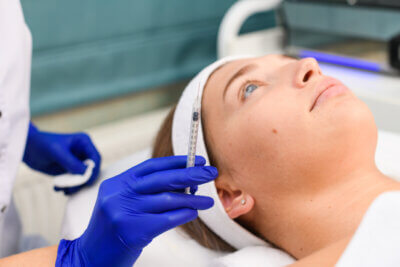 Cieszymy się, że pomyślnie rozwiązaliśmy roszczenie klienta dotyczące opóźnionej diagnozy nowotworu – raka podstawnokomórkowego ("BCC"). Dzięki ugodzie nasza klientka będzie mogła skorzystać z produktów do kamuflażu skóry, pozwalających ukryć blizny na twarzy.
U naszej klientki, C., na boku nosa pojawił się guzek, który powodował jej dyskomfort. Obawiała się, że może to być nowotwór złośliwy ze względu na występowanie raka skóry w rodzinie, dlatego umówiła się na wizytę u swojego lekarza rodzinnego we wrześniu 2019 r. W tym czasie guz był okrągły i miał średnicę 1,1 cm. Lekarz rodzinny C zbadał guz; przepisał jej krem ​​do stosowania miejscowego 3 razy dziennie, a także skierował C do dermatologa z jasnym, podręcznikowym opisem raka podstawnokomórkowego w piśmie skierowaniowym, ponieważ zaniepokoiły go cechy guzka.
C miał wizytę u dermatologa w dniu 10 stycznia 2020 r., po czym zdiagnozowano u niego torbiel łojową. Z notatek dermatologa wynika, że "nie było żadnych cech sugerujących BCC". C otrzymał zastrzyk steroidowy do "torbieli" i zaopatrzono go w żel do stosowania miejscowego. Została wypisana bez dalszych obserwacji i bez porady w sprawie siatki zabezpieczającej.
Guz C nie zmniejszył się w ciągu kolejnych miesięcy, mimo że C stosowała przepisany jej żel. Pod koniec sierpnia 2020 r. guzek był obolały, czerwony i krwawił. W połowie września C zdecydowała się na prywatną wizytę u dermatologa, ponieważ nadal niepokoił ją guzek. Podczas tej wizyty guz miał wymiary 1,5 x 2 cm. Skierowano ją na biopsję, która potwierdziła rozpoznanie raka podstawnokomórkowego.
C przeszedł operację Mohsa (metoda leczenia zmian nowotworowych skóry) w grudniu 2020 r. w celu usunięcia raka i wymagał przeszczepu skóry.
C wniosła pozew przeciwko Pozwanej z tytułu 9-miesięcznego opóźnienia w rozpoznaniu raka podstawnokomórkowego, co spowodowało, że wymagała bardziej inwazyjnego zabiegu, niż byłoby to konieczne, gdyby została prawidłowo zdiagnozowana w styczniu 2020 r. C cierpiała w tych miesiącach zmartwień i niepokoju pomiędzy zasięgnięciem porady lekarskiej a diagnozą we wrześniu 2020 r.; w wyniku opóźnienia pozostały jej także dodatkowe blizny, które odbiły się na jej pewności siebie.
Rak podstawnokomórkowy jest jednym z najczęstszych typów nowotworów skóry. Według NHS stanowi on około 75% wszystkich nowotworów skóry. Zaleca się wizytę u lekarza rodzinnego w przypadku wystąpienia "nieprawidłowości skórnych, takich jak guzek, wrzód, zmiana chorobowa lub przebarwienie skóry, które nie zagoiło się po 4 tygodniach", nawet jeśli jest mało prawdopodobne, aby był to rak skóry. Więcej informacji na temat BCC i nieczerniakowych nowotworów skóry można znaleźć tutaj: https://www.nhs.uk/conditions/non-melanoma-skin-cancer/
Skontaktuj Się Z Nami
Napisz Do Nas Wyślij do nas wiadomość, a my odpowiemy jak najszybciej!