Niewłaściwe narodziny – wygrane studium przypadku
28 Aug 2022 | Barbara Wojno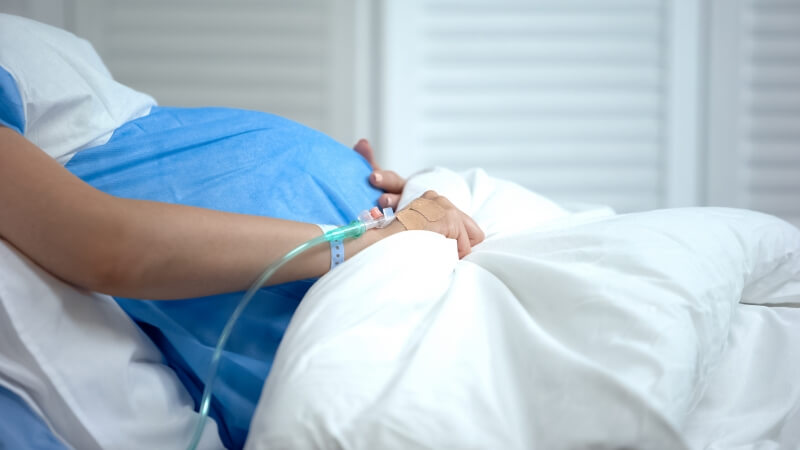 Nasza klientka J zaszła w ciążę w październiku 2015 roku i podjęła trudną decyzję o przerwaniu ciąży. Umówiła się na wizytę w BPAS Portsmouth, gdzie wyraziła zgodę na przerwanie ciąży w dniu 14 października 2015 r. Powiedziała, że ​​chciałaby mieć znieczulenie ogólne i założyć miedzianą wkładkę wewnątrzmaciczną, ponieważ nie może nadal ryzykować ponownego zajścia w ciążę.
J. dokonała aborcji 24 października 2015 r. w BPAS i najwyraźniej tamtejszy lekarz powiedział jej, że Nexplanon jest dla niej najlepszą formą antykoncepcji. Powiedziano jej, że to urządzenie można założyć po przerwaniu ciąży. W tym czasie poinformowała tego lekarza i personel medyczny kliniki, że cierpi na epilepsję, że przyjmuje karbamazepinę (200 mg rano i 400 mg wieczorem) i jest na tym leczeniu od bardzo dawna. czas. Karbamazepina to lek, który indukuje enzymy wątrobowe, zwiększa metabolizm żeńskich hormonów płciowych, szybciej eliminując środki antykoncepcyjne z organizmu i tym samym obniżając ich poziom we krwi. Kiedy ten zwiększony metabolizm występuje u kobiet stosujących antykoncepcję, kontrola urodzeń może stać się mniej skuteczna i może wystąpić niechciana ciąża.
Mimo to pani J. nadal była informowana, że ​​Nexplanon jest dla niej najodpowiedniejszą formą antykoncepcji. Nie miała alternatywnych informacji i przyjęła informacje przekazane jej przez lekarza specjalistę. Pani J. dała jasno do zrozumienia, że ​​nie chce ponownie zajść w ciążę.
Pani J. w związku z tym w dniu 24 października 2015 r. wszczepiono jej w lewe ramię implant antykoncepcyjny – Nexplanon. Przed zabiegiem poinformowała pielęgniarkę, że przyjmowała karbamazepinę o 06:00 tego ranka, co znalazło odzwierciedlenie w notatkach medycznych.
Wszystko wydawało się w porządku, a implant Nexplanon w ogóle jej nie przeszkadzał. Nie czuł się chory, nie odczuwał żadnych negatywnych skutków i żył normalnie.
Jednak na początku grudnia 2017 r., 26 miesięcy po włożeniu urządzenia Nexplanon, J zaszła w ciążę. Po długim namyśle J postanowiła kontynuować ciążę, ponieważ nie mogła znieść kolejnej przerwy.
J uczestniczyła we wszystkich wizytach prenatalnych w szpitalu i gabinecie lekarza rodzinnego. W czasie ciąży czuła się chora i miała bóle głowy. Jego ciśnienie krwi było monitorowane i 10 maja 2018 r. otrzymał skierowanie od swojego lekarza rodzinnego do szpitala, ponieważ miał wysokie ciśnienie krwi i odczuwał mdłości.
J. cierpiała na stan przedrzucawkowy, a dokładniej na zespół HELLP, tak jak cierpiała w poprzedniej ciąży. Łożysko jej płodu było małe, a jej dziecko przestało rosnąć. W rezultacie pani J. musiała mieć pilne cesarskie cięcie, z powodu którego miała znieczulenie podpajęczynówkowe. Córka pani J. urodziła się w wieku 27 tygodni i po porodzie musiała przebywać na oddziale specjalnej opieki przez kilka tygodni. Po wypisaniu ze szpitala pozostawała uzależniona od dodatkowego tlenu do maja 2021 roku.
Sprawa cywilna
Pani J wyznaczyła Nicholasa Leahy'ego do wytoczenia powództwa cywilnego przeciwko Brytyjskiej Służbie Doradztwa Ciążowego za poród, któremu nie zapobiegły błędy w sztuce lekarskiej.
Na poparcie sprawy uzyskano dowody od biegłego w zakresie zdrowia seksualnego i reprodukcyjnego (w celu skomentowania naruszenia obowiązku i związku przyczynowego) oraz od konsultanta, eksperta w dziedzinie chorób układu oddechowego w zakresie diagnozowania i prognozowania.
Nasz ekspert uznał, że doszło do naruszenia obowiązku staranności, ponieważ BPAS zdecydowało się zalecić Pani J. przyjęcie implantu Nexplanon, gdy wiadomo było, że przyjmuje leki przeciwpadaczkowe. Ponadto, zdaniem naszych ekspertów, personel BPAS nie dostarczył wyjaśnień i ostrzeżeń dotyczących tej interakcji leków, a zatem nie zalecił alternatywnej metody, takiej jak inny rodzaj wkładki wewnątrzmacicznej.
Córka pani J. urodziła się przedwcześnie w wieku 27 tygodni. Jeśli chodzi o stan i rokowanie, uzyskano opinię eksperta od specjalisty pulmonologa, który zdiagnozował u córki pani J. poważną przewlekłą chorobę płuc związaną z wcześniactwem (dysplazja oskrzelowo-płucna). Był zdania, że ​​córka pani J była narażona na zwiększone ryzyko świszczącego oddechu związanego z chorobami wirusowymi we wczesnych latach, które mogą rozciągać się na okres dojrzewania i dorosłości.
PROCEDURA
Wezwanie do usunięcia uchybienia zostało wysłane do BPAS w dniu 6 września 2019 r. Jednak odpowiedzialność została w całości odrzucona pismem doręczonym w dniu 27 kwietnia 2020 r. Pozwani twierdzili, że pani J. została odpowiednio poinformowana o dostępnych formach antykoncepcji i że wyraziła świadomą zgodę na wszczepienie implantu antykoncepcyjnego o nazwie Nexplanon. Oskarżeni twierdzili, że omawiali możliwą interakcję między karbamazepiną i Nexplanonem, chociaż szczególnie zauważamy, że nie mogli przedstawić żadnych dowodów takiej dyskusji.
Odrzucono również związek przyczynowy, a pozwani argumentowali, że żadna metoda antykoncepcji nie jest w 100% skuteczna i że w każdym razie w gestii pani J. leży przerwanie ciąży w grudniu 2017 r. Argumentowali również, że pani J wiedziała, że ​​jej dziecko może urodzić się z niepełnosprawnością, ponieważ sama karbamazepina może powodować nieprawidłowości płodu, biorąc pod uwagę, że pani J nie przyjmowała kwasu foliowego od poczęcia.
Po odmowie odpowiedzialności przez BPAS, prawnicy (Katarina Sydow z Outer Temple Chambers, a następnie Tom Gibson z Outer Temple Chambers) zostali poinstruowani, aby poinformować panią J o perspektywach sukcesu w jej sprawie. Podczas procesu cywilnego stało się jasne, że córka pani J. poczyniła większe postępy niż początkowo oczekiwano, mimo że do maja 2021 r. wymagała dodatkowego tlenu w nocy. BPAS poprosiła o zaktualizowaną dokumentację medyczną i uzyskano ją w 2021 r.
Poród, któremu nie udało się zapobiec w wyniku błędu w sztuce lekarskiej
Powiązane przepisy
Sądy znacznie zmniejszyły odszkodowania, których można dochodzić w przypadku roszczeń z tytułu urazów przy porodzie, dzięki czemu można teraz wnieść roszczenie o:
Odszkodowanie konwencjonalne (obecnie 15 000 GBP) z tytułu utraty przez powódkę swobody ograniczania wielkości jej rodziny;
odszkodowanie za uszczerbek na zdrowiu matki w wyniku ciąży i porodu, a także straty i wydatki następcze; oraz
dodatkowe koszty wychowania dziecka, wynikające z niepełnosprawności.
Pani J. wystąpiła z roszczeniem o odszkodowanie konwencjonalne, za ból i cierpienie związane z niechcianą ciążą oraz za dodatkowe koszty wychowania córki w wyniku jej niepełnosprawności. Obejmowało to opiekę, którą musiała zapewnić w zakresie transportu córki do szpitala na liczne wizyty lekarskie oraz zapewnienie, że jej córka będzie miała dostęp do dodatkowego wsparcia tlenowego każdego wieczoru i nocy.
Strony nie mogły uzgodnić odpowiedzialności. Jednak na początku 2022 r., po okresie negocjacji, w których wymieniano różne oferty odszkodowań, z pozwanymi uzgodniono pięciocyfrową ugodę.
Nicholas Leahy, prawnik pani J z Departamentu Zaniedbań Klinicznych Osbornes powiedział:
"Sprawy nieudanego porodu to złożone i ciekawe sprawy i jest to dziedzina prawa, która wciąż jest regularnie interpretowana przez sądy. Ta konkretna sprawa spowodowała znaczne dodatkowe cierpienie pani J, ale jestem bardzo zadowolony, że ostatecznie udało nam się wynegocjować dla niej pomyślny wynik, taki, który uwzględnia możliwe do uniknięcia szkody wyrządzone jej przez jej niechcianą ciążę."
Jeśli chciałbyś omówić swoją sprawę z ekspertem od zaniedbań medycznych, skontaktuj się z nami.
Zadzwoń Po Bezpłatną Poradę ☎ 0203 944 5630

Skontaktuj Się Z Nami
Napisz Do Nas Wyślij do nas wiadomość, a my odpowiemy jak najszybciej!