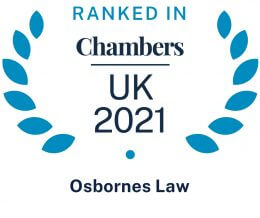 Osbornes Law poraz trzeci rok z rzędu pojawia się w przewodniku The Times "Best Law Firms 2021".
W przewodniku na rok 2021 po raz kolejny wyróżniono nasze porady, opiekę nad klientem i wiedzę specjalistyczną działu rodziny, obrażeń ciała, zaniedbań klinicznych i odszkodowań w Osbornes. Unikalną cechą tego przewodnika jest to, że firmy są klasyfikowane na podstawie rozmów i opinii innych prawników.
Stuart Kightley, partner zarządzający Osbornes Law i prawnik specjalizujący się w urazach mózgu, skomentował to tak:
"Cieszymy się, że udało nam się utrzymać nasze miejsce w przewodniku na rok 2021. W Anglii istnieje ponad 10 000 firm prawniczych, a umieszczenie w tym przewodniku, który zwraca uwagę tylko na 200 wiodących firm prawniczych, jest prawdziwym przywilejem dla Osbornes. Nasi prawnicy i pracownicy niestrudzenie pracują, aby zapewnić swoim klientom pomyślne wyniki, a ich ciężka praca została doceniona, to wielkie osiągnięcie ".
Prawnik który specjalizuje się w rozwodach HNW, mówi:
"Nasze zespoły ds. Rodziny, personelu medycznego i ds. Zaniedbań klinicznych są zachwycone, że zostały wyróżnione przez The Times. Nasi prawnicy wspierają klientów w najtrudniejszej sytuacji. Jednocześnie okazując naszym klientom empatię i troskę, pomagamy im podejmować decyzje, które są w najlepszym interesie ich i ich rodzin ".
Osbornes był również opisywany w przewodnikach The Times Best Law Firms 2019 i 2020.
Osbornes jest również uznawana za wiodącą londyńską firmę prawniczą w rankingach Chambers UK 2021, Legal 500 2021, Chambers HNW 2020 i Spears HNW directory 2020.