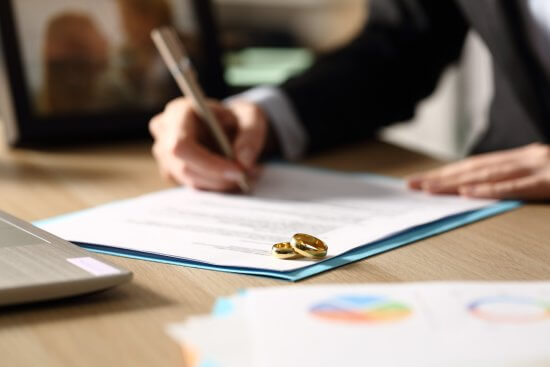 "Gra w obwinianie" rozwodów przeszła do historii i pojawiły się długo oczekiwane reformy prawa rozwodowego w Anglii i Walii. Pary, które planowały rozwód, mogą teraz polegać na rozwodzie bez winy, aby zakończyć małżeństwo bez przypisywania winy.
Specjalistyczny zespół prawników ds. rozwodów w Osbornes Law ma doświadczenie we wspieraniu klientów, zarówno w Londynie, jak i okolicznych regionach, w celu uzyskania płynnego i wolnego od wrogości rozwodu. Jeśli ty lub twój współmałżonek macie tu miejsce zamieszkania, nowe prawo wygładza drogę do bezkonfliktowego i skutecznego rozwodu.
Zmniejszenie konfliktu
Większość par chce się rozwieść polubownie, aby móc żyć dalej. Sprawia, że ​​trudny emocjonalnie i finansowo proces jest szybszy i mniej stresujący, jeśli konflikt można zminimalizować lub całkowicie usunąć.
Główną intencją rozwodu bez winy jest usunięcie pojęcia "winy" i umożliwienie małżonkom po prostu przedstawienia prawnego oświadczenia, że ​​małżeństwo uległo nieodwracalnemu rozpadowi.
Składający petycję nie musi już opierać się na fakcie cudzołóstwa, nieracjonalnego zachowania lub dezercji, aby przekonać sąd do udzielenia mu rozwodu – nie trzeba już ujawniać głęboko osobistych faktów.
Nie musisz już czekać, aż zostaniesz rozdzielony przez 2 lata, zanim będziesz mógł się rozwieść.
Nowy proces pozwala stronom skoncentrować swoją energię na zajmowaniu się sprawami finansowymi; i dzieci. Oznacza to, że pary powinny łatwiej i szybciej dojść do polubownego porozumienia finansowego i uzgodnić warunki mieszkaniowe dla dzieci: jest to korzystne dla wszystkich.
Nawet jeśli twój były chce zakwestionować rozwód, nowy proces usuwa tę opcję – co eliminuje obawy, że zostaniesz zmuszony do pójścia do sądu w celu sfinalizowania rozwodu.
Twój były może nie być z tego zadowolony, ale nowe ramy przewidują 20-tygodniowy okres, zanim będziesz mógł uzyskać warunkowy nakaz rozwodu (poprzednio "dekret nisi"). Daje to obu stronom ważny czas na refleksję (lub nawet szansę na potencjalne pojednanie), co powinno pomóc w zmniejszeniu oporu lub konfliktu.
Możesz nawet złożyć wspólny wniosek o rozwód, gdy oboje doszliście do wniosku, że małżeństwo się skończyło i nie można go uratować. Ta opcja może wydawać się niepotrzebna, ale widzimy, jak sam fakt, że obie strony zgadzają się wspólnie na małżeństwo, od samego początku stawia parę w równowadze.
Skontaktuj Się Z Nami
Napisz Do Nas Wyślij do nas wiadomość, a my odpowiemy jak najszybciej!