Jak zachować bezpieczeństwo jeżdżąć rowerem podczas COVID-19
20 May 2020 | Barbara Wojno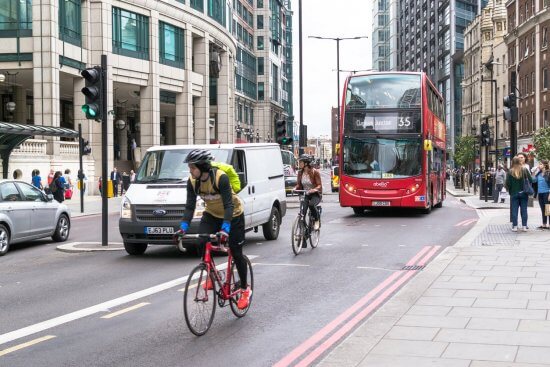 W wyniku pandemii COVID-19 i jej wpływu na społeczeństwo wszyscy musimy zmienić nasz styl życia.
Obecnie jazda na rowerze jest dozwolona jako forma transportu do pracy dla tych, którzy nie mogą pracować z domu lub jako forma ćwiczeń.
Nawet jeśli jeździsz na rowerze sam, nadal istnieje ryzyko kontaktu z ludźmi, a pomimo ograniczenia ruchu na drodze nadal może wystąpić ryzyko zarażenia.
Pojazdy
Drogi są znacznie cichsze w mojej okolicy i na początku może się to wydawać wspaniałe. Zauważyłam jednak, że kierowcy mają tendencję do jazdy szybciej ze względu na zmiejszony ruch uliczny. Doświadczyłam także wzrostu liczby wymijania się w bardzo bliskiej odległości.
Kluczem do sukcesu jest pozostawanie czujnym i nie dopuszczenie, aby puste drogi wprowadziły Cię w fałszywe poczucie bezpieczeństwa.
Inni rowerzyści
Jazda na rowerze w grupach, o ile nie jeździsz z członkami własnego gospodarstwa domowego, jest wciąż zabroniona! Istnieją obawy, że jeśli ludzie nadal będą jeździć na rowerze w grupach, rząd całkowicie zakaże tej aktywności. Stało się to już w innych krajach, a Richmond Park został zamknięty dla rowerzystów z powodu nieprzestrzegania zasad.
Należy również zachować ostrożność, zatrzymując się obok innych rowerzystów na skrzyżowaniach kontrolowanych przez sygnalizator świetlny lub mijając rowerzystów poruszających się wolniej. Zawsze trzymaj minimum dwumetrowy dystans od innych rowerzystów.
Piesi 
W pobliżu są jeszcze piesi i należy upewnić się, że przestrzegasz zasady dwóch metrów. Uważaj na swoją odległość od krawężnika, na którym poszczególni piesi chcą przejść.
Jeśli masz wypadek 
Podczas wymiany danych zapytaj o imię i nazwisko, numer rejestracyjny pojazdu i dane ubezpieczenia- sporządź własną notatkę. Wysłanie tych informacji SMS-em jest dobrym pomysłem, jednak upewnij się, że otrzymałeś tekst przed opuszczeniem miejsca zdarzenia. Możesz również zrobić zdjęcie pojazdu, aby mieć szybki i łatwy zapis numeru rejestracyjnego. Jeśli zachodzi taka potrzeba, upewnij się, że ktoś zadzwonił po karetkę pogotowia i policję, abyś mógł otrzymać potrzebne leczenie. Powinieneś w miarę możliwości wciąż starać się zachować zasadę dwóch metrów.