Chambers and Partners continue to rank Osbornes as a leading law firm in 2021 directory
27 Oct 2020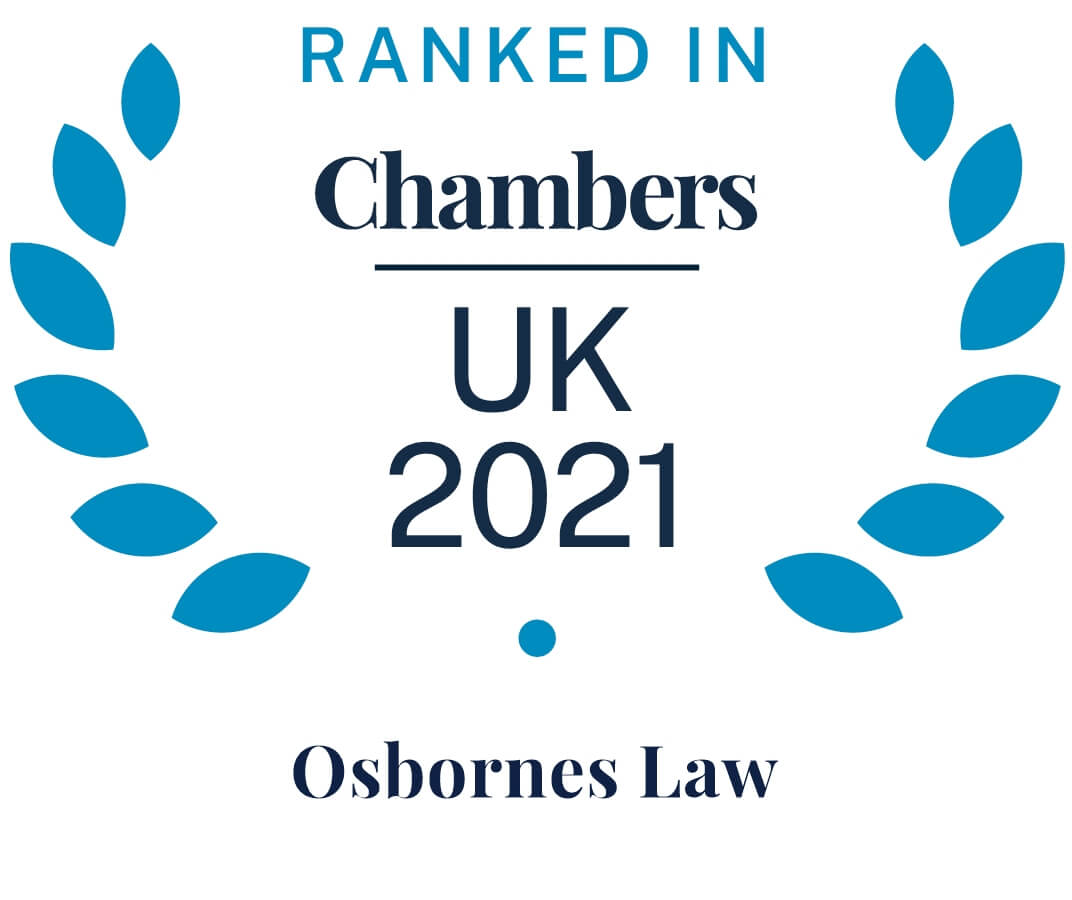 Osbornes Law is delighted to remain ranked in the 2021 edition of Chambers UK. Osbornes are recognised as having the following leading departments: Family/Matrimonial, Personal Injury: Mainly Claimant and Social Housing: Tenants.
The firm was characterised in the directory as a "superb firm with consummate professionals and a human touch." Another source said: "This is an outstanding firm with great attention to detail. They work tirelessly to achieve the best possible outcome for their clients. They have excellent client care skills and are extremely organised."
Also ranked in the directory are 10 lawyers from Osbornes as leading individuals, all noted for their expertise and client service.
A Full list of individuals ranked are as follows;
Children:Cross Border disputes Naomi Angell (Senior Statesperson)
Children:Public Law Matters Bridget Thompson
Clinical Negligence:Mainly Claimant Stephanie Prior
Family/Matrimonial Mark Freedman; David Leadercramer; Lisa Pepper
Family Mediation/MainlyADR David Leadercramer; Lisa Pepper
Personal Injury Mainly Claimant: Stuart Kightley; Ben Posford; Stephanie Prior
Social Housing: Tenants William Ford; Edward Taylor (Up and Coming)
Commenting on the rankings, Stuart Kightley, Managing Partner said:
"We are delighted with our rankings in the new directory. We have seen the Personal Injury department promoted to a higher band, a new entrant for Social Housing with the inclusion of Edward Taylor and two of our family and divorce law mediators, Lisa Pepper and David Leadercramer ranked in tier one, in a list of only twelve mediators across the UK.
All at Osbornes take client service and satisfaction very seriously and considering that Chambers UK is compiled after in-depth client and sector research, it demonstrates that our efforts are worthwhile. Thank you to all clients who took the time to provide us with such valuable feedback".
Osbornes has seen a raft of accolades of late. The firm was ranked as a leading law firm in The Legal 500 2021, Naomi Angell was awarded the Lifetime Achievement Award at The Law Society Excellence Award 2020 and only last week was it announced that serious injury lawyer and partner, Rob Aylott, has been shortlisted as a finalist at the Personal Injury Awards 2020 in the category of Catastrophic Injury Lawyer of the Year.
If you would like speak with any of our lawyers please contact us on  0207 485 8811 or complete an online enquiry form.