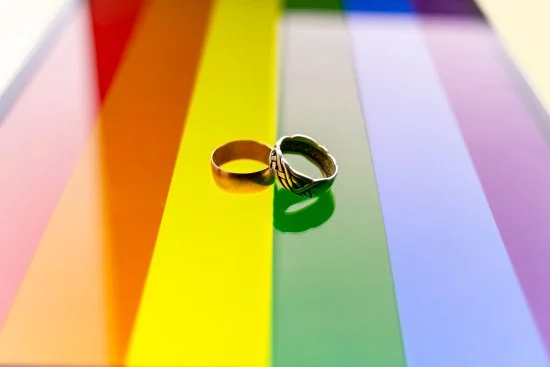 Eight years after same-sex marriage was written into law, we're taking a look at these major life events by the numbers. 
1. Same-sex marriages are on the rise.
This is the eighth year since same-sex marriages have been possible and around one in 35 marriages are now among same-sex couples. Just shy of 7,000 same-sex couples tied the knot in 2018 according to the Office of National Statistics. Covid stalled the wedding industry with fewer couples saying 'I do' in 2020 than in previous years. But pandemic aside, the overall trend is up. 
2. Civil partnerships have fallen out of favour.
The introduction of civil partnerships in December 2005 saw huge numbers of same-sex couples rushing to become civil partners, with the number stabilising at around 6,000 civil partnerships a year in the late 2000s. Today, there are just over 1,000 civil partnerships a year as marriage is now the preferred union for same sex couples.
3. Men and older couples are more likely to form a civil partnership.
The couples most likely to choose to form a civil partnership are male or over 50. Nearly two-thirds of all civil partnerships formed in 2018 were between men, and more than one in five of those entering a civil partnership were aged 65 or older.
4. Same-sex couples are less likely to have a religious wedding.
In 2018, religious ceremonies accounted for only 0.9% of same-sex marriages, compared to 21% of opposite-sex marriages. 
5. Most same-sex couples have long relationships in place prior to the marriage.
Data from the wedding website Confetti.com suggests that couples are spending a long time getting to know each before tying the knot. In 2019, 43% of same-sex couples had been together for between four and seven years before they married, and 34% had been together for one to three years. 
6. Divorce rates are soaring year on year.
The data for divorce rates in the first few years from inception is relatively low but in 2020, divorces among same-sex couples soared by an eye-watering 40.4% from 2019. By contrast, the divorce rate among opposite-sex couples was down by 4.5% over the same period.
7. Female couples are more than twice as likely to divorce as men.
While 56% of same-sex marriages in 2019 were among females, a full 72% of same-sex divorces were between two women. Female couples have accounted for the majority of divorces every year since same-sex divorce became possible in 2015 (the one year bar still applies so same-sex couples). 
8. Same-sex marriages are getting longer. 
The average marriage length at the time of divorce was 4.7 years for female couples and 5.4 years for male couples in 2020, up from 4.1 years (female) and 4.3 years (male) in 2019. These small durations reflect that same-sex marriage has only been possible since March 2014—it will be 2074 before the first batch of diamond wedding anniversaries are celebrated!  
9. Unreasonable behaviour is the most common reason for divorce.  
Unreasonable behaviour – which can include adultery – is the most common reason for divorce among same-sex couples, accounting for 55.2% of female divorces and 57% of male divorces. It should be noted that same-sex couples cannot rely on adultery as the strict definition, as outdated as it is, is between a man and a woman. We expect these numbers to drop sharply in April as separating couples will be able to get a 'no-fault' divorce without having to blame someone for the breakdown of their marriage. 
10. Most same-sex marriages will not end in divorce.
It's good to be reminded that divorce is not the most likely outcome for a same-sex marriage. While divorce rates vary depending on how long a couple has been married, overall fewer than one in five same-sex marriages are ending in divorce. As more data becomes available in future years, there's a good chance that divorce rates for same- and opposite-sex couples will look pretty much the same.
For more advice on divorce/dissolution of a civil partnership contact Sarah Scott who is a specialist divorce lawyer in our family department. 
"You have truly shone out from anyone I have known with your experience and knowledge in these types of situations"

"She is excellent. She's very reliable, talks about her cases passionately and is very committed to her clients."

"I received excellent medical expert advice to highlight the impact of the accident on my father's health"

"Andrew Watson is relaxed and approachable with a really smart brain."

"….Thanks to her knowledge and advice, the documents moved quickly and the matter was resolved in a favourable manner for me. I can say that the most important is that throughout the procedure I received specific and clear information, and Mrs. Yankova was interested in my physical and emotional state after the accident. She is an example of the legal profession working with a pure mind and a big heart….."