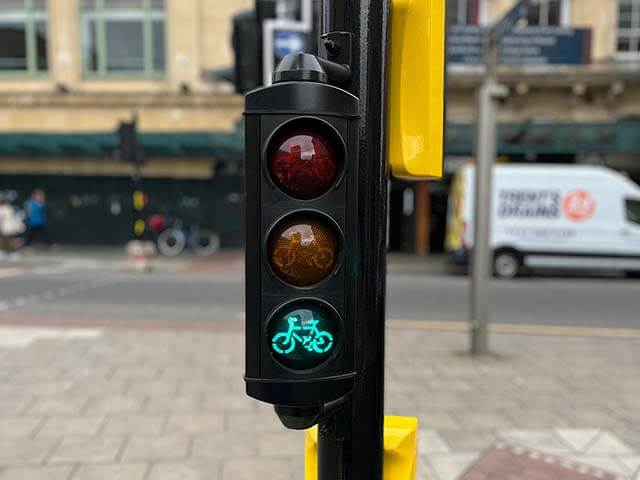 Nowe zasady kodeksu drogowego dla rowerzystów Pod koniec stycznia 2022 r. zaktualizowano kodeks drogowy, aby uczynić brytyjskie drogi bezpieczniejszymi dla rowerzystów, jeźdźców konnych i pieszych. Przepisy zostały wprowadzone w celu ochrony wrażliwych użytkowników, dając im pierwszeństwo przed szybszymi i cięższymi pojazdami, takimi jak samochody osobowe i ciężarowe. Ponieważ wiele zasad to wymogi prawne, ważne jest, aby być na bieżąco ze zmianami. Oto 10 najważniejszych zmian dla rowerzystów, które pomogą Ci zrozumieć nowe zasady ruchu drogowego.
Jakie są nowe zasady kodeksu drogowego dla rowerzystów?

1. Obserwuj hierarchię użytkowników dróg "Hierarchia użytkowników dróg" nakłada wyższy poziom odpowiedzialności na tych użytkowników dróg, którzy są w stanie wyrządzić największe szkody. Użytkownicy dróg znajdujący się wyżej na liście muszą bardziej uważać, aby zmniejszyć zagrożenie dla osób znajdujących się niżej na liście. Na przykład kierowcy pojazdów, takich jak samochody ciężarowe i autobusy, które mają większą zdolność wyrządzania szkód, mają teraz większą odpowiedzialność za zachowanie ostrożności i zmniejszenie ryzyka dla wszystkich innych użytkowników dróg. A rowerzyści powinni podjąć kroki w celu zmniejszenia ryzyka obrażeń pieszych. Oto nowa hierarchia: Duże pojazdy, takie jak autobusy i samochody ciężarowe Samochody dostawcze i minibusy Samochody i taksówki Motocykliści Jeźdźcy konni Rowerzyści Piesi

2. Ustąpić pieszym
Podczas skręcania na lub ze skrzyżowania rowerzyści, motocykliści i kierowcy powinni ustąpić pierwszeństwa zarówno pieszym przechodzącym przez jezdnię, jak i czekającym na przejście. To największa zmiana w kodzie. Według starych zasad wystarczyło ustąpić pierwszeństwa pieszym, którzy już przechodzili przez jezdnię.
3. Jedź środkiem pasa
Podczas jazdy rowerem po cichych drogach, drogach o wolniejszym ruchu oraz zbliżaniu się do skrzyżowań lub zwężenia drogi, kodeks drogowy zaleca teraz jazdę środkiem pasa, aby być jak najlepiej widocznym. Zaleca się powrót na lewą stronę jezdni, jeśli z tyłu zbliża się szybciej poruszający się pojazd lub gdy ruch uliczny zaczyna płynąć swobodniej.
4. Zachowaj ostrożność na skrzyżowaniach Jadąc prosto na skrzyżowaniach, rowerzyści mają teraz pierwszeństwo, chyba że znaki drogowe wskazują inaczej. Niezależnie od tego, którą drogą jedziesz, do skrzyżowań należy podchodzić ostrożnie i być jak najbardziej widocznym dla innych użytkowników drogi. Tam, gdzie na drodze znajdują się specjalne światła dla rowerów, powinieneś skorzystać z tej funkcji, aby Twoja podróż była bezpieczniejsza.
5. Rowerzyści mają pierwszeństwo na rondach
Kodeks Drogowy wyjaśnia teraz, że pierwszeństwo powinni mieć rowerzyści na rondach.
Kierowcom zaleca się pozostawanie za rowerzystami zbliżającymi się do ronda i nie wyprzedzanie. I powinni zachować szczególną ostrożność wjeżdżając na rondo, aby cię nie pociąć.
6. Zachowaj bezpieczne odległości
Podczas jazdy rowerem po ruchliwych drogach, na których poruszają się szybciej poruszające się pojazdy, zaleca się trzymanie co najmniej 0,5 metra od krawędzi krawężnika.
Należy również zachować ostrożność podczas mijania zaparkowanych pojazdów. Zasady sugerują pozostawienie drzwi o szerokości co najmniej jednego metra, aby uniknąć uderzenia, jeśli drzwi samochodu zostaną otwarte.

7. Jedź dwa razy obok siebie
Jeśli jeździsz w grupie, możesz jeździć w dwójkę. Tak było od zawsze – choć często jest to źródłem konfliktów z kierowcami.
Nowe przepisy mówią, że bezpieczniejsza może być jazda w parze, zwłaszcza z dziećmi lub mniej doświadczonymi rowerzystami.
Należy jednak zwracać uwagę na kierowców znajdujących się za Tobą i pozwalać im wyprzedzać Cię, gdy jest to bezpieczne.

8. Zadbaj o wspólne przestrzenie
Kodeks zawiera nowe zasady dotyczące tras wspólnych dla pieszych, rowerzystów i jeźdźców konnych. Ogólnie rzecz biorąc, bezpieczeństwo pieszych należy postawić na pierwszym miejscu, ale powinni oni również dbać o własne bezpieczeństwo i nie przeszkadzać ani nie zagrażać.
Rowerzyści proszeni są o:
Nie mijaj pieszych ani jeźdźców konnych blisko lub z dużą prędkością
Nie mijaj konia po lewej stronie konia
Zwolnij i daj znać przechodniom, że tam jesteś (np. dzwoniąc dzwonkiem)
Pamiętaj, że piesi mogą Cię nie widzieć ani słyszeć

9. Zasady bezpiecznego wyprzedzania
Zarówno kierowcy, jak i rowerzyści mają przepisy dotyczące bezpieczniejszego wyprzedzania.
Rowerzyści mogą teraz omijać pojazdy z lewej lub prawej strony, gdy utkną w nieruchomym lub wolno poruszającym się korku.
Kierowcy mogą przekroczyć podwójną białą linię, aby wyprzedzić rowerzystę, ale tylko wtedy, gdy jadą z prędkością 10 mil na godzinę lub mniejszą.
Generalnie podczas wyprzedzania kierowcy powinni pozostawić co najmniej 1,5 metra między rowerzystą a jego pojazdem podczas jazdy z prędkością do 30 mil na godzinę.