Leading experts go head to head at Osbornes Brexit Debate
10 May 2016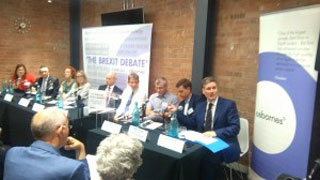 Leading figures from the political, business and academic world went head to head in front of an audience of 150 members of the public at Osbornes Solicitors Brexit Debate. Answering audience questions for over 90 minutes were Peter Lilley MP and Bernard Jenkin MP, who were both arguing why Britain should leave the EU. Both MPs highlighted their great affection for Europe but not for the EU, which they described as 'failed' and 'broken'.
Urging the audience to remain were Baroness Janet Royall, Michelle Ovens MBE and Keir Starmer MP. All three argued with clear conviction that leaving the EU would mean taking a 'step into the unknown' and lead to a period of great uncertainty. Keir Starmer in particular, spoke of his reason for wanting to remain in the EU was because he wanted to his two young children to grow up in peace times. Although this generated a cheer from the audience, Keir was later accused by members of the incredibly feisty audience of scaremongering.
Other questions asked on the night included those related to immigration, security, housing and sovereignty. One of the loudest cheers of the night went to 18 year old audience member Lilly who explained that this was her first time voting and wanted more information on how leaving or remaining in the EU would affect her employment prospects and ability to get on the housing market in three years time on completion of her degree.
Both sides agreed however that the two campaigns had not been conducted in the best way and that there was misleading information coming out from both camps.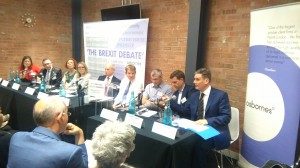 Our academic panel of the evening consisting of Charles Grant, Jonathan Portes and Matthew Goodwin, set the scene by each delivering five minute presentations on security, immigration and the polls. Professor Goodwin commented after the meeting that he was taken back that so many present were sceptic of remaining, in the Labour heartland of Camden Town.
Charing the debate was Amber de Botton of Sky News.
A video of the debate will be released shortly. 
Simon Nosworthy
Partner
Head of Residential Property, Simon has specialised in property law since qualification in 2001. He provides a high quality service to clients moving home or requiring advice on any aspect of residential property.

Simon believes in offering a friendly, approachable and responsive service to both his clients and their agents keeping them updated and involved at all times.

Maria Elliot
Associate Solicitor
Maria specialises in residential property work. Her workload varies from straight forward sales and purchases to complex land transactions and also includes some probate work.

As a member of the Law Society's Property Law Section and the Association of Women Solicitors, Maria is always up to speed with property law developments.
Emily Lund
Associate Solicitor
Emily specialises in residential property transactions, including sales and purchases of freehold and leasehold properties, re-mortgages, transfer of equity and unregistered land.


Rachael Bewick
Solicitor
Rachael graduated with a First Class Bachelor of Laws degree in 2013 and completed the LPC course with BPP University in April 2016 for which she was awarded a Distinction. Rachael joined Osbornes in September 2016 after completing her Training Contract with a firm based in Camden Town. Rachael qualified as a solicitor in August 2016.


Amelia qualified in Australia in December 2018. Amelia joined the residential department in October 2018 and specialises in residential property transactions
Jema qualified as a Solicitor with a city law firm in 2016. Jema specialises in residential property transactions, including sales and purchases of freehold and leasehold properties, re-mortgages, transfer of equity, new build and unregistered land.