Osbornes Solicitors Ranked as a Leading London Law Firm
2 Nov 2015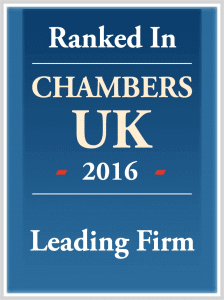 Osbornes Solicitors has once again been ranked as a leading law firm in London by the legal directory Chambers & Partners (2016 edition).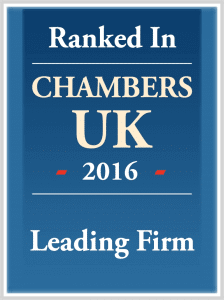 In addition to four departments in the firm ranked as leading teams in London, a record ten solicitors are also ranked as leading lawyers in their respective department.
The family team at Osbornes is described by the directory as an "expansive family law practice" with "significant private and public law experience". The department is also singled out for "advising clients such as high net worth individuals on cross-border financial matters and children work such as abduction and surrogacy".
Divorce lawyer, Mark Freedman, is "held in high regard for his experience as a litigator while also offering mediation expertise". The directory noted that Mark is "tenacious and determined, and clients really feel that he is fighting their corner."
Partner Lisa Pepper is noted for her "highly regarded collaborative law practice". Lisa is described as "always looking for a solution" and commended for her "very sympathetic approach to clients".
Specialist Adoption lawyer, Naomi Angell is mentioned for her "highly respected cross-border children work, including surrogacy matters". Commentators spoken to in compiling the directory describe Naomi as "the doyenne of inter-country adoption and the font of all knowledge in this area."
Simone McGrath is praised for her international child abduction practice, in addition to her broader public and private law expertise. She comes recommended as a "highly knowledgeable" practitioner.
The Social Housing team which is ranked as a leading department in the UK is noted for advising clients on "all aspects of social housing litigation, including possession, warrants for eviction, homelessness and antisocial behaviour"
In particular the directory highlighted  the department's reputation in "representing clients with claims against housing associations and local authorities in complex disrepair cases". The team is also noted for community care work, dealing with the most vulnerable clients.
Associate solicitor William Ford is noted as having "a good eye for interesting points" and one client reports that he is "extremely bright, with a good measure of the bigger picture."
Manjit Mandair is also recommended for being "efficient and always very helpful." She is described as "hard-working, committed to clients and excellent at building relationships, as well as very practical in terms of outcomes."
Shilpa Mathuradas, Head of Housing at Osbornes comments:
"We are delighted to have retained our ranking in the 2016 directory in addition to having Manjit Mandair ranked alongside Will Ford as an associate to watch. The comments reflect the hard work and commitment to clients of the entire department".
The Personal Injury department is also ranked as a leading team in London. The directory highlights the team's "vast experience of handling claims arising from fatalities, child abuse cases and severe head and spinal injuries". The directory also highlighted the departments "niche expertise in cauda equina syndrome cases and cycling-related injury claims". Feedback from clients draws attention to the departments "exceptional service, great knowledge and understanding of the law" as well as "excellent client care and tactical nous."
Head of department Stuart Kightley is described by his peers as "a first-rate practitioner, wholly focused on getting his client the best outcome in a pragmatic, sensible and consensual manner." The directory also singled him out for his expertise in serious workplace accidents and fatalities.
Sources say Head of Catastrophic Injuries, Ben Posford is "one of the best catastrophic injury lawyers around." He is regarded as "a real specialist in spinal cord injuries" and observers note that he is "always looking at new angles on how to maximise his cases."
Head of Clinical Negligence, Stephanie Prior, is ranked as a leading lawyer in both the clinical negligence and personal injury categories.
With regards to clinical negligence, the directory highlights Stephanie's career as a nurse before becoming a lawyer and notes that she "draws on an understanding of both medicine and the law to investigate an array of claims". She is also described as "excellent…working hard, she thinks straight and she understands her client's problems." 
Stephanie's expertise in child abuse claims is also emphasised, with the directory commenting that she "has earned the respect of the market" and "built a strong reputation for handling claims made by victims of sexual abuse." The directory credits her as "compassionate," "fantastically hard-working" and someone who "puts everything into the work that she does."
Head of Personal Injury, Stuart Kightley comments:
"Our ranking in Chambers 2016 is a fantastic achievement and is credit to the dedication of the whole department. We are particularly pleased with the feedback from our clients which refers to the high level of client care that we continue to provide. I am delighted that Ben retains his ranking as a leading personal injury as well as being highlighted for his expertise and reputation in catastrophic injuries.
Likewise, the fact the Stephanie has retained her recommendation as a clinical negligence lawyer and is now also ranked as a leading personal injury lawyer, focusing on her expertise in child abuse claims, highlights not only how talented she is but also her distinguished reputation".
Head of Private Client, Jan Atkinson, is also ranked as a leading lawyer, with clients praising her "confident, no-nonsense and straightforward approach." The directory singles Jan out for her practice covering "both contentious and non-contentious matters, including wealth planning and estate administration".
For further information about Chambers and Partners or to speak with a solicitor about your matter you can call us on 020 7485 8811 or fill in our online enquiry form.