Osbornes Shortlisted In Firm of the Year Category
18 Oct 2015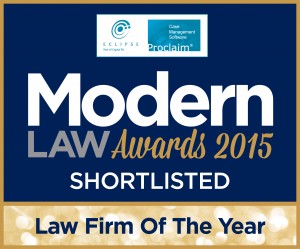 Osbornes Solicitors has been shortlisted in the category of Firm of the Year at the Modern Law Awards 2015.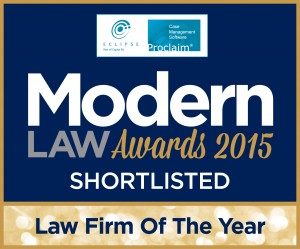 The shortlist has been decided by an independent panel. Successful firms had to demonstrate development and progress as a business within the last year, including employee development, diversity and training. Firms also needed to evidence how they are the 'whole package' within the legal sector highlighting a rounded approach to the delivery of legal services including active engagement with community and or corporate initiatives and pro-bono work.
Jan Atkinson, joint senior partner at Osbornes and head of the private client department at Osbornes comments:
"The criteria firms needed to satisfy in order to be shortlisted was very strict and therefore to have achieved being shortlisted in such a competitive category is excellent news. This nomination and shortlisting is proof of the hard work and effort all at the firm make to ensure that our clients receive the best possible service and advice. Of particular importance to these awards are the community accomplishments of a firm, and this is certainly an area Osbornes excels in and continues to support campaigns and various charities".
Throughout 2015 Osbornes have been shortlisted for the Halsbury Legal Awards, the Law Society Excellence Awards and the Personal Injury Awards. Specialist Adoption Lawyer, Naomi Angell also received the Cornwell Award for Outstanding Contribution to Family Law at this year's Family Law  Awards.
To speak to any of our lawyers at Osbornes Solicitors you can contact us by filling in our online enquiry form or by calling us on 020 7485 8811