Osbornes London Marathon Runners Raise Over £3,000 For Charity.
25 Apr 2016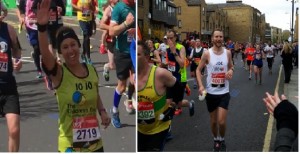 Among the 40,000 runners who took part in Sunday's London marathon were two runners from the family law department at Osbornes. Joe Gunn, a paralegal in the department who assists adoption specialist Naomi Angell was running for the Intercountry Adopton Centre and completed the run in just 3 hours 20 minutes. Joanne Wescott, a family and divorce lawyer in the department was lucky enough to get a ballot entry was raising money for The Children's Trust. Joanne completed the run in 3 hours 44 minutes. Together they have raised over £3,500 and with donations still coming in, that figure looks to rise nearer to £4,000.
The personal injury department are currently in training for their run as they will be taking part in the 'Superhero' charity 10k run in Regents Park on the 15th May 2016. The team will be running for Headway East London.
Headway East London supports people affected by brain injury by offering therapies, advocacy, family support and community support work. Working across 13 London boroughs, Headway East London offers specialist support and services for over 200 survivors, family and carers each week.
If you would like to make a donation you can do so via the just giving page.